Your guide to finding the best for your Thanksgiving table when shopping for ingredients at Central Market by H-E-B. We are not associated with Central Market, just a food blogger give you a hand on shopping there.
Check out ALL of our turkey price guides for your favorite stores
This month I got to visit a Central Market store for the first time. I have to say, if this is where you normally shop, you are one lucky grocery shopper!
I really enjoyed the store and all that it had to offer. I probably spend a half hour just in the produce department only.
You are for sure in luck if this is your store for Thanksgiving shopping. Tons of great options for your meal.
In this post I am going to show you some of those options.
? Turkeys
No shopping list for Thanksgiving can begin without talking about the bird. Here are the prices of the turkeys they offer:
| | |
| --- | --- |
| Mary's Free Range Fresh Turkey | $2.49/lb (weighs 8-24 lbs) |
| Mary's Free Range Fresh Organic Turkey | $3.49/lb (weighs 8-24 lbs) |
| Natural Brined Fresh Turkey | $3.49.lb (weights 12-28 lbs) |
| Mary's Free Range Fresh Heritage Turkey | $6.99/lb (weights 7-20 lbs) |
| Greenberg Smoked Turkey (see below) | $59.99/each (likely sold out) |
The most prized turkey at Central Market is the Greenberg Smoked Turkey, an exclusive to Central Market. It is a hand-rubbed turkey that has been smoked over a hickory fire. They have been doing this since 1937!
Update - After I visited the store and wrote this post, I learned that there was a massive fire at the Greenberg processing plant and they lost the remainder of their inventory that was going to be shipped. Most likely as you read this Central Market will be sold out of what they already had been shipped.
Check out our post on How to Reheat a Smoked Turkey
? Potatoes
Lots of potato choices. Yukon Gold are my go-to for my Instant Pot Mashed Potatoes.
Or you could bake some Russet potatoes and turn them into mashed potatoes. You bake them off right before the turkey, take them out, put the turkey, and make the mashed potatoes. Keep them warm in a slow cooker.
Want to wow your guests, you can make mashed potatoes with their organic purple potatoes. They are so pretty.
You can even swirl them together with gold potatoes and bring these beautiful marbled mashed potatoes to your dinner table: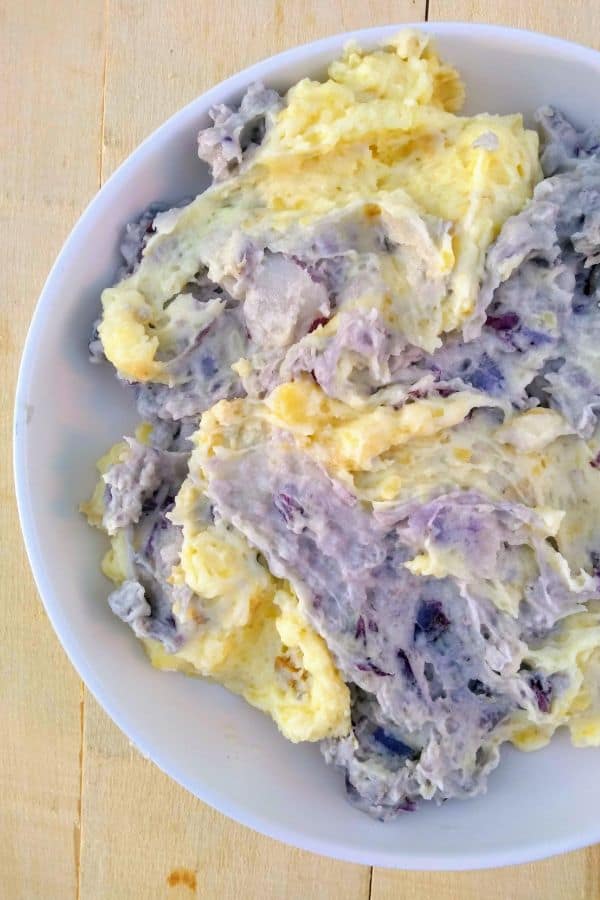 They also have a great selection of fingerling and German butterball potatoes by the pound.
? Sweet Potatoes
The selection of sweet potatoes at Central Market rival what I have found at Whole Foods. Lots of varieties including organic.
Want to cook your sweets faster? Try the baby sweet potatoes from Melissa's. Their small size makes roasting them a lot faster than those huge ones that are so big you could knock someone out with one!
Not a fan of sweet potatoes? Give the Jersey white or Japanese sweet potato a try. Both of these are less sweet, more starchy than traditional sweet potatoes. I actually prefer them myself. They are good mashed up with sautéed shallots mixed in.
?? Brussels Sprouts
Add some green to your Thanksgiving meal with Brussels sprouts. They are best tasting this time of year. Central Market carries fun Brussels on the Stalk and what can be hard to find fresh organic Brussels sprouts
RECIPE – Shredded Brussels with Bacon
? Apples for Pies
Here are some apples they sell that could used for a pie:
Cortland
Macoun
Granny Smith
Lady apples (not Pink lady) were available as well. While too small for pies, they are the perfect little apple if you want to take a classic turkey on a platter photo with apples.
? Fresh Herbs
Texas grown Aqua Dome Herbs are a great option. They come in a cup that give the herbs room to breathe. Or you can pick up a loose bunch of herbs. Much better than the small packs that most grocery stores carry.
? Bean Casserole Ingredients
You could go with the standard green bean, or also try mixing in some yellow wax beans. They also had Romano and Dragon's Tongue beans. They are flavorful beans that have larger pods. Cut them diagonally for your casserole.
If you like your casserole with mushrooms, you are going to be amazed with the selection of fresh mushrooms options. Best grocery store mushroom display I have seen.
? Stock Your Pantry
Here are some items from the grocery section that you can pick up anytime to stock your pantry for Thanksgiving dishes.
Broth
A 32-ounce container of Organic Free Ranch chicken broth is only $2.04. You often pay more than that for non-organic chicken broth at other grocery stores. This is a great value. Great for making gravy or adding to stuffing/dressing. I never go without broth on turkey day
Flour
Need flour for thickening gravy or for making a pie? Try Milanaise flour, a local Texas company. They have pretty much every flour imaginable, which is great if you are feeding someone with special dietary restrictions.
Also check to see what flour is available in the extensive bulk section.
Sugar
Zulka Pure Cane Sugar is what we use in our house. We like the flavor better than other types of sugar. Learn how cane sugar is different from beet sugar.
Spices & Dried Herbs
One of the best grocery shopping tips I can hand out to you is to always buy your spices or dried herbs in bulk. That way you save money, you get exactly what you need, and they are likely to be fresher.
❄️ Frozen Food
The very last thing I wanted to mention is hitting up the frozen food aisle. If you use corn for any of your recipes you want to get it here. Fresh corn even if available this time of year isn't very good, not worth the cost.
If want to make a fruit pie with peaches or cherries or berries, they have a lot of choices there. Look for value with the Central Market brand that has wild blueberries, Sabrina strawberries, and a summer berry blend.
Don't want to buy your ingredients for Thanksgiving dinner at the last minute? Then you need to check out our Low Stress Thanksgiving Shopping Guide for all the answers. This guide will help you get ahead of the game and avoid the long check out lines. Know how early you can buy each ingredient with customizable printable shopping lists.