Check out these fun food finds for Valentine's Day available at your Costco store.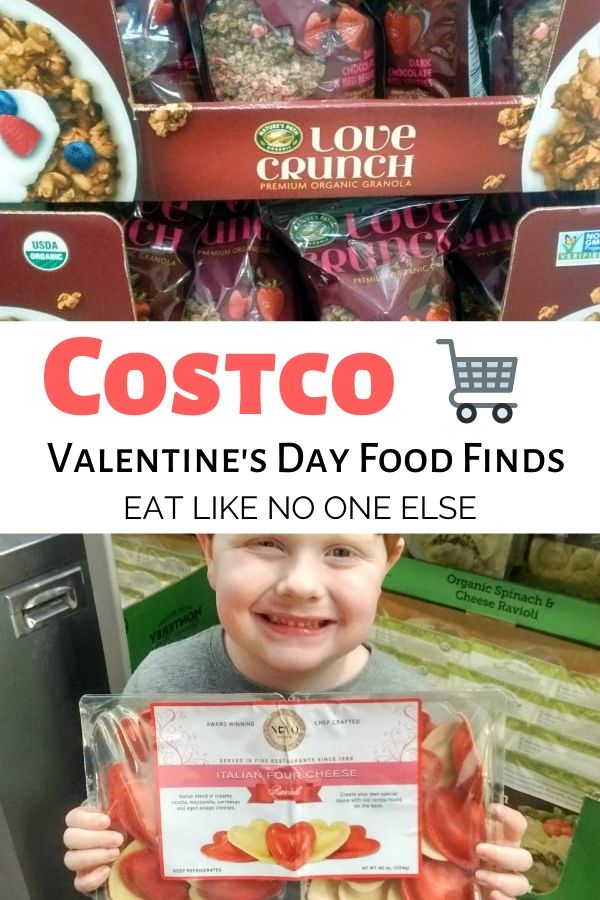 It's Costco Food Finds time again.
Valentine's Day is next week so I thought it would be appropriate for this Costco Food Finds to explore the best products in Costco containing chocolate.
I know, what a genius idea. Thank you, thank you.
I looked around the store and have come up with some real treats you can enjoy for Valentine's Day or any day, because let's face i,t everyday is better with chocolate. I featured a few other goodies to go along with the chocolate including heart shaped ravioli that you're going to love.
Unlike nearly all food finds posts there is no produce listed here. I didn't see anything that I haven't mentioned before in recent months. Costco still has the Juici variety of apples that I spoke of last month, so check those out to try something new.
Chocolate at Costco
A customer and I were trying to track down the Rodelle Baking Cocoa powder but were unable to find it. Have any of you seen this cocoa at their store recently? It definitely belongs on this list. There is still plenty of chocolate to be had.
Nestle Semi-Sweet Chocolate Chips | $8.99 for 72oz bag | 118677
The classic chocolate chips. At $2 a pound that is a good deal. We always have chocolate chips on hand - sometimes just to use to "bribe" the kids.
Kashi Dark Cocoa Karma Cereal | 43oz (2 bags) for $7.89 | 1088014
Annie's Organic Cocoa Bunnies Cereal | $7.69 for 27.25oz | 1062405
Here is our family's thing about cereal. We don't consider the sweet, sugary cereals as breakfast foods. Those are desserts. That doesn't mean we don't, on occasion, buy the kids a chocolate cereal as an easy dessert. We view it as a treat and tell the kids that this is desert not breakfast.
These two chocolate cereal options at Costco are a "healthier" choice than some of the brands out there. Kashi cereal is certified non-GMO. The cocoa used is fair trade.
Annie's is organic. It does not contain any artificial flavors, synthetic colors or preservatives.
I feel a little bit better about these cereals over others, but for us they are dessert not breakfast.
Edward Marc Hot Chocolate Bark | $9.99 for 20oz | 1183378
Godiva Dark Chocolate Hearts | $8.69 for 14.6oz
These are a couple good options to get your chocolate fix. Everyone knows Godiva of course. It's dark chocolate too. Need I say more?
Although I haven't tried it before, the hot chocolate bark sounds pretty good. Anytime you put chocolate and marshmallows together it is a winning combination. It makes me want to bake another S'more pie like I did for my wife one year for Mother's Day.
The company that makes the bark is called Edward Marc. This is my first time hearing of them, so I journeyed over to their website to learn a little about them. They are big on using sustainable cocoa in their products. Here is what they had to say about that (from their website)
We care about our chocolate – every step of the process and everyone involved. That's why our cocoa is sustainably sourced through programs that support farmers and their communities. We believe sustainable practices make for better lives and better chocolate – helping us to make life sweeter.
Nature's Path Love Granola Chocolate Raspberry | $6.99 for 26.4oz | 615683
Are you a chocolate and fruit person? Do you flock to chocolate covered strawberries? Not my game. However, I am a fan of Nature's Path. I think they make some pretty good stuff. Their version of "Pop Tarts" are better than the genuine article. Their granola is equally as good. So I feel confident about recommending this granola to those that do love chocolate and fruit together.
Sanders Dark Chocolate Salted Caramels | $8.99 | 607021
This is a local thing for us here in Michigan, I'm not sure if you can get these outside of Michigan. Hopefully you can because these are super good dark chocolate salted caramels. I am all on board for the salted caramel craze and I hope the train keeps on going. So, so, so good!
A Valentine's Favorite
Nvouo Heart Shaped Ravioli | 2-20z packages for $9.79 | 1205028
As you can see above, my son is excited about the ravioli. He is the ravioli lover in our family for sure., especially these fun shapes that come out for Valentine's and St. Patrick's Day. This is as good as you're going to get for store bought ravioli and that is a huge compliment.
The Ravioli are filled with the classic Italian blend of creamy ricotta, mozzarella, parmesan, and asiago cheeses. I love the filling and the quality of the dough from the pasta. It is the perfect thickness. They are so delicious pan fried until they brown with a little bit of butter.
We serve these yummy parcels up with homemade tomato sauce that I froze from my bumper crop of tomatoes this past season.
New Items at Costco
Here are a couple new items that I have not recalled seeing before. So they are at least new to me even if they aren't new to you. The first one I am pretty excited about.
Annie Chun's Organic Udon Noodles | $6.59 for 6 packs (30oz total) | 685591
Yes!!!!! I love me some Udon noodles. Ever since I had the Japanese Pan Noodles at Noodles and Company (here is a copycat recipe you can try), I have been a big fan of Udon. What I love about the noodles is you can caramelize them in the pan which brings out all sorts of flavor. The thickness of the noodles allows you to do that, which you could never do with a spaghetti or egg noodle. Udon is popular in Japanese soups.
I have trouble tracking down fresh ones like these. And they are organic as well. What a double win.
Bob's Red Mill Organic Quick Steel Cut Oats | $7.99 for 112oz | 731962
Oatmeal lovers will appreciate these quick cooking steel cut oats from Bob's Red Mill. They are steel cut oats that have been further cut up in order to make them cook faster. These are your standard quick oats. The oats have not been flatten out into flakes and then chopped out.
Steel cut oats keep their shape better than rolled oats, and have a chewier texture.
If you are not yet familiar with Bob's Red Mill you should be. Bob's Red Mill operates out of Milwauke, Oregon (no, not Milwaukee, Wisconsin). They make some of the best grain products in the country. I have been using their cornmeal for years to make bread and muffins. They offer all sorts of different types of flours. They do dried beans, nuts, and seeds as well. I am glad to see one of their many products at Costco.
You could cook up a batch of these oats for Valentine's Day morning along with those chocolate chips we talked about that the top of this food finds.
That's it for this month. See you in March for a St. Patrick's Day edition of Costco Food Finds.