It's a "grape" time of year to be in the produce department. It's another season of grapes from the Grapery hitting store displays across the country. If you haven't heard of Grapery yet, they are a grower out of the Bakersfield area of California, who are all about flavor. They only want to grow grapes that have tremendous flavor. A lot of the seedless table grapes you seen in the store are grown for appearance, shelf life, and profit, with flavor not being an important part of the equation. Americans have gotten use to eating table grapes that taste like a little more than sugar water. Grapery has come in and changed the game. They are giving the consumer grapes that taste great. They have successfully change the way people think grapes should taste - and even look.
Each year I like to present you an update on what to expect from Grapery. It takes a long time for a grape variety to get up to commercial production. Here is an update on what to expect with each of their varieties this season.
Cotton Candy Grapes
This is the grape that first brought my and many other people's attention to Grapery. A grape that tastes like cotton candy. Wow. Want to know how they did that? Check out my post from last season - How Did They Make Grapes Taste Like Cotton Candy?.
I spoke with their co-owner, Jim Beagle and he said that he is expecting about the same amount of Cotton Candy grapes in 2016 as there was in 2015. If you found them last year, you can check with the same store again. They are available now and should last in stores until the middle of September. Stores sell out quickly so make sure to ask if they have another shipment coming in the next day.
Tear Drop Grapes
One of the big changes this year is the name change of their Witch Finger grapes. They are now called Tear Drops. The change was made from feedback from their customers. Tear Drops have a more limited availability. They are more of a search to find. And their season is early and is about at it's end right now. If you can still find them, make sure to pick some up. They are have a unique shape, giving them a wonderful texture and a great red grape flavor.
Moon Drop Grapes
If you are a fan of this grape, I got some exciting news for you. There is a BIG increase in their availability this year. They should be much easier to find and for a much longer season. For those that haven't experienced them yet, Moon Drop grapes are an elongated black seedless grape. They have a rich flavor and the unique shape gives them a nice crisp bite. Buy a bag or two for your next get together. Their shape will be a great conversation piece. Moon Drop grapes are available now until about mid-October.
Gum Drops Grapes
More good news! I am happy to announce that the first small commercial crop of Gum Drops will be available this season. I was lucky enough to try this variety last year, while it was still in the experimental stage. I can tell you that I love these even more than Cotton Candy. They taste just like gummy candies. They pack a huge flavor in a small grape. I could see them soaring past Cotton Candy in popularity. They have very limited availability - like Tear Drops. You might not be able to find them this year. Look for them starting in late August through the month of September. If you find them I would love to hear what you think about them.
While not as unique as Cotton Candy or Gum Drops, Flavor Promise grapes are just really good tasting grapes, that come with a promise. Don't like them, the other owner of Grapery, Jack Pandol's e-mail address is right on the bag. I have a hard time believing you won't like them. I have tried several varieties in the Flavor promise line and have approved of them all. Here is a list of the varieties and when they are available (these dates are approximate)
Sweet Surrender (Black) - July 20 to Labor Day
Sweet Jubilee (Black, Seeded) - August 10 to September 1
Sweet Celebration (Red) - August 20 to October 31
Autumn Royal (Black) - October 1 to December 15
Crimson Seedless (Red) - November 1 to December 15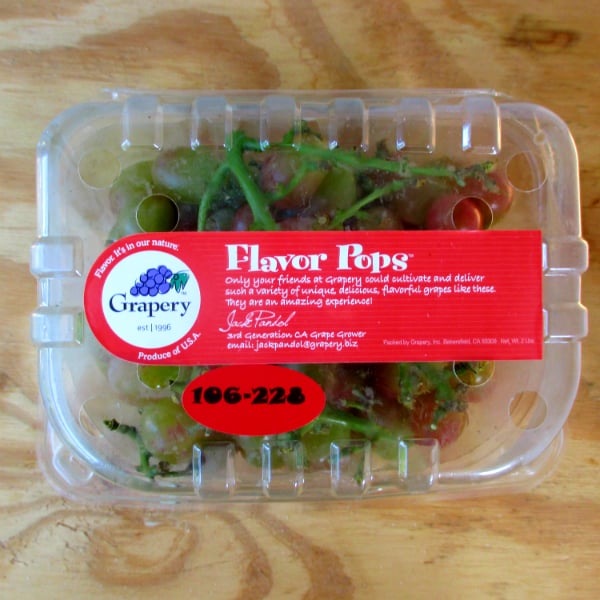 A Look to the Future
Grapery is always experimenting with new varieties. They will have another big wave of that coming in 2017. If you are lucky enough to find their Flavor Pop grapes you have a chance to taste the future. There is a limited supply of these grapes, they come with a number on the package. Each variety has yet to be given a name. Grapery is looking for your feedback. You might even get to help them a name - how cool is that!

That is what's in store for Grapery grapes in 2016. If you have any questions, leave a comment below. I would also love to hear what your finding in stores and where you are finding them. Have a "grape" day!!!!