Click here to read all my posts on blue lake bush beans.
Above is a picture of my blue lake bush beans after 4 weeks in the ground. Their growth has been good up to this point. I started to see the first buds appearing on some of the plants (click the photo on the right to enlarge).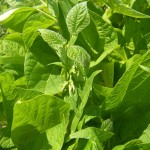 So flowers should I start seeing flowers appearing soon, and when flowers appear that means beans aren't far behind!
I had problems earlier with something eating some of my leaves, but that seemed to have been a 1-time deal and it didn't slow done the growth of my plants.