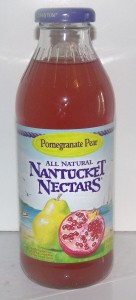 This is part of a series of posts on juices and unique drinks that I have come across. Everyone knows the Pepsis and Cokes of this world and many sites cover the wines and beers, but I am bringing to you the rest of the beverage world.
The next flavor for me to review from the "Juice Guys" is Pomegranate Pear. This flavor contains 25% juice. The juice includes pear, apple, pomegranate, and cranberry. Both pear and apple juice can be found in a lot of juice drinks as they are cheap and their flavor can be overwhelmed by more powerful juice flavors. This is the first pomegranate drink I have tried, so I was unsure going in if I would like this one or hate it.
It wasn't bad at all. It was a lot better than I expected. Pear was the strongest flavor, but it was enhanced with the pomegranate. It was definitely something unique.