How to Make Pumpkin Hummus and a review of my favorite crackers to eat with hummus - Milton's Gluten Free crackers.
This post is sponsored by Milton's Craft Bakers.
If we all scream for ice cream, does that mean we all hum for hummus?
Next time you serve hummus, you should try humming, see if anyone else follows your lead. And next time you serve hummus, you should make it yourself, with some fresh pumpkin.
It's #pumpkineverything season right. Why not hummus? They perfectly go together.
Don't believe me? Let me show you how!
And as a bonus (we love bonuses on this blog), I am going to tell you about the best crackers you'll need to dip into the ultimate fall time hummus!
No Can Openers Needed
Whenever I make hummus or pumpkin anything, I don't need a can opener. For hummus, it's dried chickpeas and for pumpkin, I roast up a pumpkin. Doing both of these things is the key to great texture and flavor.
If you need some inspiration for can-less pumpkin hummus, check out these two posts:
How to Make Fresh Pumpkin Puree
How to Cook Chickpeas in the Instant Pot (or Pressure Cooker)
Crackers to Eat with Hummus
Just as important to the hummus is what you are going to dip in it. For that I just have to go with Milton's Gluten Free Crackers. Our household fell in love with them during our Hit the Road Snackin' series this summer.
If you don't follow a gluten free diet you may be turned off by gluten free foods. But I assure you these crackers are totally legit. You won't miss the wheat. Their crackers are crunchy and light. And you don't need to worry about them breaking off into the hummus. We tested. And tested. And tested again. Trust me!!!!
The flavors I have tried include Crispy Sea Salt, Cheddar Cheese, and Multi-Grain.
I am not going to say not to dip the cheddar crackers into the dip. I mean they are good on their own of course, but why not?
You can find Milton's crackers in several grocery stores, Whole Foods for example. But if you can't wait to buy them, you can do so from the comfort of your couch or whenever you may be sitting right now. Check out these links and order some now, then continue on and make the pumpkin hummus.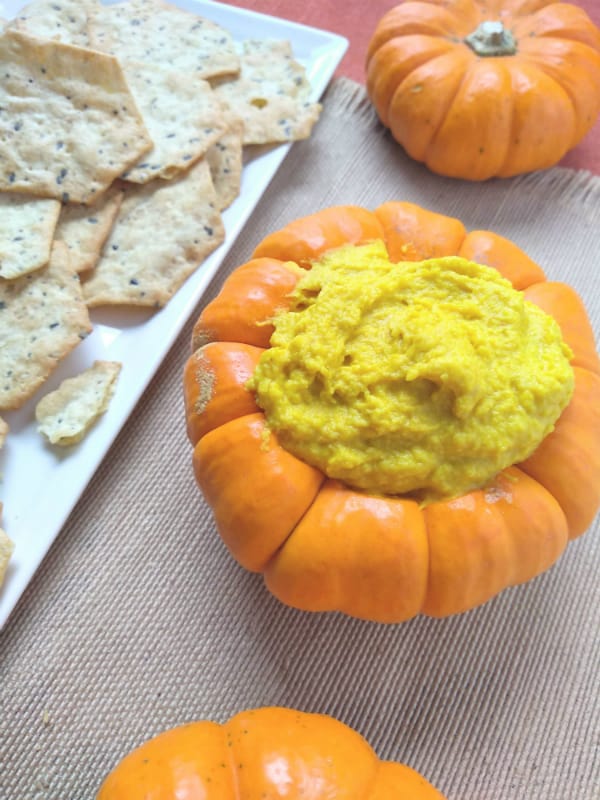 Recipe Notes
So here is some my thoughts when I was making this hummus.
I didn't want to make it a sweet hummus, I wanted savory. But I wanted to keep a little bit of the pumpkin spice flavor. I opted to add some nutmeg. This brings a subtle "pumpkin spiciness" to the hummus without it tasting like a latte or a donut.
I also didn't go too heavy on the pumpkin. It's very easy to incorporate pumpkin since hummus and pumpkins are both purees. But the texture of pumpkin is not as smooth as hummus. I didn't want to sacrifice that too much. By adding 1 cup of fresh pumpkin, I can get the flavor of pumpkin with the hummus texture in tact.
You are also getting the health benefits to pumpkins as they known for containing beta-carotene hence their orange color. Pumpkins also pack some Vitamin A, Vitamin C, Potassium, Copper, Manganese, Vitamin B12, Vitamin E, and Iron. (source) When you add Tahini (sesame paste) to chickpeas to make hummus, you are getting a complete protein.
I also decided to add some turmeric. I could say I added it for it's anti-inflammatory properties, but really it was because a cup of pumpkin didn't do anything for the color of the hummus, so I thought I needed to add some natural food coloring to make it look like it contains pumpkin. You can skip the turmeric if you want, but again why not add another nutrition component.
Serving the hummus in one of these mini pumpkin is THE super cute pumpkin idea of the season. Having a party this month, you gotta do it![/caption]
Pumpkin Hummus Recipe
The moment you have been waiting for, here is the recipe to make the Pumpkin Hummus. Yum Yum!
Pumpkin Hummus
Take your hummus to the next level by adding some fresh pumpkin and making it a great fall dip!
Print
Pin
Rate
Ingredients
1

pound

already cooked chickpeas

½

lemon

juiced

¼

cup

water

⅓

cup

tahini

mixed well

¼

cup

extra virgin olive oil

1

cup

fresh pumpkin

½

teaspoon

nutmeg

freshly grated

1

teaspoon

fresh tumeric for color

optional

salt

to taste
Instructions
Place a pound of cooked chickpeas and garlic into a food processor. Process until smooth. You may have to stop and scrap the sides of the bowl a few times.

Add the water and lemon juice. Process to combine about 20-30 seconds. Scrap sides of bowl.

Add the Tahini. Process to combine about 20-30 seconds. Scrap sides of bowl.

Add the fresh pumpkin and nutmeg. Process to combine about 20-30 seconds. Scrap sides of bowl.

With the food processor running slowly drizzle in your olive oil.

Add salt to taste. Pulse a few times to combine, and taste. If it needs more salt, add a little more and repeat.

To make it look more like the color of the inside of a pumpkin you can add turmeric. Add a little a a time until you get the color you want. I wouldn't do more than a 1 teaspoon or you might throw off the flavor.

Serve inside of a small carved out pumpkin for fall cuteness!
Tried this recipe?
Mention @eatlikenooneelse or tag #eatlikenooneelse
Disclaimer: This posts includes affiliate links. This means that at no additional cost to you, I will earn a commission if you click through and make a purchase. These are products and services I recommend because I use or trust them. Cookies will be used to track the affiliate links you click.