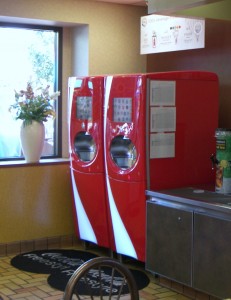 By no means am I someone who spends a lot of time at fast food joints. But on the occasion when travelling or unable to get home at a decent time for a meal, I may enter one. One of the things I am never happy with is their soda pop selection. Always the same old thing, whether it's made by Coke or Pepsi. I usually end up with some boring old lemon-lime or orange drink. Without ever hearing my complaint the Coca-Cola Company has come up with a solution for my problem - Coca Cola Freestyle. This is a soda fountain that contains around 106 different flavors! You select what flavor you want from a touch screen. The machine is able to offer this many flavors, by mixing some flavors into classic Coke products. For example, if I choose Sprite, I will have a selection of Sprite flavors. If I pick peach, then the machine will mix together the Sprite and a peach flavoring and depense your drink.
Freestyle machines are only located in select markets (see a list below) in select fast food joints. I checked one out at a McDonald's in Lake Forest, California. I found that machine to work really well. I thought there might be a delay to mix the final drink together, but right after I made my selection, my drink was being dispensed. I took advantage of free refills and sampled 10 different flavors. Below you will find my comments about each one.
(1) Fanta Lime
The Fanta Lime has a nice geniune lime taste to it. It again backs up my theory that adding lemon flavor to lime, creates an inferior drink. Every lime soda pop I ever had, has been better than any lemon-lime drink. It's refreshing to be able to get a true lime soda pop out of a fountain machine.
(2) Minute Maid Cherry Lemonade
The cherry makes this lemonade tastes so much better than it does on it's own. It's a nice cherry flavor, it doesn't taste like cherry cough medicine.
3) Hi-C Raspberry
This is a nice change from the Hi-C that you normally find in fountain machines. It has a nice raspberry flavor. I don't think I would want to drink alot of this, but it's good for Hi-C.
(4) Minute Maid Raspberry Lemonade
The raspberry was a good way to upgrade a pretty subpar lemonade.
(5) Minute Maid Orange Lemonade
Just as with the raspberry, the orange flavor makes this lemonade a bit more interesting.
(6) Sprite with Strawberry
Strawberry lemonade is one of my favorite summer time drinks. Now while this isn't as good as fresh lemonade, the strawberry and lemon-lime flavor of the Sprite work well together.
(7) Fanta Peach
It's pretty comparable to other store brand peach soda pop I have had before. Not as good as something like Faygo or Nehi.
(8) Fanta Fruit Punch
This rather bland and boring. It is just about the worst carbonated fruit punch I have ever had.
(9) Sprite with Peach
The peach flavor was pretty weak. It only adds a little bit to the flavor of the Sprite. Kind of a disappointment.
(10) Sprite with Grape
I thought this was a strange combo, but I gave it a try. The grape didn't do much for me to improve my Sprite experience, except for turn the drink purple.
Overall a cool concept. I prefer my carbonated drinks in glass bottles, but at least this fountain machine saves me from the boredom of just lemon-lime and orange. Looking to find one of these machines in your area? Unless you live in one of these markets you may have to wait
Markets with Coca Cola Freestyle Machines
Los Angeles, San Diego, San Francisco/Oakland, San Jose/Sacramento, Salt Lake City, Phoenix, Tucson, Austin, Dallas/Fort Worth, San Antonio, Houston, Atlanta, Jacksonville, Orlando, Chicago, and Washington D.C. For a list of specific locations in these markets, visit Coca Cola's Freestyle page.
The best soda fountain out there has to be the one featuring Boylan soda. Click here to read more about them and where some of the fountains are located.