It's officially of week of Christmas. And if you are still shopping for what you might cook on the big day, then I have all you need to know - well maybe not everything, but at least all you need to know about buying beef at Sam's Club. At the end of this post I will share with you whether Sam's Club was able to beat it's rival Costco in terms of offering the best beefy deal.
[table]
Meat, Price
Whole Beef Tenderloin, $11.98/lb
The price is actually down about $1 from last season. If you want to give your guests that melt in your mouth feeling this is the cut to go with. Slicing as easy as butter. You can also cut steaks from it.
Trimmed Beef Tenderloin Roast, $12.88/lb
Not willingly to lay down your money for a whole one? Sam's also offers trimmed roast that are smaller in size without being too much more in price - less than $1 more per pound. If you are going to go this roast I recommend doing it the Alton Brown way.
Rib Eye Roast Boneless or Bone-In, $9.98/lb
I love Rib Eye and at $9.98 a pound your doubtful to find it any cheaper. This is a great roast to serve whole on Christmas day and slice right at the table. You have the option of whether you want the bone or not. Some people say that bone adds more flavor. You are paying for the bone itself - I might be tempted to go boneless and get more meat that way. Just below you will find a YouTube video on how to cook this roast and serve with a roasted garlic sauce that looks amazing.
[/table]
What I Recommend
Don't get me wrong, I love the buttery tenderness of the tenderloin. However you can't beat the pure flavor of Ribeye. Such beefiness goodness at a cheaper price. If you want to go leaner, then choose the tenderloin. It's so good with a crust of freshly cracked black pepper.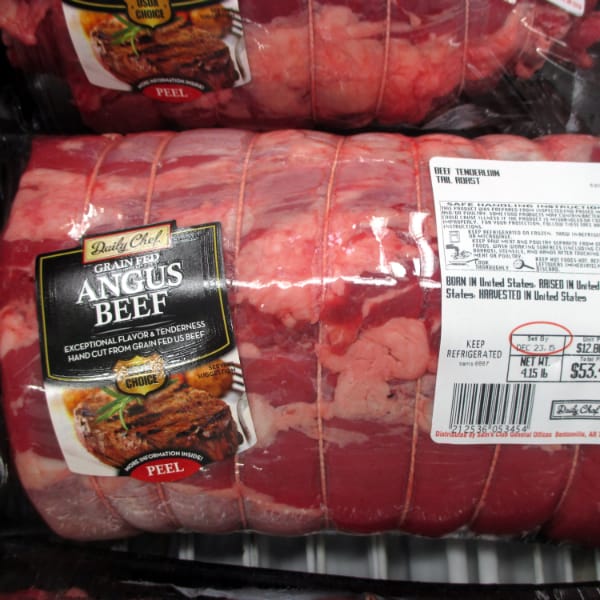 Versus Costco
In terms of pricing, Sam's Club is the clear winner. Their whole beef tenderloin is $19.99 a pound. Yes it has been trimmed for you, but is that service worth the extra $8.01/per pound? Quality wise, I haven't had both of them to try side by side. I would love to hear what people think who has eaten both Costco and Sam's Club beef and which they found better. Leave a comment below with your thoughts.