What do you normally serve for your Christmas dinner? I grew up with ham, each and every year. While I would prefer a beautiful roast "beast" as Dr. Seuss would say, I usually end sticking with ham. The main reason being that it's cheap. Even the most pricey hams wouldn't run you anywhere near the price of a good hunk of beef. That being said if you are in the market for a ham this year, let me share with you what your options are at your local Sam's Club warehouse.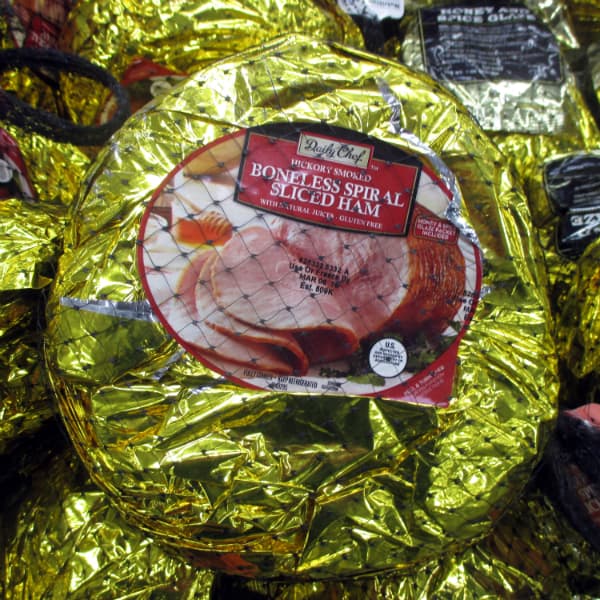 [table]
Ham, Price
Daily Chef Boneless Spiral Ham, $2.78/lb with $2 off coupon
This is a spiral sliced boneless ham from Sam's Club store brand - Daily Chef. There is a $2 off the entire ham coupon for your instant savings. This is a relatively small ham - good for a small get together. What I think is strange is that the ham is boneless yet still spiral sliced. Without a bone a ham is super easy to carve so there is no good reason for it to be pre-slcied.
Smithfield Smokehouse Reserve, $2.38/lb
Another boneless offering in a much larger package. This ham is similar to the Kirkland Master Carve Ham that Costco sells. I like these hams because they offer a lot of meat and it's think shape makes it easy to store in the fridge and easy to carve at the table.
Smithfield Pit Ham, $2.98/lb
This boneless offering from Smithfield is "water added ham" which mean it can contain up to 10% adder water. This is a pressed ham which means the meat was removed from the bone and then pressed into a log shape. I am not a fan of these types of ham - they don't feel natural. They often have to add back ground ham to fill in the gaps from the bone.
Smithfield Black Forest Ham, $2.98/lb
Similar to the ham above but with a black forest flavoring. I love black forest ham for lunch meat but again not a fan of this style of ham.
Ridge Creek Spiral Ham in Nature Juices, $1.88/lb
The only bone-in option I found - love using that bone afterward for soup. This ham is in natural juices which means there is added water but not as much as the real cheap hams you find at most big supermarket chains. It is hard to find hams that don't at least have some added water. This was the cheapest option at Sam's.
[/table]
My Recommendation
If I was buying a ham from Sam's Club, I would select the Smithfield Smokehouse Reserve. You get the benefits of a boneless ham but in a more natural way. It's 100% usable meat. I would avoid the other boneless hams. The Ridge Creek Spiral Ham would be my second option as it cheap but bottom of the barrel cheap and you have the bone to use later for soups.