As we approach that big day many Americans will be making the all important final decision and where to buy their turkey. Is Sam's Club an option you are considering? I made my way over to my local Sam's Club in Ypsilanti, Michigan to see what I could find.
One of the reasons people buy a membership to Sam's Club is because they believe it is going to save them money. I would expect that would be the case especially during the holidays. You should be able to score a good deal on a turkey for Thanksgiving. Is that really the case? Or are you better off looking elsewhere?
Here is what I found on my visit on Monday, November 17, 2014 in Ypsilanti, Michigan
[table]
Turkey Type, Price
Jennie-O Refrigerated Turkey, $.99/lb
This is not a frozen turkey which means it's kept a tempertature that never goes below zero degrees. The average temperature should fall between 24 and 26 degrees. The turkey may still seem stiff but it is not considered frozen. No further thawing should be necessary. This Jennie-O turkey contain an 8% solution containing turkey broth ; salt; sodium phosphate; sugar; and flavoring.
Honeysuckle White Smoked Turkey, $2.38/lb
This Hickory Smoked turkey from Honeysuckle White is completely cook and just need to be re-heated. It is a full sized turkey with various sizes available.
Butterball Deep Fried Turkey Breast, $5.28/lb
Pre-cooked turkey breast that has gotten the deep fry treatment.
Butterball Honey Roasted Turkey Breast, $5.28/lb
Pre-cooked turkey breast
[/table]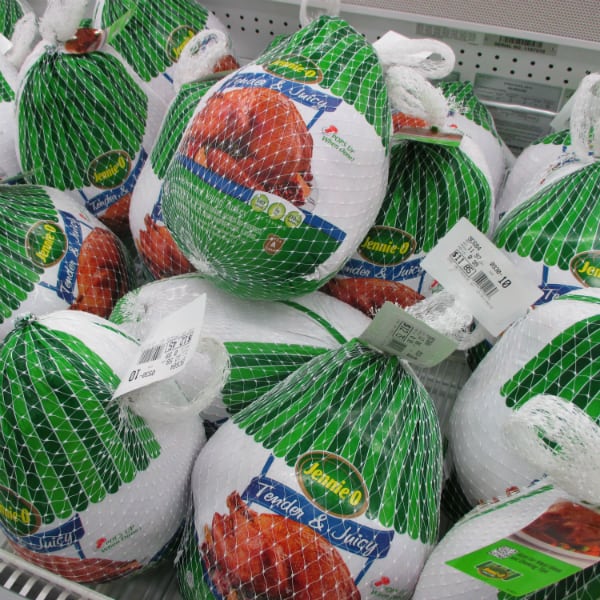 Not exactly overwhelming us with choices. I don't know if this is true for all Sam's Club, but mine lacked any frozen options, and really only gave you one option if you want to cook a raw one. The only option available is the Jennie-O which has been already soaked in sodium phosphate and "flavoring" whatever that is. I was disappointed in what was available. Yes, 99 cents a pound is a good price for a fresh turkey, but it's going making me want to become a card carrying Sam's Club member.
I will give them props for carrying a whole smoked turkey which you don't see available at most places. If you like smoked turkey and don't want to do it yourself, the price of $2.38 per pound is pretty good. I would have like to see them use apple wood instead of hickory as I think it imparts a lot more flavor.
Let me know what you find at your Sam's. Do they have more options? Or different options? Leave a comment below.