Want to enjoy a special steak dinner with your most special person this Valentine's Day? Looking to do that on a shoe string budget? We have some great steak ideas that will help you save money without sacrificing flavor. You will find some prices of what steaks are going for this year at select stores. We also talk about the Sweetheart Ribeye!
This post includes affiliate links. This means that at no additional cost to you, I will earn a commission if you click through and make a purchase. These are products and services I recommend because I use or trust them. Cookies will be used to track the affiliate links you click.
Are you looking to have a romantic steak dinner this Valentine's Day but you just don't have the budget to spring for more expensive steaks??
Or maybe you want to be able to afford to add some lobster tails to the meal?
Let us share with you some cuts of steak to look out for as well as some ideas of what steaks may be on sale for Valentine's Day.
Jump to:
🥩 Cheap Steaks
Here is a list of steaks you can pick out that are flavorful but aren't as much money as the more expensive cuts. Click/tap each steak for more info on that cut.
| | |
| --- | --- |
| Chuck Eye steak | Whenever I think of good, cheap steaks the chuck eye steak is the one that comes to mind first. |
| Sirloin Filet steak | This steak is like a mock filet mignon. It is similar in shape and size, but at a fraction of the price. |
| Flat Iron | When it comes to flavor I think a flat iron steak can be as tasty as a Ribeye, Porterhouse, or New York Strip. |
💲 Sales
Checking the ads for sales around Valentine's Day is a great way to save money on top dollar steaks. Luckily sales can be easy to find. Filet mignon is often on sale, but it still won't be cheap. You could opt for a whole beef tenderloin and cut your own steaks. You can freeze the ones you don't need for Valentine's Day. And it's nice to be able to cut them to your desired thickness.
New York Strip steaks are often on sale for Valentine's Day as well and are often priced better than Ribeyes.
Here are some deals I found in 2023
| | | |
| --- | --- | --- |
| Store | Steak Cut | Price |
| Rouses Market | Sweetheart Ribeye | $9.99/lb |
| Rouses Market | Boneless Ribeye | $8.99/lb |
| Rouses Market | Tenderloin (Filet Mignon Steak) | $19.99/lb |
| Publix | Bone-in Ribeye | $8.99/lb |
| Publix | Tenderloin (Filet Mignon Steak) | $19.99/lb |
| Kroger | Bone-In NY Strip Steak | $8.99/lb |
| Sprouts | Boneless NY Strip Steak | $9.99/lb |
| HEB | Boneless NY Strip Steak | $7.99/lb |
| Hy-Vee | Filet Mignon Steak | $9.99 for 5oz steak |
| Hy-Vee | Prime Reserve Bacon Wrapped Sirlon Filet | $3.99 for 5oz steak |
| Hannaford | Bone-In NY Strip Steak | $6.99/lb |
| Bashas | Tri Tip Steak | $3.97/lb |
| Bashas | Top Sirloin Steak | $3.97/lb |
| Bashas | Whole Beef Tenderloin | $7.97/lb |
| Safeway | Bone-In NY Strip Steak | $5.77/lb |
Most of these deals are for family picks, so you have to buy multiple steaks, not just 1 or 2.
Look at this price for a family pack of strip steaks I found in 2021 at a Bashas grocery store near Phoenix, AZ. It's a great deal that brings people into the store to buy other things, just as stores do with turkeys for Thanksgiving.
I didn't want to eat all those steaks at once. So I vacuum sealed the rest of the pack and froze them for later.
🛁 Sous Vide
While this does require a special piece of equipment, I think it's the most powerful tool at your disposal for taking cheap steaks and turning them into something special. Mine has paid for itself in meat that I didn't ruin as well as enabling me to buy cheaper cuts and make them really good.
Here a couple suggestions for sous vide machines/immersion circulators on the cheaper side.
If you have the Instant Pot Duo Plus or similar model, you may already have a sous vide function. I am still testing it out for steaks, I have seen some good results with veggies I tried.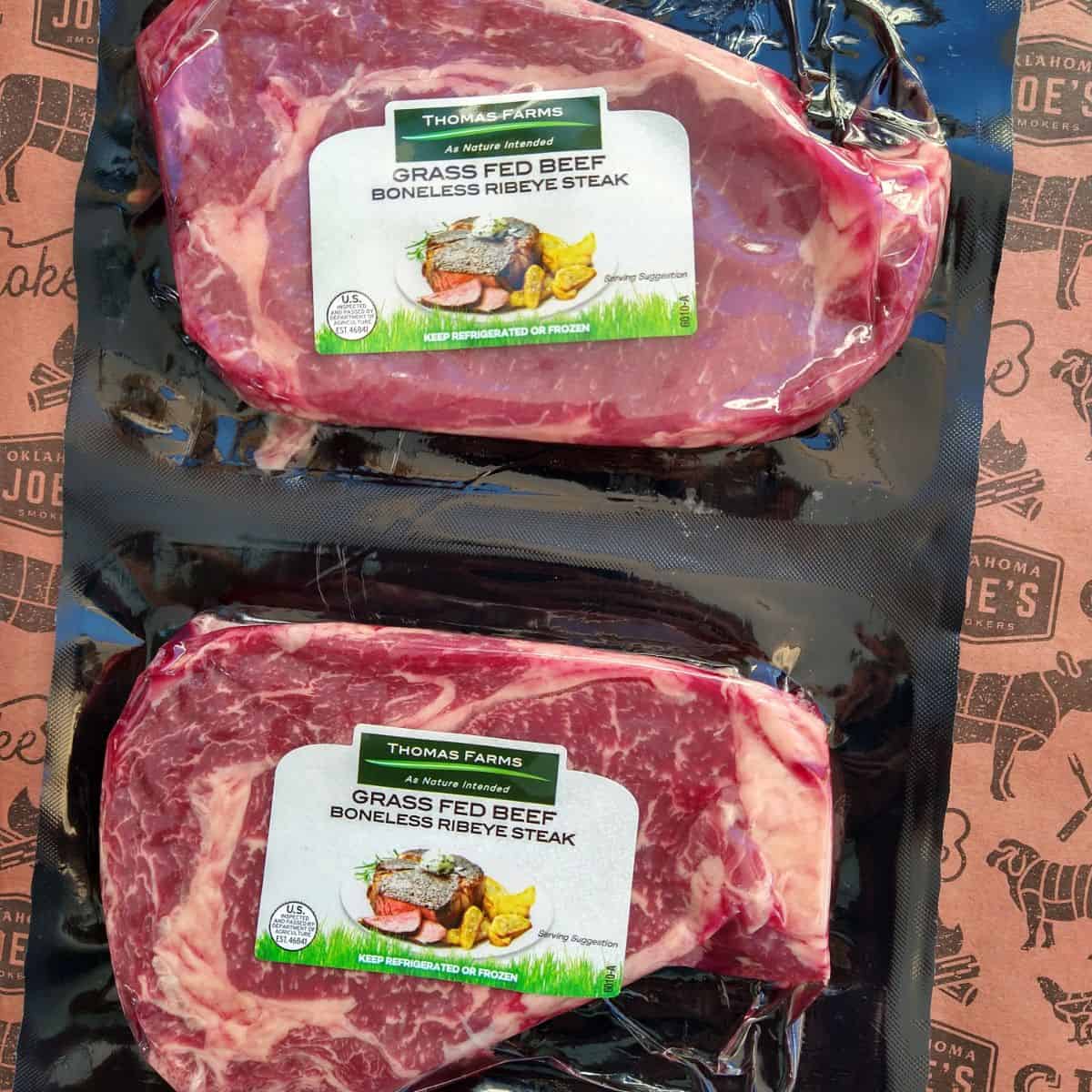 🛒 ALDI
I wanted to take some time to look at what steaks are available at ALDI, a place many of us shop to try and stay within our budgets. Most of these the prices have NOT been updated for 2023. Look for the * to indicate an updated price.
| | |
| --- | --- |
| Thin Ribeye | $10.99/lb |
| Sirloin Tip | $5.39/lb |
| Flap Steak | $8.99/lb |
| Bottom Round | $4.99/lb |
| Chuck Steak | $5.39/lb |
| Grass Fed Strip Steak | $10.99/lb* |
| Grass Fed Ribeye Steak | $10.99/lb* |
| Bacon Wrapped Filet Mignon | $5.99 for 2-5oz steaks |
| Petite Sirloin Steak | $11.29/lb |
| New York Strip Steak | $13.59/lb |
| Eye of Round | $8.49/lb |
| Whole Beef Tenderloin | $8.99/lb |
The best budget steak at ALDI would be the chuck eye at $5.39/lb. Follow our instructions and you will be pleased.
Now for $10.99/lb you can get grass fed steaks at ALDI. This is a great value. Not only is cheaper than most places for Ribeyes or Strip steaks but it's also it has better flavor for being grass fed beef. The steaks come in a two-pack and run around just over a pound for the two. 11 bucks for a good steak dinner plus your sides definitely beats eating out.
REVIEW - Check out our full review of the Grass Fed Ribeye at ALDI
🏬 Costco
The cheapest steak you will find at Costco is a Top Sirloin going for $7.99/lb.
Check out our Costco Beef Buying Guide for all the beef prices and tips on how to use each cut.
💗 Sweetheart Ribeye Steaks
Some grocery stores really like to get cute with their steak deals. Rouses Market in Mississippi and Louisiana sells sweetheart steaks. I have seen them offered by other stores as well. These are giant Ribeyes that have been butterflied to look like a heart.
How do you cook one of these? Well they are a large steak. The ones I saw were over 2 pounds a piece. That's a 16oz + steak for each person. You better come with an appetitite if you are going to cook one of these.
Sure it might be easier to just cut them in half and serve them as individual steaks but that would ruin the fun. I would either sous vide them and finish them on the grill or cook them in a pan and then finish in the oven to your desired doneness.
🥔 Side Dishes
Baked potato is the clear cheap option to go with. And they just fit so well with a steak dinner. For the best baked potato you ever had, bake them for not 1, but 2 hours at 400 degrees. Then open them up a bit and bake for another 10. This make them more fluffy.
Asparagus is quite popular and stores will run sales on it the week of Valentine's Day. February isn't the best time of year for asparagus. You may have to be more picky. Try to find thicker stalks, they have better flavor. We have a post all about picking out asparagus and telling if it's gone bad.
What is your favorite steak to eat or cook on Valentine's Day? Leave a comment below.