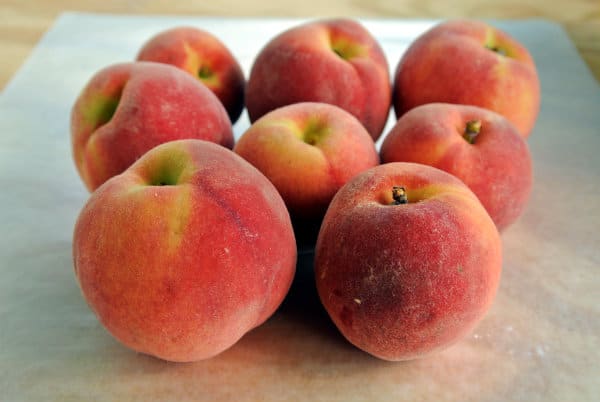 It seems every few months we are hearing about another food recall involving a potential listeria infection. The latest recall is on conventional and organic yellow and white peaches, yellow and white nectarines, plums, and pluots that were packed by Wawona Packing Co from June 1, 2014 through July 12, 2014, quite a wide window. Wawona is one of the large stone fruit packers and you can find their fruit all over the country. This is a mighty big recall.
The good news is that so far no one has been reported sick. Wawona is taking precautionary measures by recalling all of this fruit to hopefully prevent anyone from falling ill. According to a report in the Packer, a produce industry news source, 3 peaches that were exported to Australian tested positive for listeria. The amount was so small that it was not considered a risk to the public. However in the United States there is a zero tolerance policy in place, therefore any listeria in any level is grounds for a recall. A private lab did discover listeria on two peaches and one nectarine.
Value Added Products
Some stores used stone fruit from Wawona to make value added items - cut fruit salads, cakes, pies, tarts, etc. So if you have an item like this from any of the effected stores I will give them a call and see if they may have used Waona's fruit in any of their value added products.
Here is a list of the stores that I know are affected by this recall. You can also check out this PDF from Wawona that will show you what the stickers look like toward the end of the file.
Whole Foods Market
They sold both organic and conventional stone fruit with the Sweet 2 Eat sticker on them. They also sell other stone fruit distributed by different companies, so not everything is recalled. It is a lot of their organic supply. Hard pressed to find organic peaches and nectarines currently at Whole Foods stores this week.
Kroger
I saw a sign posted at a Kroger store in Ypsilanti, Michigan mentioning the recall and they did sell some fruit with the Sweet 2 Eat labels.
Trader Joe's
The recall for them includes both looses stone fruit as well as 3 bound boxes that had the Trader Joe's name on the side but were from Wawona. The boxes look like the one in the photo below:
The Fresh Market
They have a notice up on their webpage. You can return the fruit to them for a full refund.
Other stores that received Wawona Packing Co stone fruit (this is by no means a complete list, just what I was able to find out, will add more if I find more):
[table]
Store, States
BJ's, Connecticut Delaware Florida Georgia Maine Maryland Massachusetts New Hampshire New Jersey New York North Carolina Ohio Pennsylvania Rhode Island Virginia
Costco, Nationwide
Sam's Club, Nationwide
Wegmans Food Markets, New York Pennsylvania New Jersey Maryland Massachusetts Virginia
Dierbergs, Missouri and Illinois
City Market's,
King Soopers,
Giant Food Stores,
Martin's Food Stores,
Aldi, Nationwide
Hiller's, Michigan
Ralphs,
Food 4 Less,
[/table]
A Word About Organic
This recall effects both conventional and organic produce. This shows that just because something is organic doesn't mean that is completely safe from these kinds of problems. When you have a large operation like Wawona runs you are more likely to have these kinds of outbreaks. I personally feel better about buying local from a small farm even if it's not certified organic.