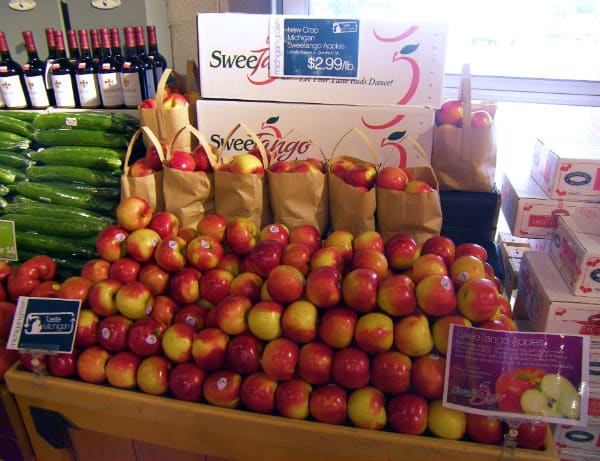 Christmas carolers like to sing "It's the Most Wonderful Time of the Year". That might be true for them - for apple lovers this is the most wonderful time of the year! It's time to talk SweeTango. Each year more and more people are getting turned on to this apple with it's crisp texture and fall like flavor. It's become a tradition on my blog to follow this apple where ever it goes. This page will have all the information I can gather on the whereabouts of SweeTango for the 2013 season. Looking forward to a good one.
About the Growers/Suppliers

Farms that belong to the Next Big Thing Growers' Co-op will have them available at their farm market, stands, and farmer's markets. The grocery stores will be supplied by 3 main sources. Stemilt supplies them to stores that are west of the Rocky Mountains. Pepin Heights supplies them to the Midwest. Fowler Farms serves the East Coast. There is also a source that ships in Canada.
Reserve Your SweeTango
Something new and exciting this year is some people will have the chance to reserve their SweeTango. If you shop at one of these Twin Cities' area stores, you can go to the "Reserve Your SweeTango" site & reserve your a 4lb of SweeTango apples and you get a t-shirt and tote bag as well. How cool is that?
Buying SweeTango Online
You can buy SweeTango apples online through Stemilt's Bountiful Fruit store. They come in a box of 12 once they are available.
Store Listing for "Reserve Your SweeTango
Lunds
1201 Hennepin Ave, Minneapolis, MN
2128 Ford Parkway, St. Paul, MN
Byerly's
13091 Ridgedale Drive, Minnesota, MN
7171 Francis Ave S, Edina, MN
Festival Foods
671 Country Rd E, White Bear Lake, MN
401 W 98th St. Bloomington, MN
Here is a list of farmer's markets, farm stands, and festivals in which you can find SweeTango this year. Keep going down the page if you are looking for grocery store listings.
Michigan
Bakkers Acres (Suttons Bay, MI)
Interwater Farms (Williamsburg, MI)
Rennhack Orchards Market (Hart, MI)
Travers City Commons Market | Monday 2 to 7 p.m.
Boyne City Farm Market | Wednesday and Saturday 8 a.m. to noon
Charlevoix Farm Market | Thursday 9 a.m. to 1 p.m.
Petoskey Farm Market | Friday 8:30 a.m. to 1 p.m.
Gaylord Farm Market | Saturday 8 a.m. to 1 p.m.
Oakland County Farm Market | Saturday 8 a.m. to 1 p.m.
Festivals
Apple & BBQ Cook-Off Festival – Silver Lake Sand Dunes – Sept. 13-14, 2013
Boyne City Harvest Fest – Boyne City – Oct. 5, 2013
Applefest – Charlevoix – Oct. 11-13, 2013
Minnesota
Pepin Heights Orchards (Lake City, MN)
New York
Zingler Farms (Kendall, NY)
Brown's Berry Patch (Waterport, NY)
Wisconsin
Wood Orchard Market (Egg Harbor, WI)
The Chain Store Listing
Here is a basic list of chain stores that carry SweeTango apples. You will need to check with the specific store for information on when they will have them
Connecticut
Big Y
Delaware
Food Lion
Florida
Food Lion
Georgia
DeKalb Farmers Market
Food Lion
Kentucky
Food Lion
Maryland
Food Lion
Giant Carlisle
Massachusetts
Big Y
New Jersey
Fairway
Giant Carlisle
New York
Fairway
Giant Carlisle
North Carolina
Food Lion
Ohio
Acme Fresh Market
Buehler's
Giant Carlisle
Pennsylvania
Food Lion
Giant Carlisle
South Carolina
Food Lion
Tennessee
Food Lion
West Virginia
Food Lion
Virginia
Food Lion
Giant Carlisle
EAST
Giant Landover
Hannaford
Harris Teeter
Heinen's
King Kullen
King's
Kroger
Marc's
Price Chopper
Publix
Remke
Safeway
Sam's Club
Shaw's
Stew Leonard's
Stop and Shop
Sweetbay
The Fresh Market
Tops
Trader Joe's
Wal-Mart
Wegmans
Whole Foods
CENTRAL
Brennan's Markets
Central Market
Coborn's
Dierberg's
Dominick's
Festival Foods
HEB
Hillers Markets
HyVee
Jewel
Kowalski's
Kroger
Lunds
Marsh
Meijer's
Nino Salvaggio
Papa Joe's
Pepin Heights Retail
Plums
Rainbow Foods
Roundy's
Schnucks
Sendiks
SuperOne
SuperTarget
Tanner's Orchard
Super Target
United
Wal-Mart
Westborn Markets
Whole Foods
WEST
Albertson's
Amazon Fresh (Seattle)
Bristol Farms
Costco
Dillons
Fred Meyer
Fry's
Gelsons
Harmons
Hy-Vee
King Sooper
Mollie Stones
Mother's Markets
New Seasons
Nugget
QFC
Ralph's
Safeway (Northwest, Northern California, Phoenix)
Vons – Pavilions
Sam's Club
Smith's
Target
Trader Joe's
Wal-Mart
Whole Foods
Related Posts

What is a SweeTango Apple Like?
Honeycrisp vs. SweeTango : Which is Better?
Baked SweeTango Apple Cobbler
SweeTango on NPR
Can You Buy a SweeTango tree?
Here are some apple related kitchen tools I recommend:
Amco Dial-A-Slice Adjustable Apple Corer and Slicer
: Allows you to slice apples into either 8 or 16 pieces
Zyliss Soft Skin Peeler
: The best peeler I have ever owned. Does a great job peeling an apple.
Mirro Foley 2-Quart Stainless Steel Food Mill
: A great tool for making your own applesauce. You can make the sauce without having to do any peeling.