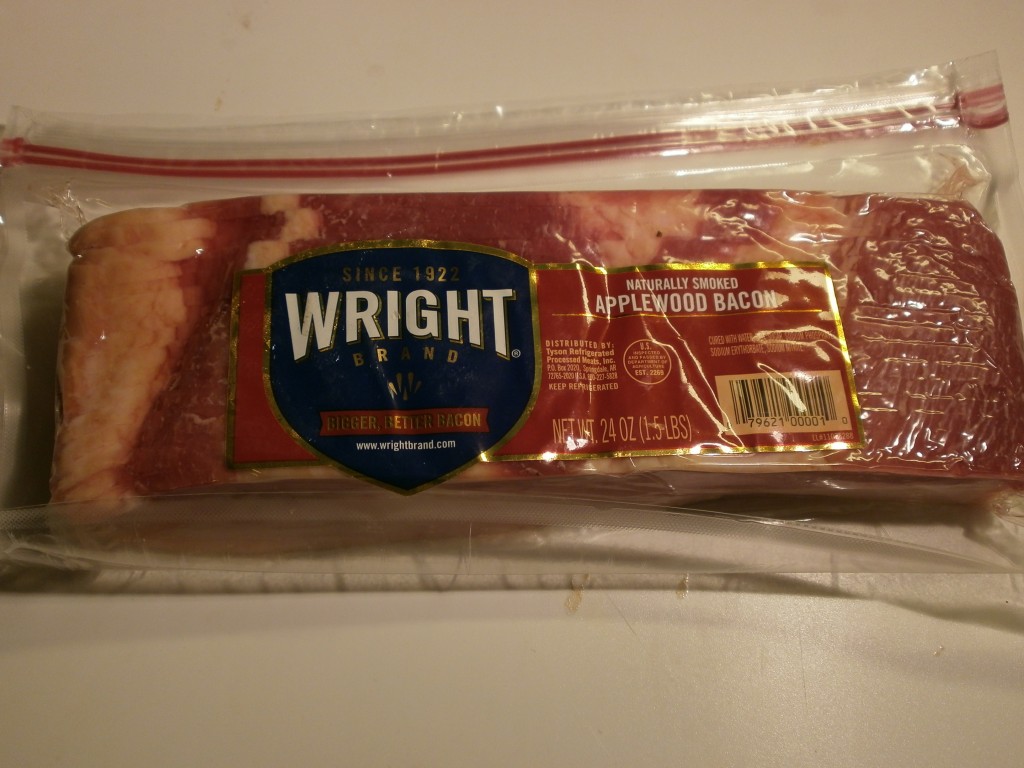 About once a week we have breakfast for dinnner. The kids love it. We pick out a different pancake or waffle recipe that we serve along with bacon. Since homemade pancakes and waffles are so cheap, we are able to spend a little more money on the bacon and go for the good stuff. Last week, we tried Wright Applewood Smoked Bacon for the first time. I love Applewood smoked bacon, more so than Hickory smoked bacons. This bacon had a nice meaty mouth feel. It's kind of like feeling you get when you bite into a perfectly cooked ribeye steak, only in a more bacon like way. Wright's catchphrase is "Bigger, Better Bacon" this bacon was definitely bigger. The bacon didn't shrink down as much as it does with inferior, cheap bacon (don't buy cheap bacon!). The flavor was as good as the texture. It had a nice smokiness to it, without being overbearing.
The package I bought cost $5.99 for 24 ounces. The nice thing about this bacon is that it comes in a resealable bag. So if you don't want to cook it all up right away, you can save some easily for later without having to pull out a clean plastic bag.
Wright bacon has been around since 1922, started by Roy Wright and Fay Eggleston. The company still uses a 90 year old recipe to make their bacon. Wright is available nation wide at many Kroger owned stores, Sam's Club/Wal-mart, Albertson's, Meijer to name a few. You can check their website to find out where their products are available near you. Wright is probably the best bacon that is available nationwide. It beats out anything I have tried from any other national brand.