What are Panko Breadcrumbs? How are they different vs. regular bread crumbs? Find out why I have switched to using nothing but Japanese Panko breadcrumbs for breading chicken, fish, crab cakes, pork, etc for an unbelievable crispy texture!
This post includes affiliate links. This means that at no additional cost to you, I will earn a commission if you click through and make a purchase. These are products and services I recommend because I use or trust them. Cookies will be used to track the affiliate links you click.
Have you ever thought much about bread crumbs?
There are just crumbs of bread, right. Nothing more to think about.
For years I have been a bread crumb user. The first time was when my friend showed to me how to bread shrimp for deep frying. For years I just grabbed the plain bread crumbs off the shelf without a second thought.
That was until I saw an episode of Alton Brown's Good Eats. Alton uses Panko bread crumbs or also called Japanese bread crumbs. Life changing! Let's show you why.
Jump to: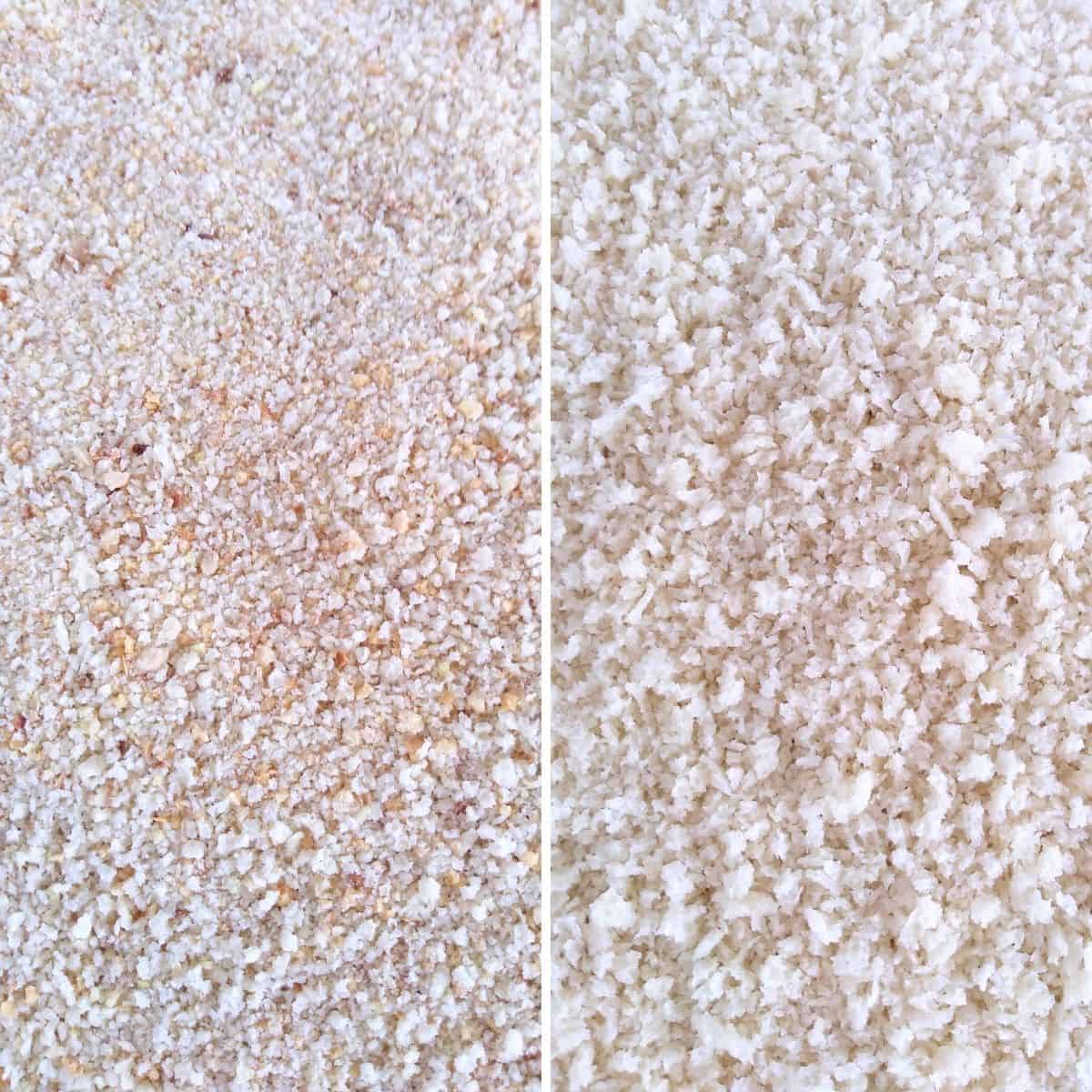 🙋 What's the Difference?
One look and you will see how these two types of bread crumbs differ. The crumbs on the left are regular breadcrumbs. The crumbs on the right are Panko breadcrumbs.
What do you notice about the regular ones? Look at the size and the shape of the crumbs. The crumbs are round and somewhat uniform.
How do the Panko crumbs compare? Notice the size, shape, and uniformity as compared to the regular ones. They are all different sizes - kind of like snowflakes - and more jagged in appearance. I have described them to people as looking like someone took some croutons and smashed them to bits.
❓ Why Use Panko?
Panko is more coarse than traditional breadcrumbs. This allows them to provide a crispy coating that starts crispier and stays crispier longer.
We have fallen in love with Panko in our house and they are now the only bread crumbs we will purchase. We use it mostly for coating chicken tenders but has also used it with a pork chops or a pork cutlet, cod, and shrimp.
I have seen an increase of Panko products on the market, including different flavored versions (although I would prefer to add my own herbs to the dish I am making instead of buying the herbed Panko).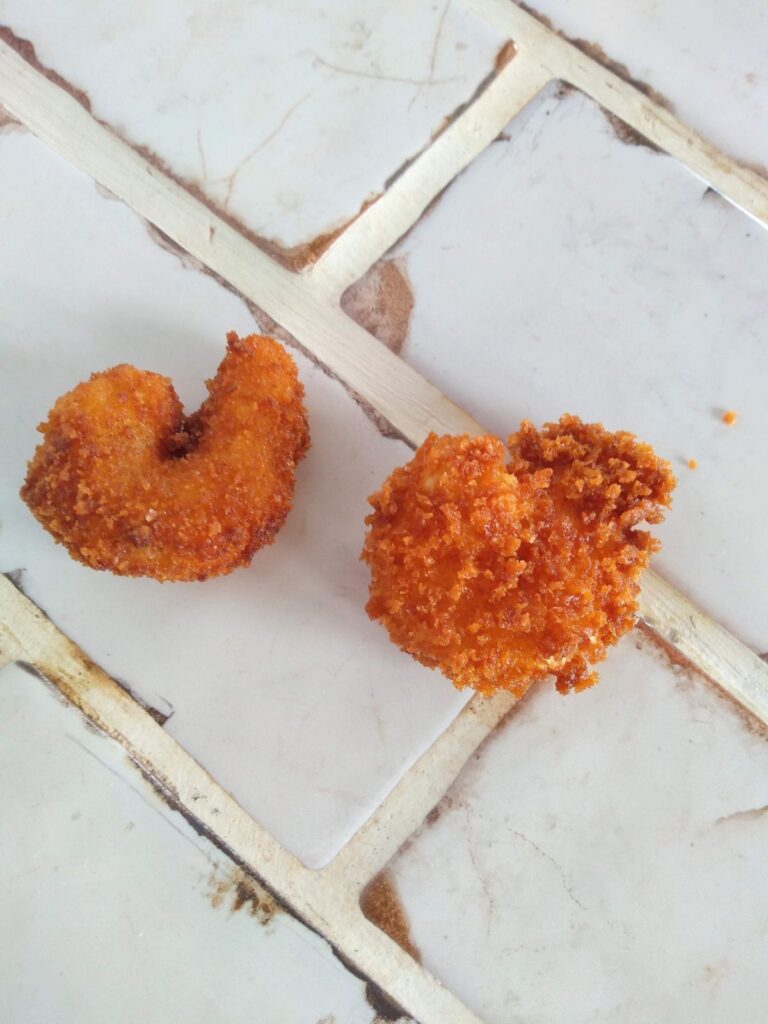 ♻️ Can I Substitute?
Absolutely. I have used Panko in recipes for meatballs and meatloaf that calls for traditional breadcrumbs. You can also swap the other way and use traditional ones instead of Panko. I don't change the amount I use when I swap either way.
However, your never get quite the same crispy texture with regular bread crumbs. This is especially true if you are going to deep fry whatever food your covering in bread crumbs.
The more airy, flakiness of the Panko bread crumb not only will make your fried foods crispier but less oil can be absorbed.
When using Panko you are less likely to have soggy food and it should be your life's mission to avoid soggy foods!
❔ Can You Just Make Your Own Panko?
Making standard bread crumbs at home. That is easy.
I would love to do homemade Panko. Is it possible? It's not easy to exactly replicate
You will want to use crustless white bread to make it. Remove the crust first.
What I heard people say you can do is to try and grate your bread. Doing that with a hand crating is challenge. It's best to try and use the grater disc that came with your food processor after you have dried out your bread as you would for making croutons.
🛒 Where to Buy Panko
Pretty much every grocery store carries them now. Whenever you find traditional bread crumbs in the store, you will find Panko.
Of course you can also just order them online and have them shipped to your front door.
🥬 Is Panko Vegan?
Most likely yes. I don't see any traditional Panko breadcrumbs that have any ingredients that wouldn't be vegan. I don't want to guarantee that for all products. I have seen Kikkoman brand Panko being sold on a vegan food website. The ingredients in that brand are : wheat, sugar, yeast, and salt. There isn't any animal fats.
🏆 Best Panko
I personally think the best Panko you are going to get is going to have some Asian writing on the bag. The brands you find where the Asian cuisine is sold in the grocery store or in an Asian grocery store are typically my favorite.
Store brands I don't think are quite as good. Kikkoman is fine but I prefer a brand like J-Basket.
RELATED - What to Make with Panko Fried Shrimp
🚫 Gluten Free Panko
If you are someone that is on a gluten free diet or you have a family or friend that is, I want to give you a couple options to avoid ones made with wheat flour.
Gluten Free Panko Bread Crumbs - they are several gluten free Panko options on the market, that use different types of starches, usually tapioca or potato.
Pork Panko - this is a really unique option. Pork Panko is pork rinds that have been ground into pieces that size of panko. You can use it just like you would the breadcrumbs. It's a friendly option if you are also following a Keto or Paleo diet or are diabetic.