This post is sponsored by Flat Iron Pepper Company.
Let me ask you this question - have you ever designed a meal around pepper flakes?
I am going to go out on a limb here and say you probably haven't.
Pepper flakes aren't usually something that you start with, they are something you end with. And why is that? Most of the time they are just there, generic red flakes in a generic shaker. Nearly every pizza joint will have them.
People love having them. But they aren't an ingredient that is ever the star of the show. Who goes to a pizza place and say man I enjoyed the pepper flakes. Maybe if the pizza was that bad.
As we love doing at this blog, we love to break the norm. I have designed a new Sous Vide chicken recipe all around pepper flakes. And not just an ordinary pepper flakes, these are the flakes from the Flatiron Pepper Company.
Man if they had these flakes in every pizza joint they could mask even the worst pizza - I am looking at you Domino's.
Flat Iron Pepper Company
Matt and Mike started the Flat Iron Pepper Company in 2017. They were tired of being disappointed by the pepper flakes that were available to them to put on their pizza. They wanted more than just heat, they wanted flavor and certainly those pepper shakers weren't providing any more flavor than the cardboard box the leftover pizza goes home in.
The idea behind their pepper flakes is to add flavor and heat without adding any salt or sugar. It's important as well that the heat doesn't just completely destroy the taste buds. They careful choose their mixture of peppers so that you can get the flavor and heat of the hotter ones without overwhelming you.
Most red pepper flakes are made from peppers like cayenne or other similar varieties. They often contain one or more types of peppers with a goal of reaching a certain level of heat. Flavor is often not accounted for.
Here are the 4 blends you can get from Flat Iron and what peppers they contain
Four Pepper Blend - Jalapeno, Ghost, Arbol, and Haberno
Hatch Valley Green - Jalapeno, Sandia, Big Jim, and Haberno
Dark and Smokey - Chipotle, Ancho, and Haberno
I Can't Feel My Face - Carolina Reaper, Mouruga Scorpion, Ghost, and Haberno
They recently added the "I Can't Feel My Face" blend as many customers were requesting wanted the super hot heat - not me!
I do love that they have a good balance of different types of mixes from the smokey to the super hot, to a green mix. When I taste and smell the Hatch Valley Green mix it does bring back some memories of smelling chilies being roasted at a farmer's market I once visited in Cheyenne, Wyoming.
How to Order Flat Iron Pepper Flakes
All of Flat Iron Pepper Flakes are available on their website. They also have a list of select retailers and restaurants you can find them at in the Denver area including some pizza parlors.
Also you can order a 3-pack of the Hatch Valley Green Flakes on Amazon. Or get 1 container of their Four Pepper Blend.
Why Sous Vide Chicken?
Time to talk about the perks of Sous Vide Chicken.
The biggest perk - Never overcook chicken again. If you have a Sous Vide precision cooker, you can always get chicken perfectly done without drying it out.
It's really a game changer, especially if this is something you struggle with this. I know a lot of people like the lean mean chicken breast, but that leanness means its super easy to render it dry as the desert.
When I do Sous Vide chicken I get it perfectly cooked. Then when I take it out it's ready to toss on the grill or in a frying pan to brown. This adds the flavor and if you do it really fast your chicken will still be perfectly moist.
I usually allow the chicken to rest before I brown it (brown food tastes good!)
What Temperature for Sous Vide Chicken?
The recommendation for cooking chicken is to 165 degrees. I set my Sous Vide for that and cook it for an hour.
You need to at least cook the chicken past 140 degrees. That gets it out of the bacterial danger zone and kills any particular baddies that could make you sick. Time is an issue as well. You need to hold the chicken at certain temperature for a particular amount of time to kill the bacteria.
Once you get to 165 mark the bacteria is dead as a door nail. If you can hold the chicken at a lower temperature for longer period of time you end up with a juicer piece of chicken. Something that is only really possible with the Sous Vide method.
For the sake of this recipe we are going stick to the traditional 165. There is a really great article over at Serious Eats talks of time and temperature if you are looking into exploring that more. They did a wonderful job.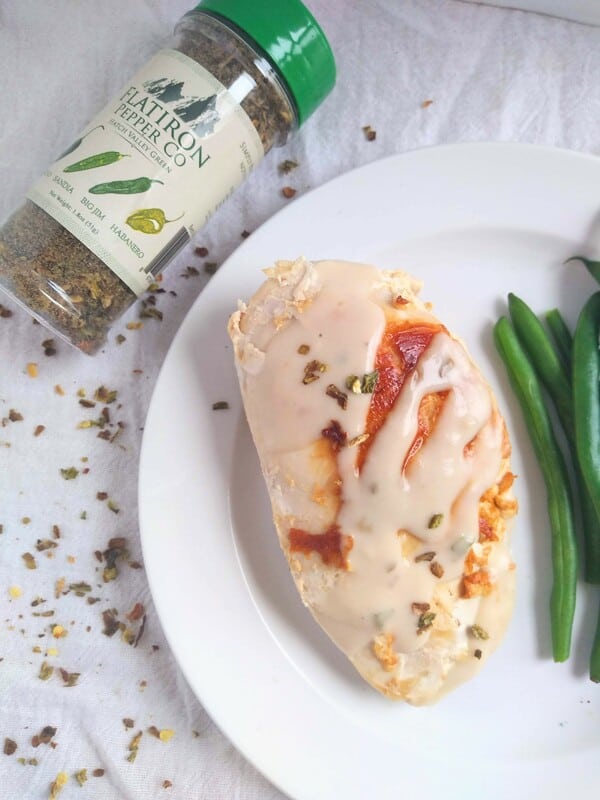 The Creamy Pepper Flake Sauce
This recipe is really all about the sauce. I am a huge fan of pairing dairy based sauces with spice and heat. The cool and creamy and the hot and spicy are complimentary.
To create even more flavor, I use Mushroom Broth along with an equal part of whole milk. You can use chicken broth as well but I like the unami flavor the mushroom broth brings to the sauce.
The sauce is created throughout your basic roux - butter, flour and liquid. Melt the butter, cook the flour in the butter, and then add your liquid. Cook til thicken. It's what I do to make mac & cheese too.
If you don't have a Sous Vide cooker, you can still do this recipe. I recommend pounding the chicken out as thin as you can get it so it cooks fast in a fry pan.
Then make the pepper flake sauce like I do below.
This post includes affiliate links. This means that at no additional cost to you, I will earn a commission if you click through and make a purchase. These are products and services I recommend because I use or trust them. Cookies will be used to track the affiliate links you click.
Sous Vide Chicken with Creamy Pepper Flake Sauce
Perfectly cooked chicken is served with a creamy sauce featuring Flat Iron Pepper Flakes.
Print
Pin
Rate
Instructions
Place your chicken into a bag for Sous Vide cooking

Set the temperature for 165 degrees for 1 hour.

When finished remove the chicken from the bags and allow to cool for 10 minutes

Heat up a sauce pan over medium high heat with 2-3 TBSP of cooking oil.

Add the chicken. Cook until brown on both sides.

Add butter to the frying pan to melt it.

Whisk in the flour and pepper flakes.

Add the mushroom broth and milk

Bring to a simmer and stir until thick.

Add salt and taste until salty enough for you.

Serve over the chicken with additional peeper flakes to taste .
Tried this recipe?
Mention @eatlikenooneelse or tag #eatlikenooneelse