Ever seen a steak called a Tomahawk steak? Is it any different than a ribeye or is it just one with a giant bone?
This post includes affiliate links. This means that at no additional cost to you, I will earn a commission if you click through and make a purchase. These are products and services I recommend because I use or trust them. Cookies will be used to track the affiliate links you click.
Cartoons like to over exaggerate things. Most of the time with larger than life characters. Even the food is over exaggerated.
Whenever I have seen a Tomahawk steak in a grocery store, I have though "wow that looks like it came straight out of a cartoon, I can imagine Fred Flintstone eating a steak like that".
Today we are talking about this larger than life steak by comparing it to the classic Ribeye. Are they worth the money? Do they cost more money?
Jump to:
🙋 What's the Difference?
It's all about the bone. A Ribeye comes either boneless or bone-in with the bone not sticking out from the steak. Most Ribeyes you find in stores are boneless. A Tomahawk steak (sometimes called Cowboy Steak) has a bone that sticks out 5 to 8 inches from the steak. I got to say they look pretty cool.
Tomahawk tend to be on the thick side too. I would say around 2 inches. So you will need to keep that in mind if you are use to cooking thinner Ribeye steaks.
💲 Do They Cost More?
Not necessarily. When it comes to price per pound, I have found them being sold at the same store for the same price. This isn't always true though, it depends on the source. When it comes to overall price, Tomahawk are going to be more money as you are paying for that huge bone and a thicker steak.
The average Tomahawk steak weights around 2 to 2 ½ pounds. It's a great steak to share with a special someone.
If you are talking about restaurants, they are definitely going to upcharge you for a Tomahawk steak. It's going to cost you a pretty penny!
❔ Are Tomahawk Steaks Worth It?
If you are going for an amazing presentation for you and your dinner guests, then yes. Does the bone add flavor to the meat? Some people swear it does. I honestly don't buy into this hype as I have had bone-in and boneless steaks and I can't taste any difference.
I believe the bone helps when you talk about slow cooking beef for a long time. Which is why when you make homemade beef stock you cook bones for a long time. They break down, releasing the marrow. This doesn't happen when you are cooking a steak quickly.
However, I do say the bone looks better and since we eat with our eyes, that bone could make us think the steak tastes better.
Did you know you also can buy Ribeye steaks from Bison? Check out our blog post on How to Cook a Ribeye from a Bison to learn more.
🏆 Are They Prime Beef?
If they are labelled USDA Prime. You can find them in different grades, so don't just assume you are getting prime beef.
🛒 Can You Get Them at Costco?
Not always. When Costco has done some of their "traveling seafood or meat shows" I have seen Tomahawk steaks in their displays. I can't guarantee they will have them but they are a great place to begin your search.
📦 Where Else to Buy?
Besides Costco, I have seen them at the Fresh Market as well. Also have heard you may be able to find them at H-E-B, the Central Market, Wegmans, Hy-Vee, and Publix. They may not always been in stock at these stores. You need to check with the individual store. They may be a seasonal item.
Remember to look for the name "Cowboy steak" as well. Or check the frozen meat department.
The easiest way to get your hands on one is probably by ordering them online. Snake River Farms sell American Wagyu Black Grade Dry-aged Tomahawk Ribeye
Check out any of these sources as well.
Wild Fork Foods
Harry & David
Omaha Steaks
Better Fed Beef
Saltbae Meats
If all else fails, check with a local butcher shop, they might be able to hook you up.
♨️ How to Grill
There isn't much different to grilling a Tomahawk steak. You will need more space on the grill. You will need to take into account that they are a thick steak.
Because of the thickness of the steak it's especially important to have a thermometer on hand to make sure it's done to your liking in the center. You don't want to spend the money on the steak and then overcook it! Always have a thermometer ready to go. It's more accurate than just timing it.
Here are some grill instructions:
Bring steak to room temperature before grilling.
Season liberally with kosher salt and freshly ground black pepper
You want to have half your grill with really high heat, as hot as you can get. The other half you won't have any direct heat source, so you just be using indirect heat from the other side.
Start your steak on the side without direct heat. Cook until it reaches a temperature of 115 degrees. The average time is 20 minutes with a flip halfway through. Time can vary depending on the exact thickness of your steak and how hot your grill is.
Finish searing your steak over the direct heat. Get a nice crusty sear, then flip. It should take around 3-5 minutes or so per side depending on your final thermal temperature. I like around 130-135 degrees for medium rare.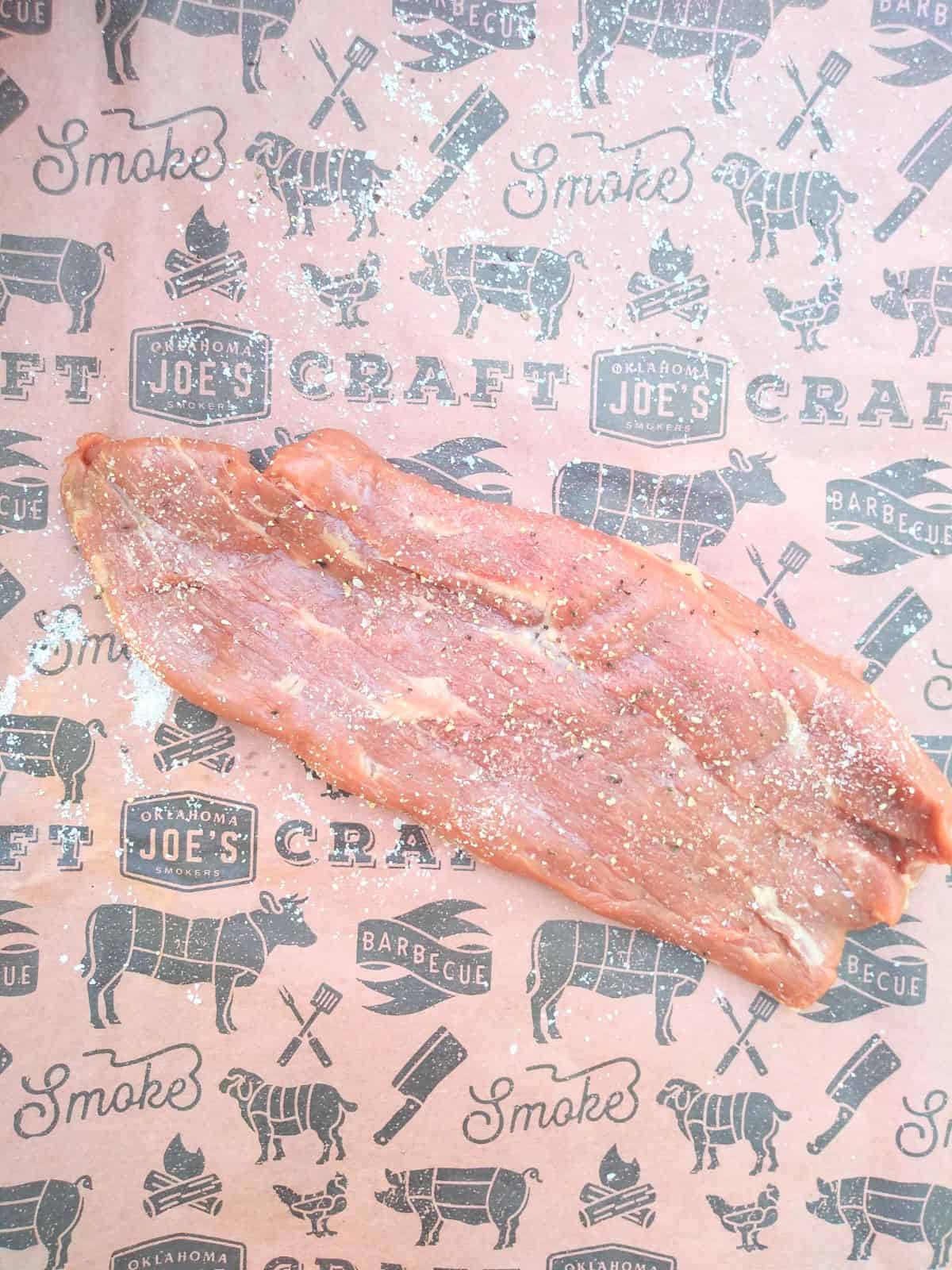 🥩 More Steak Posts
Keep your steak education going with these additional blog posts, such as the Sierra Steak you see in the photo above.