An easy to make "King Cake" like crescent rolls made in the air fryer and topped with the traditional King cake icing with Mardi Gras colored sprinkles.
This post includes affiliate links. This means that at no additional cost to you, I will earn a commission if you click through and make a purchase. These are products and services I recommend because I use or trust them. Cookies will be used to track the affiliate links you click.
This year we are celebrating Mardi Gras in Biloxi, Mississippi. And it's a big deal down here. Parades going on over several days. The Mardi Gras colors are plastered all over the city. Even the schools and libraries are closed for the day.
The best part of it may be all the delicious King Cakes I am seeing in the stores. We definitely partook in some of those! But we also wanted to make our own.
We have limited space in our camper that we are currently traveling in. But we do have an air fryer. We figured out how to make a cake that resembles a King Cake using the air fryer and some refrigerated crescent roll dough we got at the store. This recipe is super easy and delicious to make.
Jump to:
⚙️ Why This Works
A King Cake is a layered cake that falls somewhere between a cinnamon roll and a coffee cake. Cinnamon is the most common flavoring of the cake. By cutting crescent roll dough into layers and putting a mix of brown sugar, butter, and cinnamon you are making something that is similar to a King Cake, but easier to do in your air fryer.
🛒 Ingredients
Here is what you will need to make the dough & filling:
1 canister Crescent Rolls dough
4 tablespoons butter
3 tablespoon brown sugar
1 teaspoon ground cinnamon
Make your own brown sugar by combining white sugar with molasses. Check out our blog post to learn more.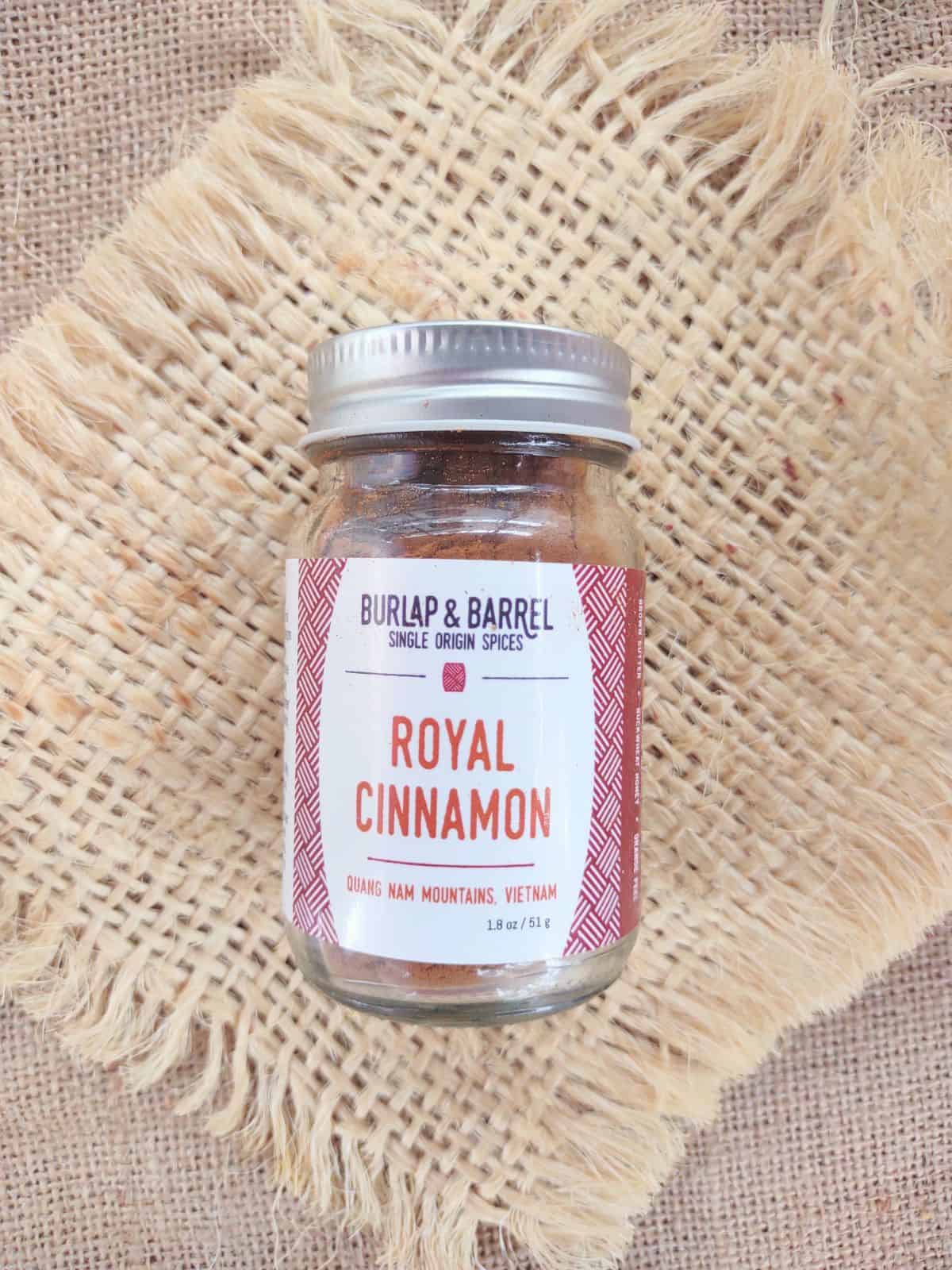 How good this recipe is comes down to the cinnamon. The better cinnamon you use the better these are going to taste. The Royal Cinnamon from Burlap & Barrel is the best cinnamon I have found to date. And I love cinnamon, so I am constantly looking for the best. The flavor is bold, spicy, and sweet. The cinnamon is sourced directly from the farmers in Vietnam that grow it. One taste of it, you won't ever like store bought cinnamon again. It's that good!
Here is what you will need to make the icing
½ cup powdered sugar
1-2 tablespoons half and half
Mardi Gras colored sanding sugar or sprinkles (green, gold/yellow, purple)
For the sprinkles, I choose sanding sugar that I got at Walmart. Being how popular Mardi Gras is down here they only had green in a container of 6 different colored sanding sugars for Easter decorations. So my green is more of a pastel green but that's alright.
🛒Get the Best Cinnamon
Burlap & Barrel sources their Royal Cinnamon directly from the farmers in Vietnam. You can't get any fresher! This cinnamon is intensely sweet and boldly spicy. I have yet to find one better.
🥄 Special Equipment
To make these King cakes you need something to bake them in that will fit in your air fryer. For that I use these silicone baking cups.
Being a frequent shopper at farmer's markets, I love that these baking cups look like the containers you get berries in when you shop at the farmer's market. They are easy to clean and are perfect to use in the air fryer. I find whatever we make them comes out without much trouble. They also stack well together when storing.
The square shape is perfect for my air fryer, as I have rectangular baskets. They will also fit in a circular air fryer basket, just won't be as space efficient.
Paper cupcake liners won't hold their shape on their own, so you would still need something to keep them upright. A lot of stores carry silicone liners nowadays that will work.
📋 Instructions
Now let's show you how to make these.
Open the can and remove the dough. It should separate into two pieces. Start by rolling out half the dough. No need for a rolling pin here, just use your hand and be gentle.
Next you going to cut the dough into squares. You will need 24 squares for each half dough, 48 squares total. Each mini cake will made up of 6 squares.
Mix softened butter with brown sugar and cinnamon.
💡 Tip - If the butter is a liquid at all put in the fridge to firm up before using. You don't want the butter to melt immediately when baking.
Add a tiny amount onto each square. Then add another square on top. Repeat until you have 6 squares. Don't put any butter/sugar on the top square, only in between squares.
⏲️ Cooking Time - Set your air fryer to 300 degrees. Cook for 7 minutes.
The first time making these I would check them after 5 minutes. This temperature may seem low but keep in mind these are mini cakes and when baking in an air fryer it's common to reduce the temperature by 25 degrees.
You want to pull them when they are brown and the dough is fully cooked.
Then to make the icing all you need to do is add powdered sugar to a bowl, then mix 1 tablespoon of half and half (you also could use milk or heavy cream). Keep mixing until smooth. If it's not enough liquid add another tablespoon. Then spread on to the mini King Cakes once they have cooled enough to handle. Add your sanding sugar or sprinkles immediately after adding the icing and then serve to a grateful audience.
Air Fryer King Cake Crescent Rolls
Learn how to make mini King Cakes in the air fryer using crescent rolls
Print
Pin
Rate
Ingredients
For the icing
½

cup

powdered sugar

1-2

tbsp

tablespoons half and half

Mardi Gras colored sanding sugar or sprinkles (green, gold/yellow, purple)
Instructions
Remove the dough from the can and unroll it. It should separate into two pieces.

Take one half of the dough, roll it out with your hands. Cut that half into 24 squares. Repeat with the other half of the dough, so that you have 48 squares total. You will use 6 squares per mini cake.

In a baking cup, add 1 square of dough, then a small amount of the butter/sugar mixture. Then put another square on top. Repeat this until you have 6 squares. Don't put any butter/sugar on the top square. Repeat this whole process until you have filled up 8 baking cups.

Set your air fryer to 300 degrees. Add the baking cups, if they don't all fit, work in even batches. Cook for 7 minutes (check after 5 mintues) until the dough is cooked through and is golden brown.

Remove the air fryer basket. While they cook, add the powdered sugar to a bowl. Mix in 1 tablespoon of half and half at a time until smooth and is the right consistency of icing.

Once the mini cakes are cool enough to handle, but not fully cooled evenly spread the icing over each cake. Then immediately sprinkles with your sanding sugar or sprinkles. Serve warm.
Tried this recipe?
Mention @eatlikenooneelse or tag #eatlikenooneelse