A new episode of Good Eats aired Monday night, entitled "A Bird in the Pie is Worth Two in the Bush". It contains 3 recipes for pot pies. I asked my wife which recipe she would like to try first. She went for the Individual Chicken Pot Pie with Puff Pastry. Below you will find my notes from this recipe. Visit Food Network's website for the full recipe.
The Filling
1. I had some leftover chicken from making Alton's Chicken & Dumplings the night before. So I use this chicken, instead of making new.
2. The recipe calls for cremini mushrooms. These mushrooms are also called baby bella mushrooms. This is what I find them called at my local grocery store.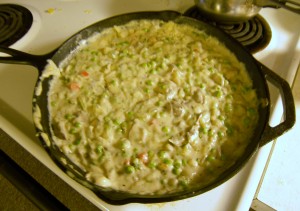 3. The filling is pretty easy to make. Just make sure you use a wide enough pot, like a cast iron skillet
. Having enough room to stir everything without it flying out of the pan is important here.
4. Be patient. It will take a few minutes for the filling to thicken up. It will look like too much liquid at first, so don't panic.
The Puff Pastry
1. Be sure you follow Alton's instructions closely. Making this pastry is not easy.
2. You need to keep everything as cold as possible. So don't make this right next to a hot stove or a running dish washer. Alton said that if the butter starts to melt you need to stop and place a sheet pan with ice or an ice pack on top of it for 5 minutes. This will chill down the dough. I did this twice with my dough.
3. Alton used about 10 tablespoons of ice water to get the dough together. I didn't count how many I used, but I know it was more than that. Keep adding a couple tablespoons at a time until your dough comes together.
Baking the Pies
1. I don't have the size ramekins
that Alton uses. I have two wide ones, so I used those. Not all the filling fit, so am saving some in the fridge to use the next day, along with half the puff pastry.
2. I found my pie cooked a lot quicker than Alton's did.
He said bake it for 15 minutes, then reduce the heat to 400 and bake another 15-20. I found that I only need about 5 more minutes after I reduced my heat to get to golden brown. This could be because I had a different shape ramekin. So don't just go by the time the recipe gives, keep your eye on the pie. When it's golden and the filling is bubbly, take it out.
Final Thoughts
My wife said this was the best pot pie she ever had. The puff pastry crust came out perfect, even better than store bought. I didn't think I could make my own puff pastry, but this recipe showed me that I can. I am going to try to see how these pies do frozen, so we can pull them out of the freezer when we need a quick meal (much better than pulling a store bought frozen one).
Recipe Grade: A