Learn all about these unique variey of apricot that is so good it may be called heavenly!
White Angelcot apricots available from Frieda's Specialty Produce may be on a produce display near you. Find out where.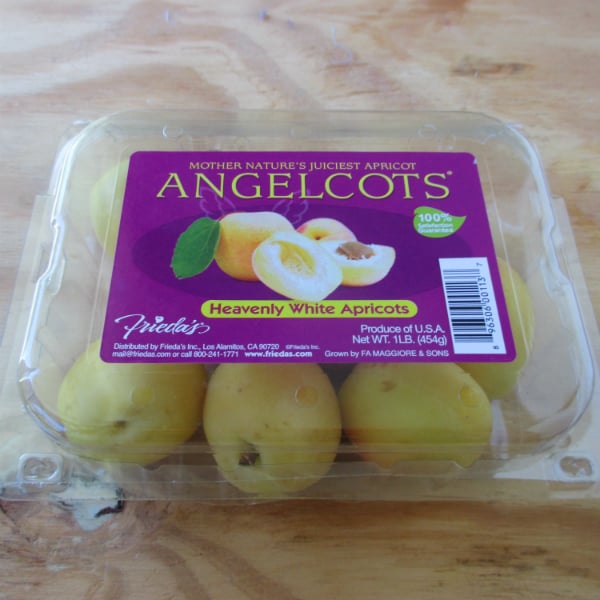 For years I let the apricot be an afterthought in my life.
I know it's sad. I think it may have been from some jam I had years ago that I didn't care for. I can't remember ever having a fresh apricot growing up.
A few years ago I start expanding my horizons in the stone fruit world to go beyond peaches and nectarines, and now apricots do have a place in my household. A well deserved place at that.
Jump to:
👼 What are Angelcots?
Not all apricots are the same. In recent years new exciting varieties have been released - one of them being the Angelcot® from Frieda's Produce. These I recently got to try out. Right away you will notice a different - the skin is much lighter in color, almost white - not the usual orange hue.
They come packaged in 1 lb clamshells, where they are referred to as "Mother Nature's Juiciest Apricot" and "Heavenly White Apricots". They are grown by F. A. Maggiore & Sons in Brentwood, California and distributed by Frieda's. The variety was developed by Ross Sanborn from Iranian and Moroccan seeds.
👅 What Do They Taste Like?
They are super sweet with a honey like taste. They are quite juicy and aren't measly like a lot of the large apricot varieties you find in most stores. I think that is what turns people off to apricots.
That and the flavor not being what it was. A move to growing more apricots in the San Joaquin Valley for cheaper land to grow on has caused varieties such as the Blenheim, that were flavorful to be replaced by varieties that could stand up to the heat in that area. These varieties don't match up in the flavor department (read more about this in this New York Times article).
Angelcots are great to enjoy right out of hand or...
Slice them up and mix them with vanilla bean ice cream with a good wildflower honey drizzled on top! Now that is what I call a summer time treat.
☀️ When in Season?
The season runs from mid-June to beginning of July.
RELATED - When are Apricots in Season?
🛒 Where to Find Angelcots®
Angelcots are available at Trader Joe's stores nationwide. They are also available at these locations while supplies last. Stores with cities listed are confirmed locations.
NORTHERN CALIFORNIA
Safeway
Whole Foods
Mollie Stone's
SOUTHERN CALIFORNIA
Ralphs
COLORADO
City Market
King Soopers
KENTUCKY
Kroger Louisville
Kroger Shelbyville
ILLINOIS
Mariano's
Whole Foods
INDIANA
Kroger
Whole Foods
IOWA
Whole Foods
MICHIGAN
Whole Foods
MINNESOTA
Rainbow
Whole Foods
MISSOURI
Schnucks
Whole Foods
NEBRASKA
Whole Foods
NEW MEXICO
City Market
NORTH CAROLINA
Lowe's Food
OHIO
Kroger Cincinnati
Kroger Columbus
Kroger Shelbyville
PENNSYLVANIA
Shop N Save
SOUTH CAROLINA
Lowe's Food Stores
TEXAS
HEB
Central Market San Antonio
Central Market Houston
Kroger Dallas
Kroger Houston
TENNESSEE
Kroger Memphis
Kroger Nashville
UTAH
AF Fresh Market
Salt Lake City
City Market
WISCONSIN
Copps
Metro Market
Pick N Save
Whole Foods
WYOMING
City Market
Have you ever had Angelcot apricots before? Leave us a comment below to tell us what you think.