Learn whether or not tomatoes should go in the fridge? Is there a time to put them in the fridge or should that be avoided at all costs. We also have a special cameo appearance from Ashley Covelli from Big Flavors from a Tiny Kitchen sharing her recipe for bruschetta.
🎧 Listen
You can listen to this podcast episode below or listen on any of these podcast players - Spotify, Apple Podcasts, Amazon Music, Google Podcasts. If you would prefer to read the text, you will find a transcript below.
✍️ Guest Blogger
This episode featured a guest appearance by Ashley Covelli from Big Flavors from a Tiny Kitchen.
Hi, I'm Ashley Covelli and I've been writing about food and recipes over at Big Flavors from a Tiny Kitchen since 2006. I've also been teaching cooking classes to kids, teens, and adults since 2018, and I absolutely love talking about all things food. Tomatoes are one of my very favorite ingredients.
They're one of the only things other than herbs that I plant in my garden each year. Tomato storage is one of those topics that tends to confuse people. So I'm really glad that Eric is featuring this topic today, especially before the explosion of garden Tomatoes comes.
I have a tiny kitchen, so counterspace is at a premium. I usually store my tomatoes in a hanging produce basket out of the sunlight. I usually don't refrigerate them unless they look like they're starting to get super ripe, and I'm not gonna be using them right away. And that'll help add a few days before they spoil. One of my very favorite ways to use tomatoes, especially during tomato season, is making my Italian father-in-law's bruschetta appetizer.
It's a quick and easy recipe. It's a great way to highlight your garden or farmer's market bounty, and it's also delicious year round, even with store-bought tomatoes, if you're making it in the off season. I'll tend to buy either grape cherry or Campari tomatoes since they tend to be consistently ripe all year.
You can mix and match the types, colors and sizes of tomatoes that you use in this recipe. So it's kind of a great way to use a mishmash of whatever you have hanging out in the kitchen. I like serving it in a big bowl alongside some crostini that's been toasted and rubbed with garlic, the recipe's on my website and got tips for making the dish in advance storage and more.
🛒 Before You Checkout
What you need to know before you checkout at the grocery store or market:
If you are buying tomatoes from the grocery store look for ones grown by companies like Sunset known for their Campari and brown Kumato greenhouse grown tomatoes. These tend to have better flavor than the large beefsteak ones that all grocery stores carry.
In season you should definitely be sourcing them locally or growing them yourself if you can.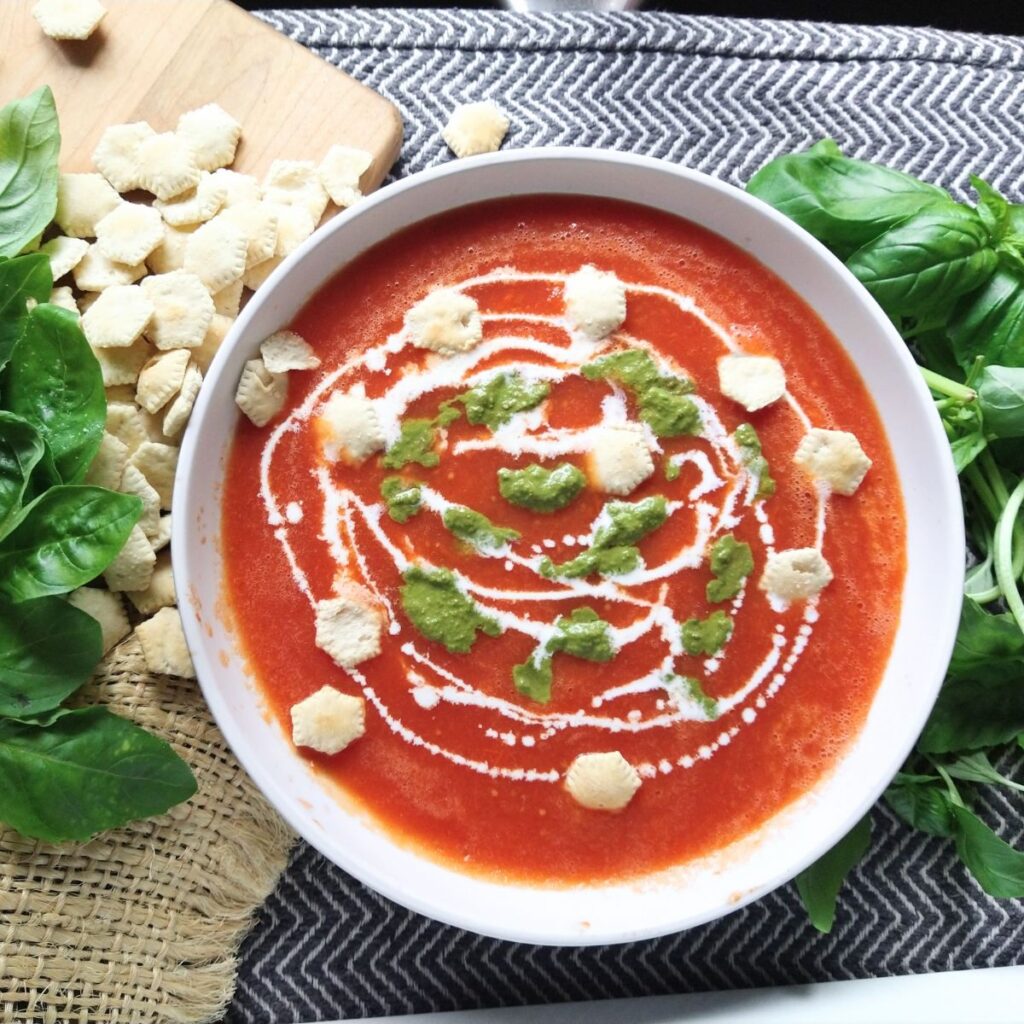 📚 Additional Resources
If your cherry tomatoes are starting to look a little sad, then you can use them to make soup. I love making a tomato soup in my Instant Pot that combines cherry and Roma tomatoes.