Learn how to tell when red banana is ripe and ready to eat. They ripen different than yellow bananas, so it's important to know what to look for.
This post includes affiliate links. This means that at no additional cost to you, I will earn a commission if you click through and make a purchase. These are products and services I recommend because I use or trust them. Cookies will be used to track the affiliate links you click.
I am a guy who likes varieties.
You would only have to do a peek at this blog to see that. I love trying different varieties of produce.
Anytime I see a new variety, it's like Christmas morning. Some things it's very hard find different varieties particularly the banana.
There are thousands varieties of bananas. Most people only ever have the one variety - the Cavendish - the basic yellow banana that is everywhere. If you look around you might be able to find a few other varieties.
A lot of stores carry red bananas and mini bananas - which gives us a little variety but just barely even scratching the surface. But any variety to break up the monotony of Cavendish is welcomed until America's banana spectrum increases.
So when I recently say red bananas on sale for 39 cents a pound, I snatched a couple bunches up. Normally they go for more cash than the Cavendish so for them to be the same price is a rare treat.
I brought them home and asked myself one question - how to know when it's ripe?
Jump to:
🍌 How to Know When Ripe?
So how do you eat a red banana? Let's talk about ripeness.
What does "ripe" really mean? This mean when a piece of fruit is at it's full flavor and sweetness. This doesn't mean the fruit will be at the best for everyone's taste buds. My wife like a solid yellow Cavendish banana, but I need to have black spots on them to even consider. I like them ripe, my wife doesn't. It's most important to learn what stage of maturity you like a piece of fruit.
If you want to try a red banana when it is considered ripe, there are signs to look out for. We naturally try to establish rules for when a piece of fruit is ripe, but that don't always work for every variety of fruit.
Bartlett pears and d'Anjou pears are both green when picked. When a Bartlett is ripe it will turn yellow but a d'Anjou stays green. The ripeness of a banana is like a pear, where color is varies with variety.
Red bananas don't get the spotted appearance a yellow Cavendish does. The color does change, it's just not as obvious. What you need to look for is the banana lightening in color. You will also notice a little bit of yellow, particularly toward the end of the banana.
It should give a little to gentle pressure just as a Cavendish would. There should be at least a hint of a sweet smell. There may be some blackening, but not any black spotting.
If you are interested in learning more about bananas I highly recommend the book "Banana - the Fate of the Fruit That Changed the World ". It taught me quite a bit about bananas and was a very interesting read, even for those that aren't in the produce industry.
RELATED - Learn about the Manzano banana and where you might find them in stores.
📅 Stages of Ripeness
Last time I got myself a bunch of red bananas I decided to take several pictures of them as they ripened. I purposely picked out a bunch that was the most unripe I could find in the grocery store.
The first picture is from the day after I brought them home. This was May 25th. The color of the skin is more brown than red. The ends of the bananas have some green color to them. They felt hard.
Four days later on May 29th the bananas were still pretty brown. They were still hard. No signs of any black spots. I took the picture at a different time of day so the coloration may look more different from the previous photo than it really was.
By June 3rd I noticed the most significant change. The bananas have taken on a more reddish color now.
June 4th is when I finally decided it was time to give a banana a try. The color looked good. The ends of the banana hardly had any hint of green in them anymore. They were perfectly ripe.
Above you see a picture of what the inside of the banana looks like when it's ripe. It's soft and a little wet looking. The banana itself is more of a yellowish white than pure white. The fruit is sweet.
The texture is firm and not mushy. I prefer the texture of a red banana over the Cavendish.
To get this point, I had to wait 11 days from purchasing. Again I choose the most unripe ones I could find. I probably could have started eating them on June 3rd, so let's go with 10 days to ripen up enough.
I would say 10 days is as long you could expect to wait. Try to buy them looking more reddish if you want to speed up the time you can eat them.
👅 What Do They Taste Like?
I don't necessarily find the flavor to be remarkably different. I think they do have a sweeter taste. The texture can be described as being creamier. I suggest you try one right along side the standard Cavendish and see what you think. Leave a comment below if you do.
RELATED - What's the Difference Between Bananas and Plantains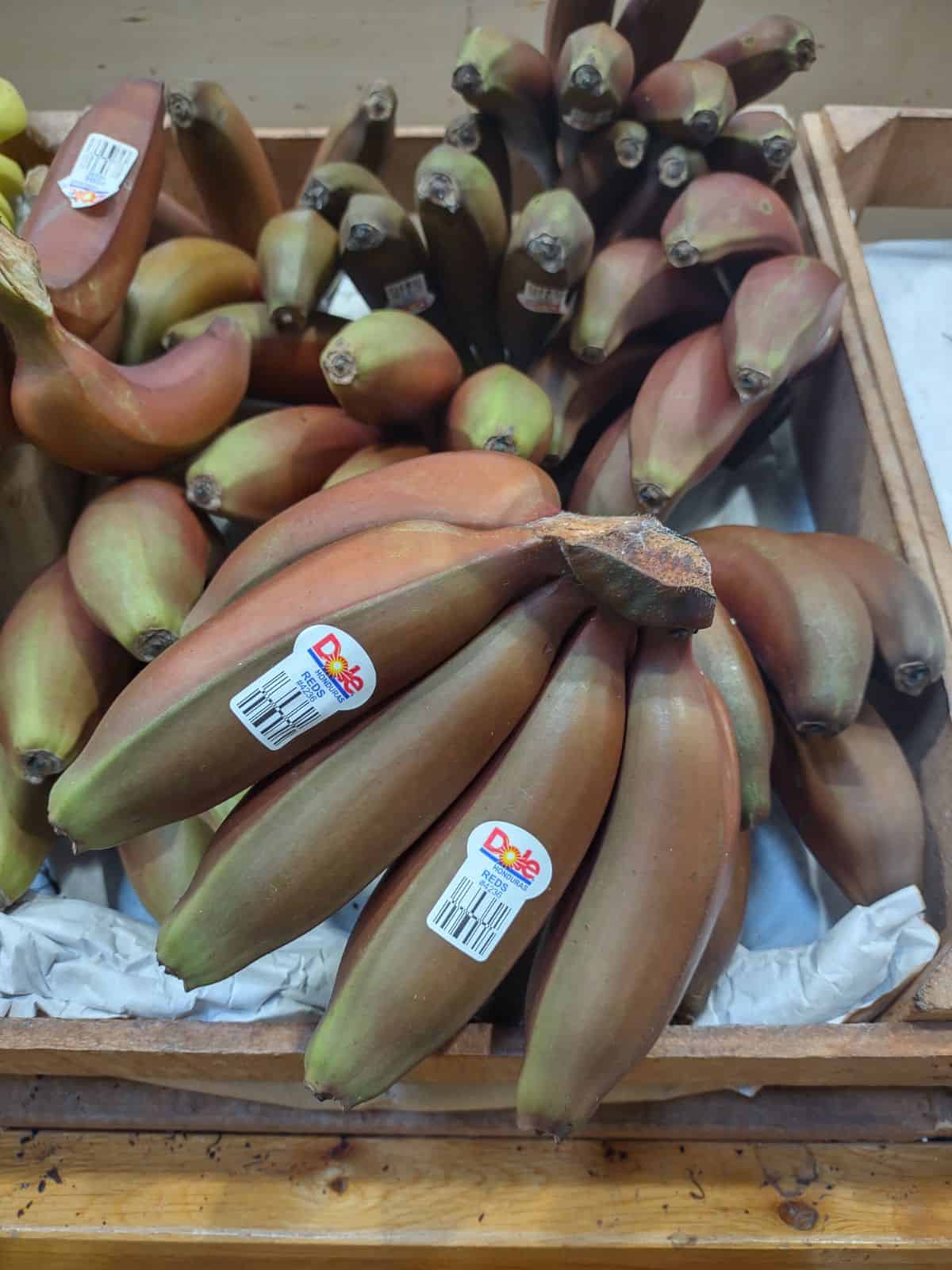 🛒 Where to Find Red Bananas
If you are looking for red bananas, a lot of chain grocery stores will carry them. Dole, Del Monte, Chiquita, and Turbana all market red bananas, so check where those bananas are sold. I found Whole Foods Market to be a reliable source.
Red bananas are grown in countries like Ecuador and Honduras.
🍞 Can You Make Banana Bread?
Are your red bananas too soft and overripe? Just like with the yellow bananas you can make banana bread with red bananas. Sometimes they are a little smaller than yellow ones, so you might need an extra red banana. Best to choose a recipe that goes by ounces instead of number of bananas.
Did you know that you can use banana bread batter in a waffler maker? Any banana bread recipe should work. Then you have waffled banana bread which I think is even better than a loaf of banana bread.
📧 Join Our Email List
🍐 More Fruit Posts
Interested in hearing what when other fruits are ripe. Check out these:
We also like to help you find when your favorite fruits are in season. Our most popular posts are on When Peaches are in Season? and When Cherry Season Begins.