Learn all about when fresh peaches come into season from California to Georgia and even to places like Idaho. When does the season start and when does it end? Check out the state by state list below and then check your watch to see if it's peach season right now!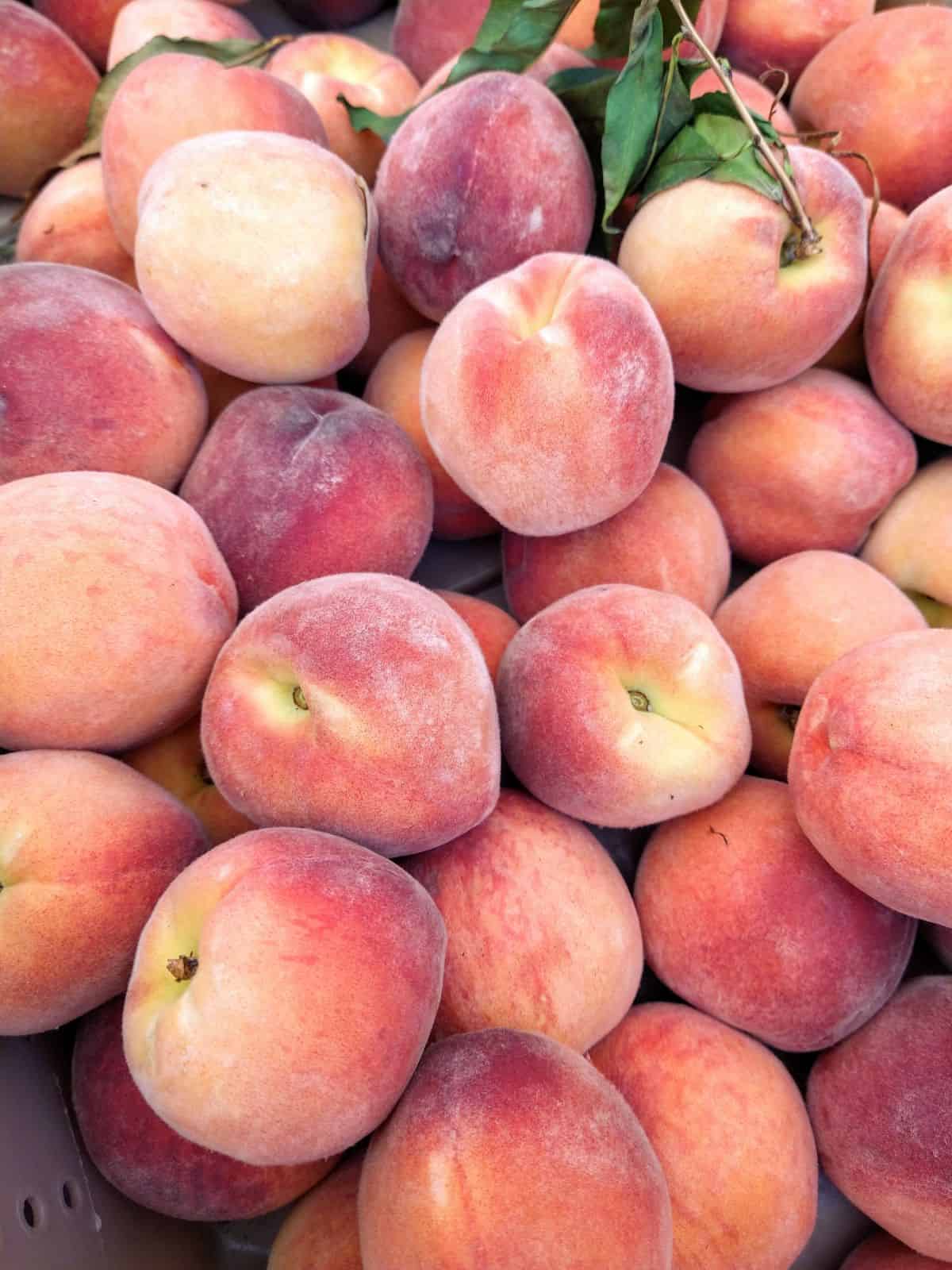 This post includes affiliate links. This means that, at no additional cost to you, I will earn a commission if you click through and make a purchase. These are products and services I recommend because I use or trust them. Cookies will be used to track the affiliate links you click.
Every year when the temperatures start to rise, so does the number of people visiting this popular page on my blog.
People want to know when peach season is beginning. They want to know when they can begin looking forward to chin-dripping sweetness.
Even thought you can basically buy peaches pretty much year round, take a couple weeks here and there in the fall and winter, there is that perfect moment when they are at their peak (in the summer months in most states)
Our goal is to share with you when in your favorite state you can find that exact moment in time. Check out the table below for harvest times with more detail about some of the state to follow.
Jump to: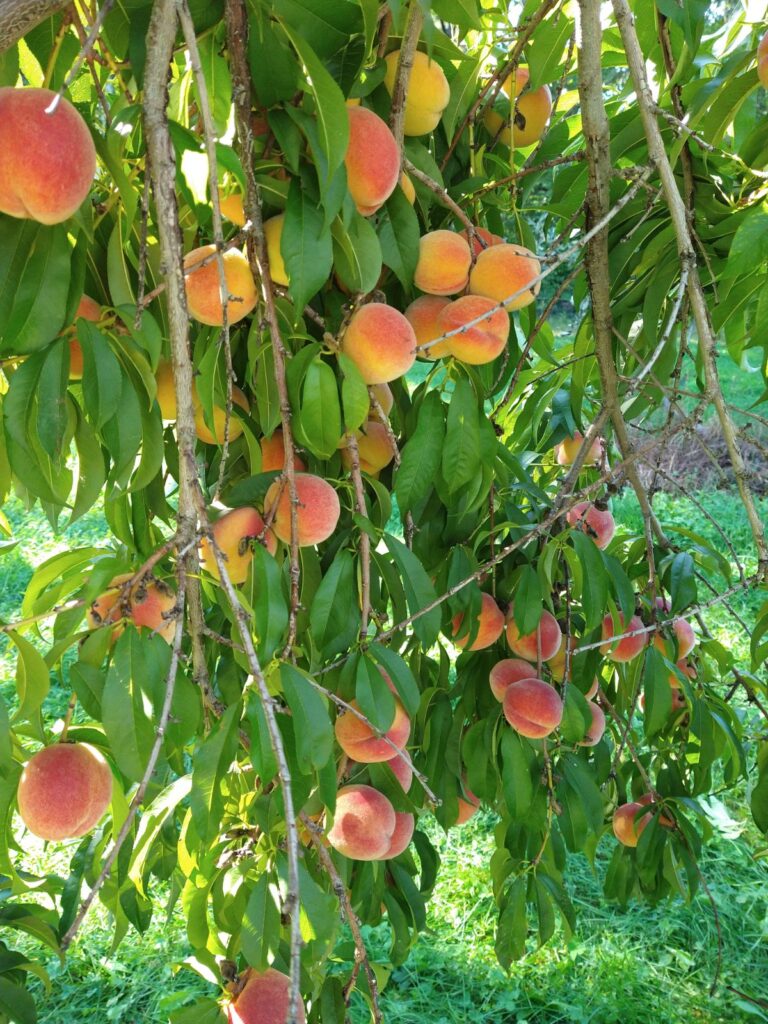 🚜 Harvest Time
Late spring is when you can start expecting peaches to be available every day in any grocery store. The harvest begins earlier than that.
Here is a table of approximate harvest times by state. If you don't see your state here, leave a comment below and we will try to add it.
| | |
| --- | --- |
| Florida | mid April to late May |
| Arizona | May to early June (check out Schnepf Farms) |
| California | early May to early September |
| Georgia | early May to September |
| South Carolina | early May to September |
| Alabama | early May to early September |
| Texas | mid May to mid August |
| Colorado | late June to October |
| Illinois | late June to September (central and southern regions) |
| New Jersey | July to September |
| Pennsylvania | July to September |
| Indiana | July to September |
| Iowa | July to August |
| Oregon | July to early October (depends on growing region) |
| Utah | July to September (earlier in the south, later in the north) |
| Michigan | mid July to late September |
| Ohio | mid July to September |
| Washington | mid July to September |
| Massachusetts | mid July to September |
| Wisconsin | mid July to August |
| Idaho | August to October |
| Maine | August to Labor Day |
Certain areas are famous for their peaches. Like the Palisade peaches in Colorado (late June to October) or the Chilton County peaches of Alabama (early May to early September). These are peaches you got to travel to get but with all the raving reviews you'll want to make an excuse to do so.
Unless you are in one of the top growing peaches states you are normally going to have to hit up the local farmers market or orchard to find peaches. Even here in Michigan, the major grocery store chains are still carrying California peaches when Michigan ones are ripe.
During the winter months you can peaches from the Southern Hemisphere. I avoid buying them. They have to be picked earlier in order to survive the long trip. Plus they end up spending a lot of time refrigerated before they reach your store display, which isn't not good for the quality of the fruit.
Now I want to take some time to look more closer at the season in some of these states we mentioned above.
☀️ Florida
When we think Florida we think citrus, not peaches. But Florida does fill in a gap between the end of Chilean peaches and the start of the big American peach growers.
Because of it's warm climate and Florida can only grow peach varieties that need only a short number of chill hours, which is amount of time a peach tree needs of cold weather to produce fruit. Florida peach season is also very short, only going from about mid April to the end of May.
Florida peaches are making a comeback. According to the Packer, in the 1980s, severe freezes froze production. 10 times more land is dedicated to peaches in the last decade or so.
🍑 Georgia
This is the state that everyone thinks of when they think about peaches. Pearson Farms is one of my favorite growers. This is the orchard the Peach Truck gets it's peaches from.
By harvesting different varieties that are available at different times throughout the season, Georgia peaches usually last until the beginning of August. So the Georgia peach season is around 3 months or so, give or take a few days.
💡 Tip - For optimal flavor, eat your peaches at room temperature. Only refrigerate them when they are ripe and take them out before you eat them.
🏄‍♀️ California
The California peach season lasts about a month longer than the Georgia season. They are still harvesting late varieties on Labor Day weekend. California also leads the way when it comes to growing the most peaches, sorry Georgia.
Depending on where you live in the country, most of your peaches in the stores are probably going to be California. With that said there are a lot of low quality California peaches on the market - often picked too early or varieties that aren't very flavorful.
The varieties in California that show up in stores tend to be very round shaped with a vivid red color, almost all red, and very little fuzz
One of my favorite peach growers is Masumoto Family Farm. They were the subject of a post I wrote about big vs small fruit in the grocery store. They also have an awesome book with amazing recipes called "The Perfect Peach" If you are peach lover I highly recommend checking it out.
🌙 South Carolina
Georgia may be getting all the allocates as being the peach state of the south, but do not overlook South Carolina. They actually out produce and out ship Georgia. Their peaches come just around the same time as Georgia.
The first South Carolina peach I had this year were Flavor Rich peaches. They were harvested at the start of May.
Most of the grocery stores I have seen market both Georgia and South Carolina peaches as Southern Peaches, so it can be a challenge to determine which state your getting them from.
A lot of the Southern Peach varieties come to a point at the end. Often they are also very fuzzy, like they could use a good shave. The colors tend to be more yellow and orange, than the dominant red you find in most commercial California peaches.
🎰 New Jersey
New Jersey often gets a bad rap, often from New Yorkers but don't under rate this state - these know how to grow peaches! They find themselves behind the southern state of Georgia and South Carolina, but before the midwestern peach giant of Michigan.
New Jersey peach trees bloom around the middle of April with the first harvest taking place in July. Their are u-pick peach farms like Melick's Town Farm in Califon, NJ. They have over 5,000 peach tree featuring over 30 varieties of yellow and white flesh peaches.
🚗 Michigan
Over half the states in the US harvest a significant amount of peaches. My home state of Michigan is one of them. Our peach season begins in mid to late July.
Red Haven peaches are the most popular variety grown in Michigan. In fact, you will find that most Michigan peach varieties are listed by the number of days they are ripe before and after Red Haven. The latest varieties grown in Michigan are ripe right at the end of September.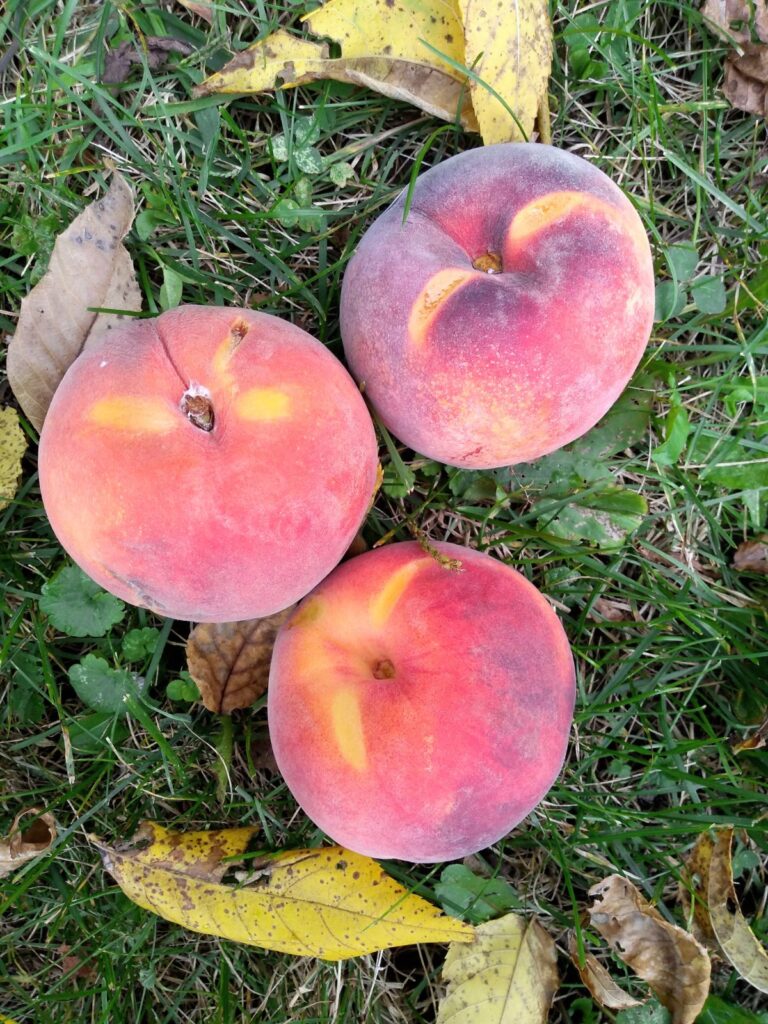 🥔 Idaho
Usually people only associate Idaho with potatoes, but they have been developing a strong presence in the peach market in recent years.
Their advantage is that they are late in the season, when other states like California can only offer peaches that were stored and picked weeks ago, Idaho is able to offer a fresh, delicious bounty. I enjoy Idaho peaches so much at the end of the year. It's a great way to cap off peach season.
💡 Top Tip
This is a general rule but there may be some exceptions - the first peaches of the season are often clingstone peaches. This means the flesh sticks to stone or the pit inside the peach. Try as you might, you will never get it all off.
As the season progress the peaches become less clingy. Usually by the middle of the season, all peaches are freestone - you can easily remove the pit from the peach without taking any flesh with it.
📅 Best Time
My home is usually stocked with peaches from about early June through September. I would say that the peak season in the United States for peaches is between mid-July to mid-August. That's the sweet spot. It's when California peaches are still good, Southern Peaches are at their best, and you can get your local peaches in your area.
By last August, I don't find the California peaches to be that good anymore, at least the ones I have gotten in the store, so I enjoy local fruit and then pick up the Idaho ones to wrap up the year.
📧 Email
Want to keep up on all the fruit that is in season? Sign up for our email list.
ℹ️ Resources
For more information about peaches, check out my tips on how to find great peaches. In case it's not peach season or you are just looking for a take anywhere snack, try purchasing some dried peaches
.
If you are white peach fan be sure to check out my new post that particularly talks of the white peach season.
Also you can't go through a whole peach season without at least one peach pie. Here is our favorite peach pie recipe. Or if you don't have the energy to make a pie, you can eat a Peach Pie Donut peach.
If you are into canning peaches, then my post - The Best Peaches for Canning - is a must read for you.
Other When in Season? Posts
What is your favorite state to get peaches in? Leave a comment below, letting us know.