We are doing a full comparison of two of the most commonly found apple in the grocery store - Fuji and Honeycrisp. Which apples stay crispy longer? Which one would be better to use in recipes. Also learn of apples that are a combination of the two.
Honeycrisp or Fuji?
Which apple do you think is better? Which one is sweeter or more tart? If I want to bake a pie with them, which is the better choice. In this post we are going to compare these two popular apples and see which one comes out on top for which attribute.
Jump to:
📜 How Long Have They Been Around
Fuji apples were developed in Japan in the 1930s. Did you know they are actually a Red Delicious cross? They are the 3rd most grown in apple in the United States behind Gala and Red Delicious. Fuji ripen at the end of the apple harvesting season, although "early ripening Fuij" varieties have been created that come a month or so earlier.
Honeycrisp apples were developed in the 1960s at the University of Minnesota. It didn't start showing up on the market until the 1990s. The first time I heard of it was at a farm in Michigan in 2003. There was a lot of debate to who the Honeycrisp's parents were. Keepsake has been determined to be one of them and an apple that was a test variety that no longer exist is the other. Honeycrisp ripen early in the season, around the start of September.
🍬 Which is Sweeter?
When it comes to sweetness, Fuji is right the top of the list. It is a sweet apple without much tartness to it at all. When I worked at a farmer's market for a local apple orchard if people wanted a sweet apple that would nearly always pick Fuji.
Honeycrisp is certainly not a Granny Smith, but it has more tartness to it than Fuji. I would categorize it more as a sweet-tart apple with it falling more on the sweetness side of the scale.
If you are looking for a sweet apple that your kids will eat, I think either would be to their liking. My two oldest daughters have different tastes, where one likes sweet apples and the other will eat a Granny Smith.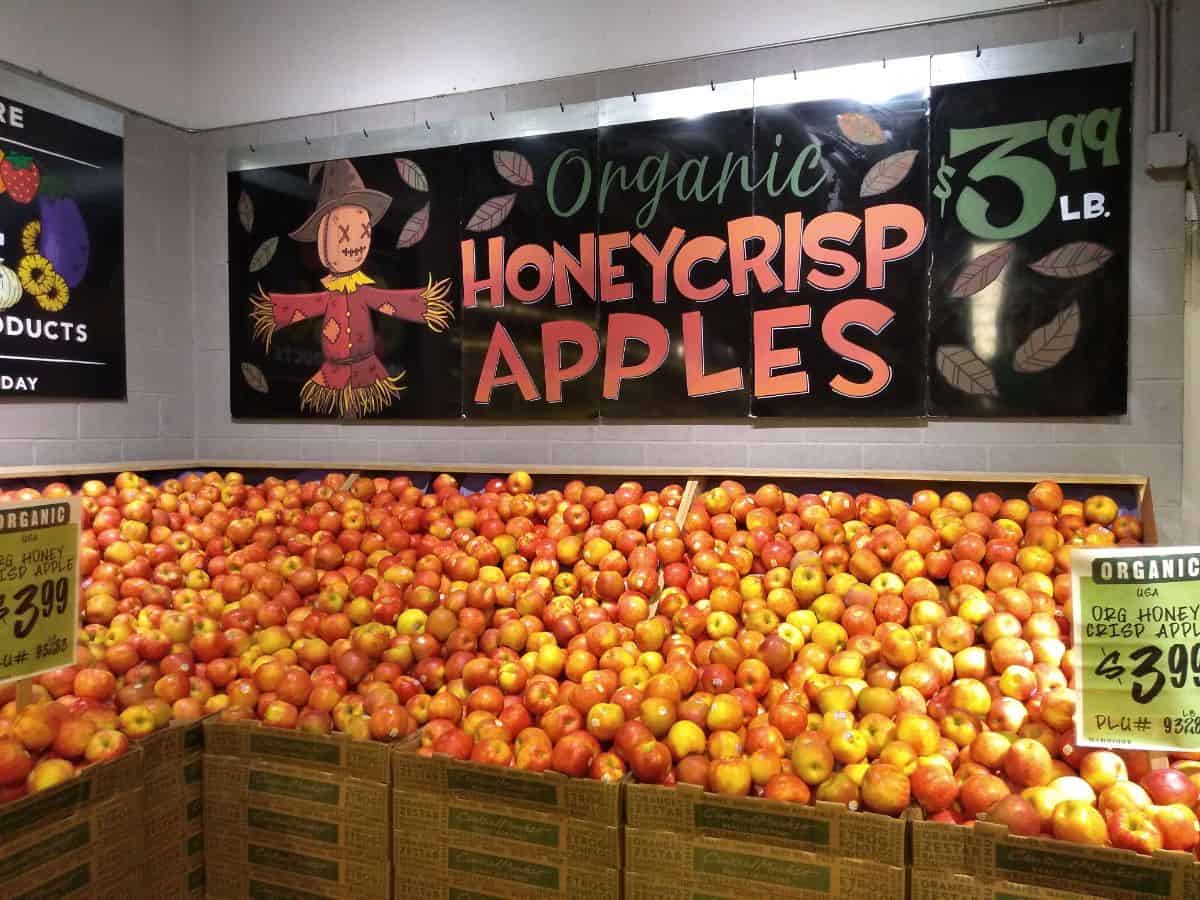 💲 Which is More Expensive?
This one is no brainer, Honeycrisp are clearly more expensive, most often being at least $1 per pound more, even more so if Fuji apples are on sale. There are more Fuijs being grown so there is a bigger supply.
There are also some difficulties with growing the Honeycrisp that increases the costs to harvest it, thus increasing the price to the consumer. Farmers have a love-hate relationship with it as it brings in money (people call it "moneycrisp") but they have to deal with it's growing and storage issues.
RELATED - Why are Honeycrisp Apples So Expensive?
🧃 Which is Juicer?
In my opinion, I would say that Honeycrisp apples are juicer. During the fall, you can find many orchards that will make apple cider from 100% Honeycrisp apples. I think they make a good cider. As you would expect, the cider will be more expensive than regular apple cider, but often it's so good it's worth the extra cost.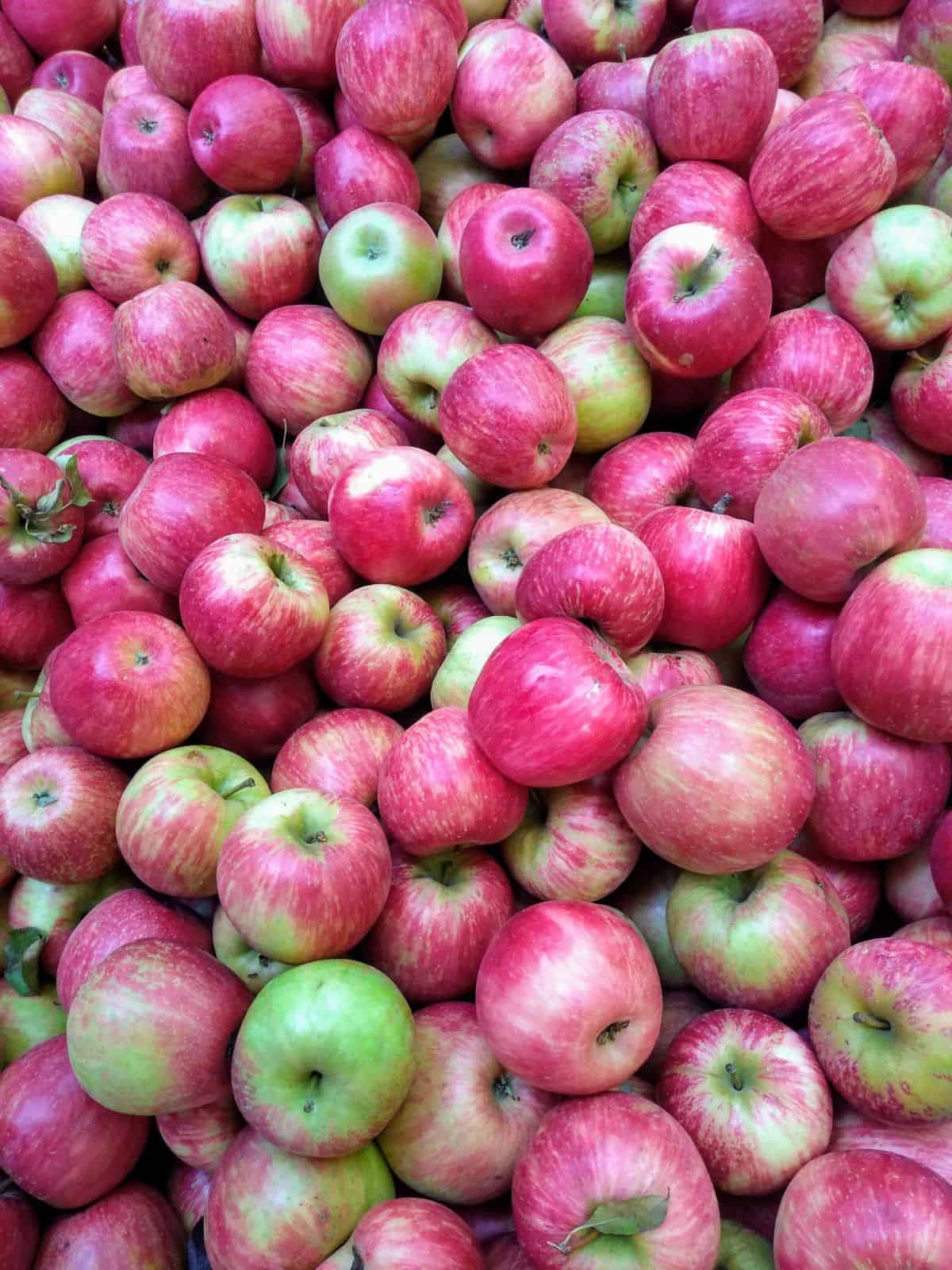 ❔ Which is More Crisp?
This is a no brainer. If Honeycrisp didn't win this than it was named incorrectly. The apple is known for having larger cells than other varieties giving it that distinctive crunch when you bite in.
Now I will say if we are comparing Honeycrisp and Fuji, close to a year after they were harvested, then I would say they are much closer as Fuji is better for long term storage. I have surveyed my email subscribers and many have said they were disappointed in Honeycrisp during the late winter/early spring time.
👄 Which is Better Tasting
This will always be a matter of opinion. Some people like Fuji better, others will scream Honeycrisp. I happen to think that the flavor of Honeycrisp is more interesting. I find the flavor of Fuji to be kind of one dimensional and just not very interesting. I think it's popularity more has to do with how sweet is it, not how flavorful. A lot of the old fashion heirloom varieties are way more rich in flavor.
🥧 Baking
When it comes to baking I prefer using apples that have some tartness to them. If an apple is just sweet and then you add sugar, then you are not going to have a good balance of flavors. Because of that I would choose Honeycrisp apples over Fuji for baking.
🍎 New Apples
There are characteristics of both Honeycrisp and Fuji apples that growers like. So then why not try combining the two apples to see a new apple can be better the both of them. Apple growers have been crossing Honeycrisp and Fuji to produce new apple varieties, that in my opinion have accomplished this goal.
Midwest Apple Improvement Association (MAIA) have developed two different apples that were a cross between Honeycrisp and Fuji. Yes, you cross the same apple more than once and end up with something that isn't exactly the same, just as my kids don't look all the same.
Here are the two apples they have released.
EverCrisp - This apple lives up to it's namesake. It is crispy like a Honeycrisp but has the longevity of a Fuji. It's an apple that can still be good in the spring and even into the early summer.
Rosalee - Not as widely grown at this point as EverCrisp. It looks similar to but I find the flavor to be more interesting and the apples to be a bit more juicy. I have only got them once so I don't have as much personal experience to go on for how long they last.
🎧 Learn about the EverCrisp apple and how it takes the best attributes of both Honeycrisp and Fuji by isteing to our podcast episode - How Apples Like Evercrisp Last So Long.
Which apple do you like better? Honeycrisp or Fuji. Leave a comment below and let us know. Also sign up for our email list to get the latest word on apples.