In this special podcast episode I interview Jamie Kober from Riveridge Produce Marketing about Michigan apples, like Evercrisp, and how these apples are stored so they are still crisp even in the spring time. We talk about some of the challenges with Honeycrisp and why the Evercrisp apple is such an exciting new variety.
Jump to:
🎧 Listen
You can listen to this podcast episode below or listen on any of these podcast players - Spotify, Apple Podcasts, Amazon Music, Google Podcasts. If you would prefer to read the text, you will find a transcript below.
📜 Read
Here is a transcript of the interview.
Eric: Hey everybody. Welcome to a special episode of the Eat Shop Waste Not Podcast. I'm your host, Eric Samuelson. I am excited today, I have with me Jamie, from Riveridge. Riveridge is an apple packing company out of my home state of Michigan, so Woohoo. Go Michigan, So I'm excited to have him on today, so Jamie, welcome to the podcast.
Jamie: Thank you. Good to be here.
Eric: I'm glad to have you here. He's taking a few moments out of his vacation time to come talk with me, so I definitely appreciate that. So Jamie, first I want you to introduce our audience to what is Riveridge.
❓ Who is Riveridge?
Jamie: Sure. Uh, so Riveridge Produce Marketing is a company that was started about 30 years ago and, uh, at its inception, um, it was just a marketer of produce in the Michigan area. So we're at, uh, Grand Rapids area on the, the west side, close to Lake Michigan. Which is really conducive to growing, um, tree crops, tree fruit crops especially, but a lot of different, uh, kind of diverse agriculture.
Over the 30 years, Riveridge has evolved. So, um, added a growing operation. So we grow about a thousand acres of tree fruit ourselves. Um, a few row crops in there for, uh, rotation. We have a packing facility, so we pack package fresh apples that go into retail environments. Our most recent addition is a, cider processing plant.
So we make now our own, um, sweet apple cider. So you see that around, it's actually carried year round, but um, obviously in the fall is when it's more popular. Um, so in a, in it's been a pretty rapid evolution over 30 years there. That's, it's pretty big, uh, organization to put together. And so currently we still primarily, the biggest focus is marketing those fresh apples, uh, which is now grown to be about 60% of the market share of the fresh apples produced in Michigan. Uh, that's what RiverRidge produce marketing does for most of the year. Move those apples.
Eric: Yeah. I mean, I've seen your stuff, obviously in Michigan, you know, like you go to a Meijer store, you're gonna, you're gonna find your apples here. I found them. Let's see, the most recent spot, I found them in some kind of small market, um, kind of a standalone independent place in, Louisiana.
So it was kind of cool , you know, I'm traveling here to see like, oh, there's something from home here, which is pretty neat to see too. Um, now that I think about too.
🟢 Michigan Asparagus
Eric: I know you guys, you know, apples is the big thing too, but, um, you also grow asparagus, right?
Jamie: Yeah, so we market it for, yeah, there's, so, uh, you know, there's asparagus in Michigan is a pretty big crop. Um, it's a, it's very short window, so it can, it definitely comes with some challenges. Uh, but we do market it. Uh, we work with some growers in the Oceana County area and, uh, Yeah, it's, it's an interesting commodity to deal with.
Um, you know, people really like to find it, but again, cause it's so short, seasoned, and, and hard to store, um, it's not like apples, you know, where we talk about, uh, long storage regimes and things that we can do to control it. Asparagus is a whole different animal, and it just, it does what it wants to do.
They pick some of those fields, uh, you know, Two times a day, sometimes it grows so fast. Um, it's, it's a really interesting commodity.
And you know, one of the things we love to, to hear about and we get pictures in is, um, hearing about where people see the produce that we market. Um, so, you know, like your story about Louisiana, um, we've had people on cruise ships send us pictures of apples back.
Um, Even in Sparta is technically where Riveridge is headquartered, and we've had, um, things in the local paper there where people get all excited about seeing Sparta apples, uh, somewhere out and about in the world.
Eric: Yeah, it is. That's fun. Get that piece of home. Yeah, Michigan is one of the, you know, great asparagus places. Most of the year you're finding your asparagus from Peru for the most of the year in the store. It's from Peru, and we get in Mexico and some California, but like Michigan, like it's really, it's really good stuff. It is a short season, but like , when you have that when that season is available, I mean, there's nothing like that. Like, when you get a nice, big, thick stalk of asparagus that, oh gosh, it's so good. Um, so I, I always look forward to that. Um, for sure.
📦 How are Apples Stored Post Harvest?
Eric: All right, so right now, it's springtime. Um, so it's been a while since apples have been harvested. Um, so what would you like people to know about the longevity of apples and how are they stored at your facility post harvest
Jamie: Yeah, so like I said, you know, we're with, with asparagus, there's not really much we can do. We keep it refrigerated, um, and that's gonna help prolong that shelf life. Um, and that's about it. With apples, we do have a lot of different tools out there. So refrigeration is obviously the easiest one. Um, and so we do that and, you know, large commercial coolers have been around for a long time.
Um, we usually have rooms, um, a refrigeration room that will be about, plus or minus, a thousand bins. Um, and a bin is a harvest bin, so that's holding 20 bushels of apples in it, roughly. Um, so they're, they're pretty large rooms. And so we, in Michigan, you know, we're harvesting usually between, say August through October.
We wanna be wrapped up by the first week of November or so, just because the weather starts turning. Um, it's a short period to harvest all those apples and then get them under a roof. And then obviously we, we have a lot of apples, so we're not gonna use 'em up that fast. So we'll put 'em in refrigeration.
But then there are a couple other things that we can do. Probably the next oldest after refrigeration was adding controlled atmosphere. So as you, if you have produce out, you know, the natural tendency is these things are gonna ripen. That's part of the whole cycle. It's how they reproduce. Um, but what we do is we've found tools to delay that process.
Oxygen is critical to that process, and so when we put the, put them into these refrigerated rooms, over time we developed airtight rooms. So we control the air exchange going in and out of these rooms. The normal air that we're breathing right now today is about 21% oxygen. So if we can reduce that oxygen, we can reduce the respiration rates on apples, and that will just make them kind of go to sleep and we can hold them longer.
So what we do is use nitrogen, which is the other 70 some percent of the air that we're breathing, and we just increase the nitrogen concentration in the room. And so nitrogen is an inert gas. It doesn't do anything, obviously doesn't hurt us cuz we're breathing it all the time. Um, and so we'll reduce those oxygen rates to 2% or less, just depending on the variety.
Um, and that will allow us to hold apples up to a year. Um, it just depends on how they went into storage, what their condition was. So if we harvest them at the right time, um, we can hold 'em that long. We have people in the the field who are working on that all the time during harvest, especially in, in a few weeks preceding harvest.
And they're checking apples for all those characteristics. So we have these kind of harvest or maturity indicators and we're checking all these things to make sure we get 'em just when they're perfect. Um, for everybody to eat, to get the right flavor profile, you know, the things that you know and expect in the apple, um, but also what's gonna hold best into storage so that we're gonna have apples available year round into the store.
So I know, you know, sometimes people get really concerned when they hear, you know, oh, these apples are a year old. All it means on our end is just we kind of put 'em to sleep. Um, you know, there's no, that's like basically a chemical free process because we're just adding the nitrogen into the room. So it's really just, uh, looking at that natural process and trying to manipulate it.
Eric: Yeah, I think it's good to, educate people on, on this topic because, you know, with the may think like, okay, you guys, you know, you put your apples to sleep as you're saying here, you know, and they can last up to that year. You know, at home, you know, in a home fridge, you're like, well, like, oh, well I put the apple in the fridge it didn't seem to last as long. And so, because obviously our refrigerators can't control. Oxygen can't put in nitrogen. You know, it's a, it's a different, it's a different process. Um, so, so you can't really compare like, longevity. Thinking like, you know, well I stored an apple my fridge for a couple weeks and it wasn't that great anymore.
No, but because you guys are doing something that's different than that. So that's how like, you know, we can have apples so late into the year, so that's something, you know, to keep in mind For sure.
Jamie: There's also a lot of interplay too between different, uh, fruits and vegetables in the gasses that they are giving off and absorbing. Um, and again, all just natural processes, but you know why? So apples, if you put your apples near bananas, they're gonna cause the bananas to ripen faster. And so all of those different things play a role too.
So when we have apples in a room by themselves, just one commodity. It's a little easier to control and get longer results out of 'em that way.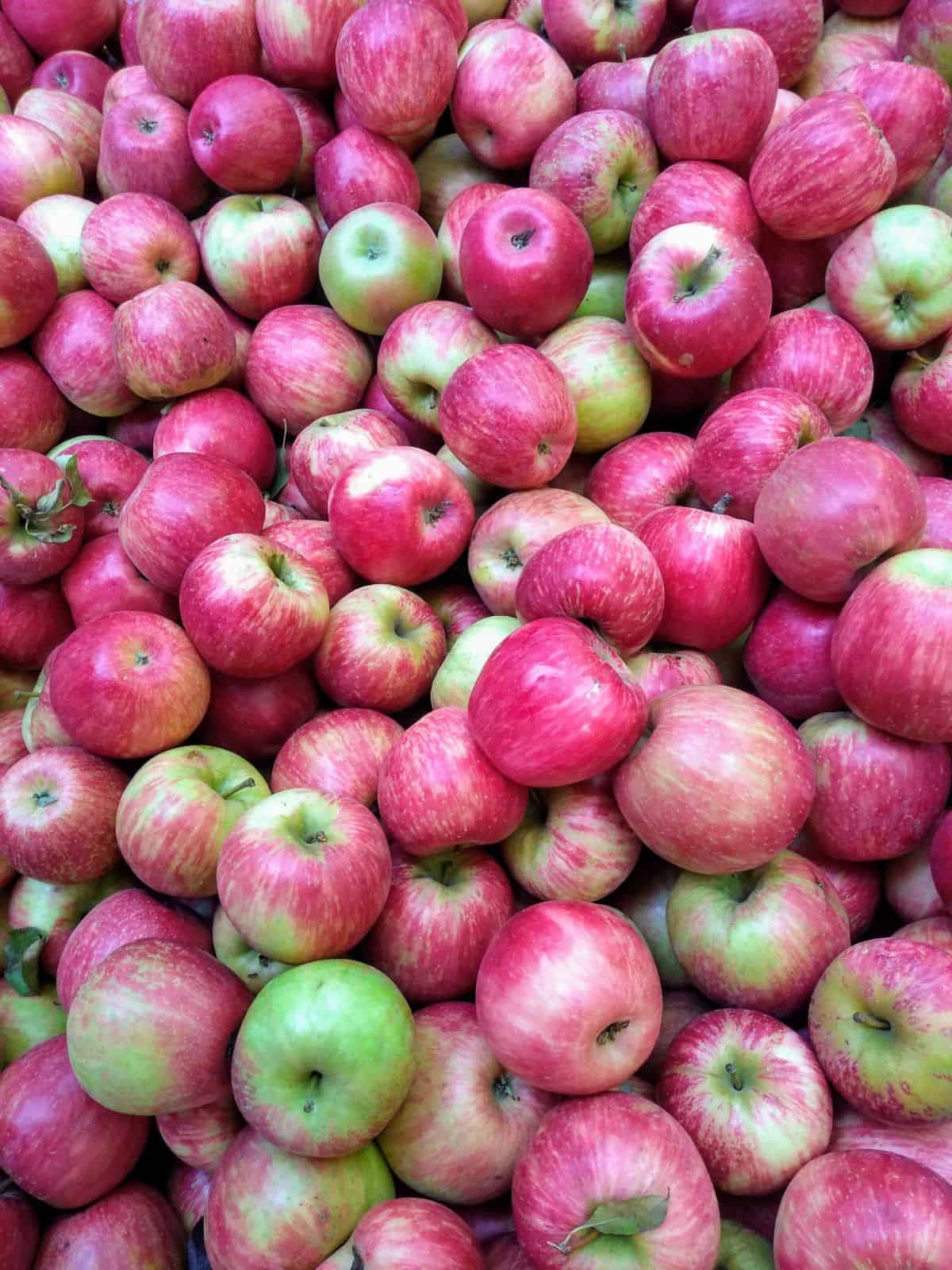 🍯 Challenge of Harvesting Honeycrisp
Eric: That's for sure. Um, so you, did also mention that the variety kind of matters in what you use for your kind of conditions in that? Can you, elaborate more on that?
Jamie: Sure. So different apples, um, you know, need to be stored differently. All it comes down to, they're, they're different period. And so the way that they get stored and handled is gonna be different. And that's right. You know, that's on the tree. How the tree has grown all the way through the growing season to harvest, to packing storage.
It's, it's all different for different varieties. Um, if you take something like a Macintosh, which is pretty, you know, classic for the Midwestern area, very popular. Um, it's a softer apple. It just, it bruises more easily. Um, so there's different considerations you have to take for that Apple. If you have a Red Delicious, they're pretty resilient. You know, pretty difficult to bruise, firm flesh.
But then you take something like a Honeycrisp. You know, Honeycrisp has all kinds of challenges all the way through, um, the process.
And you know, one of the things unique about Honeycrisp, some people might not know, is that the stems on a Honeycrisp are very, very, sharp. And so if we pick them off the tree just by hand and put them in a bin with other apples, Honeycrisp, usually, the skin on a Honeycrisps is very thin. So when they're touching each other, those stems will cut the skin. And once you have a cut or damaged skin, that's where you can start to have decay in problems like that. So we actually pick it off the tree and then the harvester will have a hand clipper and they will clip the stem, so it's below the shoulder of the apple to prevent any damage downstream.
So there's lots of different considerations. So those are some of the handling things. Um, but then, amount of oxygen that each one will, uh, tolerate or different gases while they're being stored is also gonna be different.
So we have equipment that monitors those levels, and then we can adjust those levels to kind of create the perfect storage regime for those different varieties. One of the things that's new is controlled atmosphere technology, is dynamic controlled atmosphere, So in the past, we would just set a room at 2%. You know, make sure it stays there and walk away. Well, some varieties we're finding like maybe 1.2%. Some like 1.7%, some like 2.1%. And so we're trying to find ways to balance all that.
So now we have equipment that goes into the room with a small batch of apples. We can stress that small batch to see what happens and how it, uh, reacts to those different numbers. And if it's positive, then we can change the whole room, which again is like a thousand bins. Um, if it's not positive, we've only damaged a bushel of fruit instead. 20,000 bushels of fruit. Um, so how we, it's getting very sophisticated how we can control all these numbers, um, and how we can develop processes to store food potentially longer.
But really we're seeing improvement in quality is one of the things that's really, um, sticking out through all this. And so it's, that goes to things like food waste and, and finding the best use for food and sending it to that, you know, primary channel as opposed to having to divert it to a secondary.
Eric: Yeah, it's very interesting. There's some, you know, so much that goes on kind of behind the scenes that you kind of don't like, you know, as a consumer, don't get to to hear about. So I think, think it's really interesting hearing that. You know, we had, you know, you had talked about like, you know, the problem with the Honeycrisp apple because I've heard this a lot from different growers and stuff here, that, that they, uh, they're kind of a pain in the butt.
🍎 Evercrisp - Honeycrisp Replacement?
Eric: So it seems like, like I have noticed, and we kind of talked about this, I did a episode on the future of Honeycrisp. I'm kinda sharing some of my thoughts, cuz it seems like there is a big push right now and there has been to like usurp Honeycrisp from it's crown as everyone's favorite apple. You know, cuz there, there's been so many, the list just feel like, it just keeps growing. Where you know, different growers are coming out, Here's a new variety that's a Honeycrisp mixed with this, and a Honeycrisp mix with this. Like, people like the qualities of the Honeycrisp, but it seems like there's a kind of a, like we wanna replace Honeycrisp here.
We want something that's gonna be, you know, better for, for multiple reasons here. And one of them right now, is the Evercrisp apple. And that's one, one that you guys deal with here. So I want you to have a chance to share more about the Evercrisp
Jamie: Yeah, well, you set it up perfect there. So, you know, all the, when we look at new apple varieties, we're doing evaluations. We're, you know, trying to find those, you know, take the good characteristic, all apples have good qualities. Some apple, you know, apples have bad qualities and, and Honeycrisp definitely has some challenges, but it's a fantastic tasting apple.
People love it. And so we wanna focus just on what are those good things. Um, and so the way that we do that is a couple different ways. So just letting nature take its course so you can find new apple varieties sometimes in an orchard, um, where it just happens. Nature takes its course and a new variety develops.
Those are pretty rare, or at least that you find, you know, something that's gonna make it to the commercial point, um, at this stage.
Eric: Yeah. For one, for one example, I've heard, there's the Sugar Bee apple. That is, I think it is one of those examples that come out from a natural mutation in a Honeycrisp farm. But most of these ones coming out are done on purpose.
Jamie: Right. And it, it's, you know what the other consideration here is time. So when you plant an apple tree, it's gonna be five to seven years before you're really into a good harvest on that tree. So to to breed a new variety is adding, you know, to that whole cycle.
But, uh, in the case of Evercrisp, we took two varieties that are pretty popular. We took Fuji, took Honeycrisp, and those were carefully pollinated. Um, so it took, you know, pollen from one, fertilized, another one, and created a seed. You know, one of the things about apples too is you can't you can't buy a Honeycrisp at home, take your seeds, and then go plant them in the garden and end up with a Honeycrisps tree.
Those seeds have a different genetic profile, uh, because it, it has two parents and so the seeds that are inside the apple are gonna result in something totally different. Um, so we use different pollinators in the orchard to bring those crops on. That's why this is such a painstaking process. It's very manual. You have to go out and pick the flowers off, make sure that another flower can get pollinated. Um, you know, and a process can take 20 years before you, you know, you think you have something and then it's many more years to get it to market. But with Evercrisp again, two good varieties, two popular varieties, Fuji and Honeycrisp.
And in our opinion, it really did take the best of both parents and those are the characteristics that come out the strongest. Um, so with Honeycrisp, you know, easily, some of the characteristics there are how juicy it is, the flavor profile. It's a sweeter apple. People really, really like that. Um, on the growing side, we talked about some of the challenges. But Fuji's, they're really hearty, strong, pretty firm flesh apple. Um, they store really well, and those are the characteristics that we see come through on Evercrisp as well. Um, Fuji is again, a sweeter apple, so that kind of just goes along and marries up well with the Honeycrisp's profile. But we get all these benefits of the nice storage quality of a Fuji.
And so, yeah, Evercrisp are just a really, really, um, hearty, strong, sweeter variety, um, that we think has some really good potential.
Eric: Are you seeing, um, increased plantings of, of Evercrisp now?
Jamie: We are, yeah, it's, it's fairly new to the market and so, um, it's probably an apple that you need to go in and ask your retailers for in some cases. Um, and it's also a later season Apple, so you may not see it in stores until early winter, so maybe like a January, February kind of timeframe. Um, and then it carries out through the rest of the season.
Uh, but there's definitely more production going in every year. The trees that are in, like I said, it, it's at kind of that five to seven window and we're starting to get into that window right now with a lot of the first plantings. And so the, the amount of volume that's gonna be available every year, it's gonna increase.
Eric: Yeah, think right now it's the one, you know, we're sitting here now in springtime and I think definitely it's, um, one of the best ones, um, to eat right now. I think it's consistent. I've talked to different email subscribers and they were talking about how they've been disappointed, you know, in Honeycrisp, the last, you know, couple months here.
Um, but a lot of people are saying, oh, you know, Evercrisp, this is a good, this is a good option here cuz it seems to you know, hold up better, I think more than Honeycrisp does. And it has, um, like the, even, like the flavor seems to be like, it seems, it's pretty, seems pretty fresh still.
Like for something that was harvested a while ago, it's holding up pretty well and I think a lot of people are gonna be liking that and gonna have that. For me right now, cause I'm a big fruit snob, so I, you know, I'm gonna always buy like, you know, the best things for sure.
Um, so that's, that's one apple. If I'm in the store now here, I won't hesitate to still buy that. Like, I, I never like, worry about that. There's some varieties that, yeah, I'll buy them for a certain window of the year, but ,after we pass that window, I'm like, I'm leaving those in the store.
So Evercrisp is one that, like right now, that's one you see in the store. I think you can buy it. You're not gonna worry that you're gonna bite it into it and you're gonna have spplesauce in your mouth immediately. Although I have one daughter who, who's kind of helpful though. She likes soft apples and no one else does.
So we buy something that goes soft, she can, she'll eat it all. Um, so that's kinda, that's kinda an advantage. She's our soft apple garbage disposal sort of. Um, so yeah, that's one I just heavily, um, recommend right now and excited to see how that one continues to grow. Uh, I know there's you know, you guys are, are dealing with it here. There's other people, um, that are, are growing it.
So I expect that one's gonna be on the scene more over the, over the next, um, few years. It's already, it's already increased more and I feel like I keep seeing it in different places. Lots of times. I was just seeing it more in Michigan, but now I'm kind of seeing it in other parts I just saw them at an Aldi store. They weren't yours per se. They were Michigan grown, but they weren't uh, from you guys, but they saw them at an Aldi store just, two days ago. So here in, um, in Alabama right now.
So they're getting around more now. So excited to see that variety grow.
♻️ Sustainability
Eric: All right. Um, so we're getting to the end of our interview here, but I wanted to ask one final question to you.
Um, so I wanted to take, take a minute to talk about sustainability and what is your, what does your company do to help reduce waste?
Jamie: Yeah, that's, uh, you know, something we look at a lot. Um, like I said, we, our operation is, is kind of all facets here. We're vertically integrated, so we've got the growing operation all the way through, processing and sales. And one of the things that we get asked a lot when we do tours of a growing operation facility is, you know, what do we do with all the, the apples that we're throwing away. And we're kind of caught off guard by the question sometimes, because to us, every apple that we have, we grow, we sort, they all have value. And so we are not, we don't send anything to a landfill. Um, we primarily find the right channel. I talked about that earlier. You know, we want to send apples to their primary channel.
So, you know, fresh market apples in the retail, that's where we, we are growing apples to head, but they don't all make it there for lots of different reasons. They're gonna be different colors, shapes, sizes, defects. Um, but we, we find another food use for them. So in those cases, those apples that sorted out are gonna go for applesauce or apple slices.
Um, and sometimes they're even gonna go to places like our cider plant, where we're gonna make apple cider out of them. Uh, but all the apples get used to put into the food chain. Now there is byproduct and some of these things. So, um, like at the cider plant, for example, we generate a lot of apple pummice, you know, then everything that's left, but the juice.
So we take it back to our farm and we compost it, and then we put it back into the soil to improve the soil health. Um, at our packing facility where it's fresh apples, um, they come in with leaves on 'em, occasionally on the stems. So we pick the leaves off, we even collect the leaves, and we take those back out into the orchard for compost.
So we're very cognizant of all these resources and we want to put them back into the system where we can and get the value out of them also, where we can. Um, outside of that, I mean, other sustainability initiatives are, you know, things like our, some of our plants have solar panels on 'em to help supplement their power usage.
Um, and water is definitely something that we're always looking at. How can we, we need to wash the produce that we're dealing with, but how can we be responsible at how we're handling the water. So conserving water, uh, treating it, recycling it, all those kinds of things. So those are some kind of different, out of the food waste, um, spectrum initiatives that we're looking for.
And then probably one of the things that we're most proud about and the side of, um, kind of what we're doing sustainability is we've have 20 acres that we've designated and developed as a native pollinator habitat. And so we we're really, uh, we're, like I said, we're proud about that. It's adjacent to one of our orchards, to one of our larger orchards.
Um, it's something that we definitely like to showcase and help to use to communicate the message of how important pollinators are to all of us in the food supply.
Eric: Yeah, those are great. Uh, I'm glad to hear you guys are doing that, the pollinator thing and all the, you know, different ways that you're making sure to use every bit of things, even when, you know, some of the apples go bad. You have different ways you can do things. So that's, um, it's really great that you guys are, are focused on that and see that as a priority. So, uh, excited about that. Um, alright Jamie, this has been a really fun interview. I'm glad to talk with you. Um, so if people wanna learn more about River Ridge online, where can they go?
Jamie: Yeah, so, uh, www.riveridgeproduce.com, and then specifically for, uh, Evercrisp, we talked about you can go to www.tryevercrisp.com is a separate website that gives you more information, specifically about that variety. Those are two good sources there of information.
Eric: All right, Jamie, thank you, uh, so much for coming on taking a moment outta your vacation time. Hope you guys can, have a fun time, you guys are out in Virginia and, um, yeah, I look forward to this next coming apple season. We're about to enter that wonderful period of time where the blossoms are gonna be hitting soon.
The growers are like crossing their fingers and doing everything they can. Hopefully that nothing goes, nothing goes crazy. I think we did pretty good last year. We did really good last year. So hopefully we'll have
Jamie: We did. Yeah.
Eric: Another solid year. So thanks so much, Jamie. Appreciate it.
Jamie: Yeah, no problem. Thanks for having me.
📚 Additional Resources
If you can't get enough of eating apples and learning about apples, then signing up for our email list is a MUST.
This wasn't the first time we have talked about apples on the podcast. Make sure you listen to these episodes as well.