Learn all about the apple that was created by the bees that in my opinion is an even better apple than a Honeycrisp!
What can I say? When I see an apple I have not tried before I am a like a kid at Christmas time. I can't wait to unwrap the flavor that it inside these wonderful pieces of fruit. Thanks to all the companies that keep releasing new varieties on the world. You keep making it Christmas over and over again.
The newest gift I have received is the Sugar Bee apple. Check out the cute little bee on the PLU sticker.
Jump to:
📜 History
The Sugar Bee apple is the latest Honeycrisp cross to hit the market place. It is unknown what other apple is it crossed with. This new apple was created by the bees doing their job of pollinating the apple blossoms. A new apple was discovered from that work. That's the reason for the "bee" name. The sugar comes from this being a pretty sweet apple. A very easy name to say and market. A lot easier than Niedzwetzkyana which remains the only apple variety I cannot pronounce.
Sugar Bee apples ripen near the end of September.They store well so you can enjoy them in the winter.
❓ How Different from a Honeycrisp?
Appearance wise the two apples look a lot a like. I bet the majority of people could not tell them apart. This similar appearance I believe gives them a leg up in marketing the apple. People already love a similar looking apple.
I found the Sugar Bee apple to have a thinner skin than the Honeycrisp. Sugar Bee is more sweet. As far as crispiness, the Sugar Bee is a pretty crisp apple. I don't think it quite has that same bite as Honeycrisp, but to be honest I think Honeycrisp can be too crisp at times and I simply get tired of eating one, particularly when they are large Honeycrisp.
The big advantage Sugar Bee has over it's parent is that the quality of the apple lasts longer. Honeycrisp are pretty much available year round now but they aren't that good after a few months. Once you get winter, the flavor is muted. In a head to head competition between a Sugar Bee and a Honeycrisp done right now, I would bet my money on Sugar Bee being the better apple to eat in January.
🎧 Listen to our podcast episode on the Future of Honeycrisp.
🚜 Where Are They Grown?
The variety was discovered in Minnesota. It is now being grown commercially in Washington by Chelan Fresh. Their growers have found that the apple performs perfectly in their climate (warm summer days, cool evening breezes).
⭐ Ratings
Here is what I thought when I had this apple for the first time.
| | |
| --- | --- |
| Tart | 4 |
| Sweet | 7 |
| Juiciness | 8 |
| Flavor | 7 |
| Crispiness | 9 |
I have gotten so many comments over the years about this apple. People just love it. Numerous people have told me they aren't big apple eaters but they do like Sugar Bee! I believe it's a good, sweet apple. I prefer it over Honeycrisp myself. The flavor isn't always as consistent as I would like, but I have never had a bad one.
Eating Tips - Whenever you can, eat your apple at room temperature. You can pick the fragnance of the apple better when it's not ice cold and I think this will improve the flavor. Smell is a factor in how something tastes. For more on getting how to know when an apple is perfect to eat, check out this post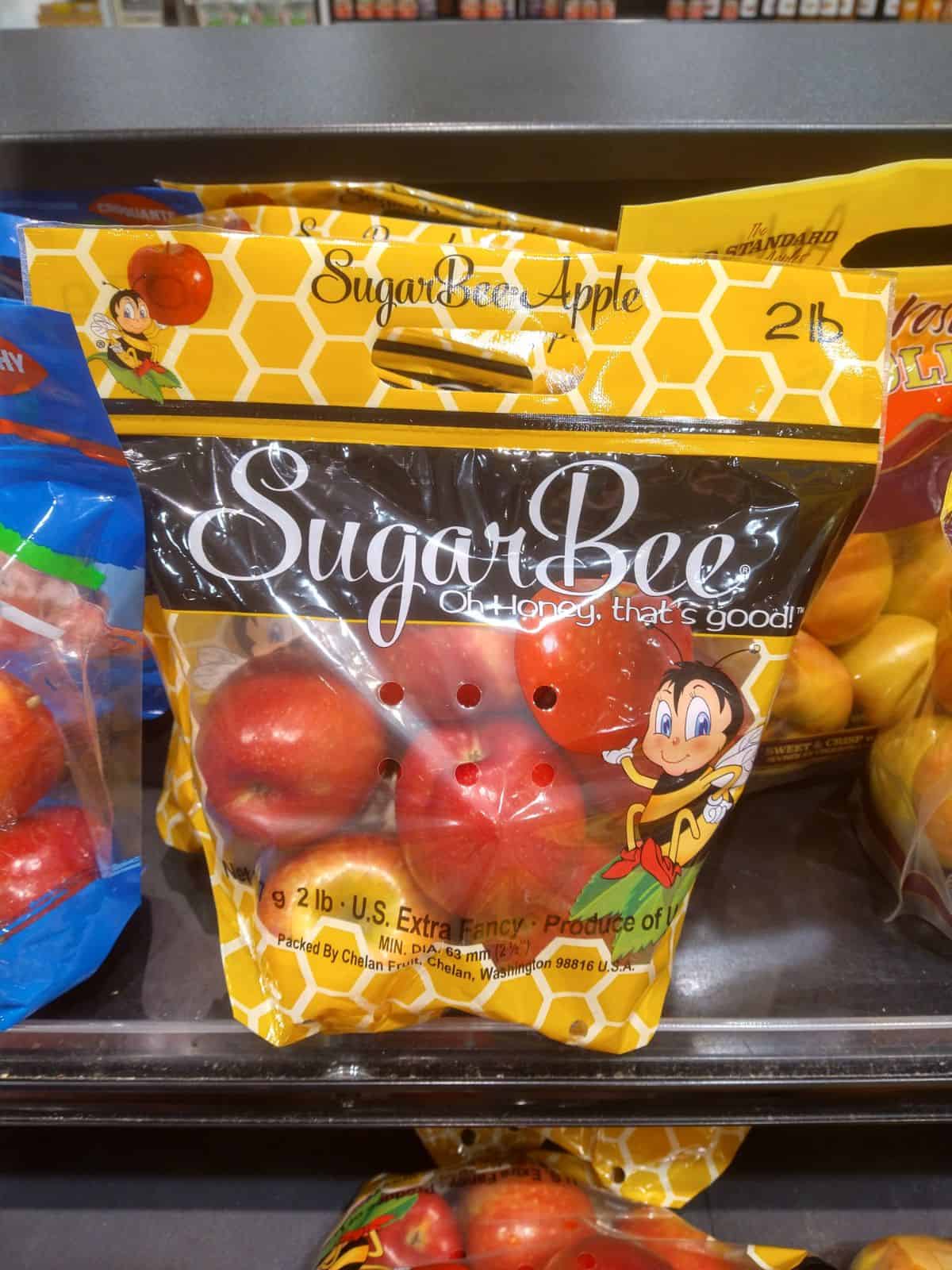 🛒 Where to Buy
Check out these stores to see if they currently have Sugar Bee apples in stock.
Albertsons
Cub Foods
Food Lion
Giant
Hagens
Harmons
Harris Teeter
Kroger
Jewel-Osco
Lidl
Mac's Fresh Market
Nob Hill Foods
Plum Market
Publix
Raleys
Randazzo's
Safeway
Shaw's
Shoprite
Sprouts
Walmart
Winco
Vons
Before 2019, they weren't super easy to find. But now I find them without too much trouble, especially December through February.
🧃 Apple Cider
In January 2019, I discovered a blend of apple cider that contain Sugar Bee apples. I saw sitting atop a cooler at a local Walmart store. Of course I had to try it and turned out it's pretty good. If you spot it yourself, give it a try. I don't see it very often.
Other Apples You Might Like
If you are a fan of Sugar Bee, here are some other apples you should check out as well:
Have you tried this apple? What did you think? Leave a comment below telling us. Be a helper and share where you found it. You may make someone's day with your insider info on where to get them! If you are a true apple lover, you'll want to check out all of our apple reviews.