What's the best way to keep your noodles from getting soggy?
It's simple, add them at the right time.
See how we do this for when we make chicken noodle soup in the Instant Pot.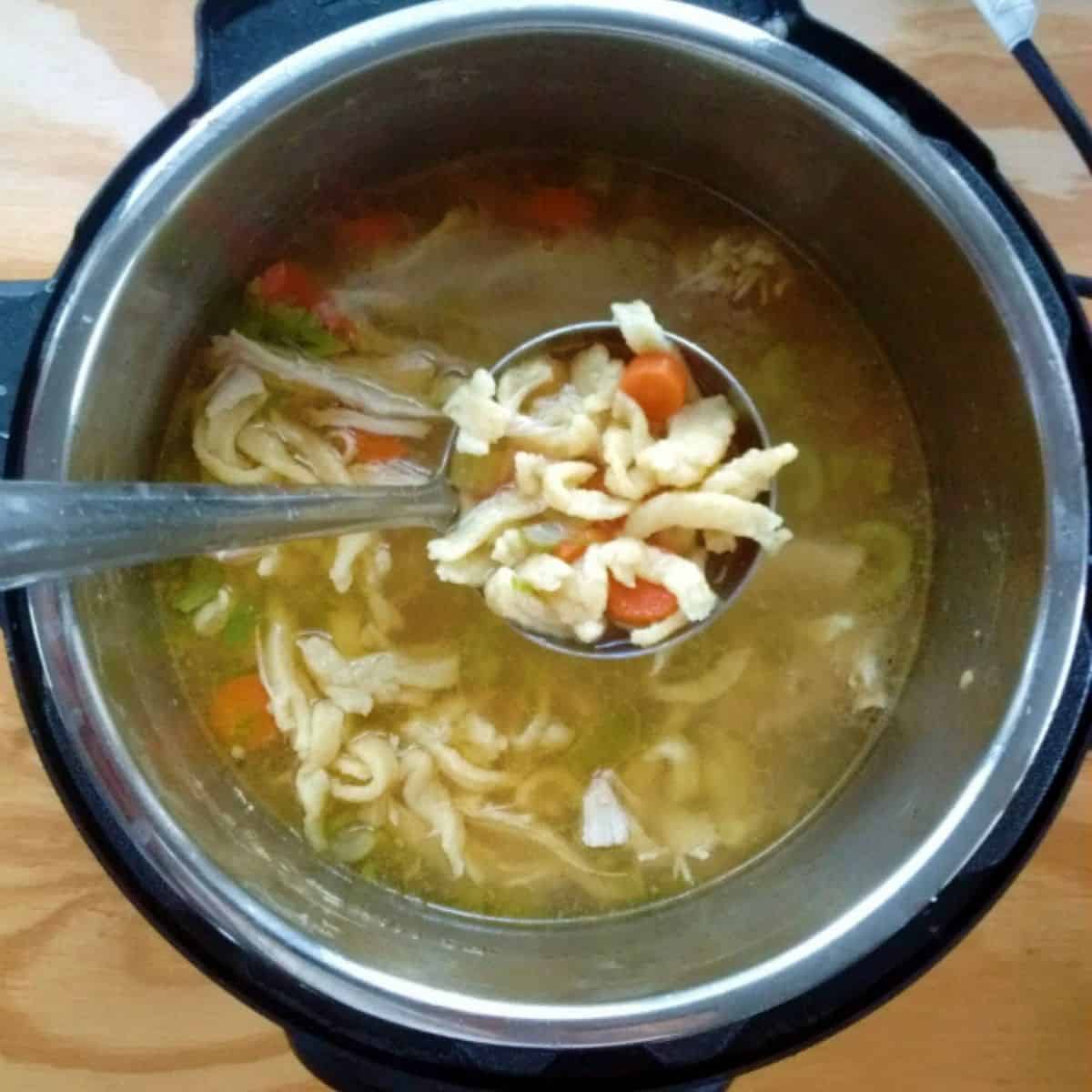 This post includes affiliate links. This means that at no additional cost to you, I will earn a commission if you click through and make a purchase. These are products and services I recommend because I use or trust them. Cookies will be used to track the affiliate links you click.
No one likes a soggy noodle.
They lack integrity. They just We fall apart. Worse they absorb all your delicious broth, so you end up with a huge ball of congealed noodle mass.
Yuck, no thanks. This is a problem many people fast, especially when making chicken noodle soup.
We want to cook the noodles together with the broth right to absorb the flavors as well as to be able to dump ingredients in a vessel and be done. This can't be more true than when making chicken noodle soup in a slow cooker, pressure cooker, or the ever popular Instant Pot.
For the purpose of this post and for the purpose of being popular with the search engines, I am going to be focusing on making chicken noodle soup in an Instant Pot. These principles apply to a slow cooker or any type of pressure cooker. So even if you don't have this past Christmas must have item, there is still reason for you to read on.
Jump to:
💡 Top Tips
Here are 3 things you can do to avoid to keep your noodles from becoming too mushy.
DON'T cook them with the chicken.
Through trial and error discover how long you can cook the noodles in your Instant Pot without them getting soggy.
DON'T buy cheap pasta
Don't Cook the Noodles with the Chicken
The simplest solution may not be the one you want to hear buy don't cook the chicken and noodles at the same time. I am going to show you how I cook the noodle separate and how it really doesn't take up any more time than if I put them in with the chicken cooking.
Learn Through Trial and Error
If you are set on, I must cook my noodles with everything else, then you may have to do some experimenting. What time is going to work to cook everything and your noodles without overcooking the noodles.
This isn't easy to do, there are a lot of factors. Is your chicken fresh or frozen? Are you using a whole chicken or just pieces? How large is your chicken? In order to get it just right like Goldilocks would want you are going to have to practice or just get lucky once.. Then you will need to repeat exactly what you do in order to reproduce the results.
As fun as is all my may sound, I would prefer to forgo the experiments and just be happy without cooking the noodles separately. More power to you if you want to try and make it work. Feel free to share your success in our comment section below 🙂
Avoid Cheap Pasta
I would love for you to make your own. It's fabulous. And not too hard. But if you don't have the time or don't care to take that extra step, make sure when you are at the grocery store to select high quality pasta. The cheap stuff is well cheap. It is far less forgiving than more expensive pasta. It's so easy to overcook. Even when I am just boiling pasta the cheap stuff I have to keep a real close eye on.
If you are buying egg noodles look closely at the noodles in the package. If the look really smooth move on to better noodles. That is what the cheap one looks like. See if your store carries noodles produced by a smaller local company. Or you can buy some good ones online. Al Dente (affiliate link) makes some really great noodles.
Of course you can always make the noodles yourself. Homemade noodles are really where it is at. I get that most of us are using your Instant Pot because either we want a meal fast or we don't have time or both. But if you do want to make your own noodles I suggest this recipe from Bob's Red Mill. It is what I used in the recipe you will find below.
🥄 Instructions
Below I will give you my instructions on how prepare chicken noodle soup using a whole chicken in an Instant Pot. Same basic technique will work with any pressure cooker.
As for a slow cooker that is a different game. I find when you cook a whole chicken in a slow cooker you end up with a lot of fat in your broth and if you don't remove it before eating your lips will feel like they are coated in oil. A pressure cooker can cook the meat without the broth becoming overwhelmingly fatty.
Cover Chicken with Water
I put the whole chicken into the pot and cover with water, making sure not to go above the max fill line. That water will soon become a delicious, flavorful broth that will only need some salt to taste fantastic.
I have a 6 quart model. I cannot completely cover a chicken without passing the max fill line. Seal it up and cook at high pressure.
Learn what tool I now use whenever I am cooking a chicken in the Instant Pot along with the best accessories to complete your Instant Pot experience.
For a frozen whole chicken, high pressure cook for 60 mins. I would do 40 mins for a fresh bird. I then allow for a natural release.
When the Instant Pot is done cooking the chicken, I allow for a natural release. It took 25 minutes on this occasion.
A fully cooked chicken. Just need to allow it to cool before removing the skin and shredding the meat. The bones were so soft I could snap them in half.
Pressure Cook Veggies
It is going to take some time for the chicken to cool. In the mean time time to toss in the vegetables. Carrots and celery of course, got to go with tradition.
A bonus tip for you. Try to buy celery with the most leaves on it you can - sometimes this can be a challenge. You can then pull the leaves off and chop them up, just like you would an herb. I bring them to the table for people to add on top of their soup.
🔘 Sauté Button
After 5 minutes of pressure cooking the veggies and allow the pot to natural release, hit the sauté button.
Once the liquid start to boil, add the noodles. Cook them until your desire doneness (time for spell check to recognize doneness as a word), before introducing the chicken to complete your soup. You then can be sure that your noodles won't be soggy (unless you overcook them here - so pay attention!)
I made my own fresh semolina noodles so they cook pretty quickly. If you are doing dried noodles, it may take a little longer. Either way, in the time it takes to cool the chicken enough to shred, everything else was done. I wasn't waiting around at all for anything to finish cooking. In this case I would not have saved time by putting the noodles in to cook with the chicken. And that is way I recommend never cooking the noodles with the chicken.
And that is how it is done.
Share your experiences below in the comment section. And give the recipe a rating if you have tried it fully.
🍴 Instant Pot Recipes
Here are some other Instant Pot recipes on the blog you'll want to check out
🥣 Soup Recipes
Wanting more soup? Try these
📧 Sign Up for Emails
Don't miss out on any of our new Instant Pot blog posts. Sign up for our email list.
Instant Pot Chicken Noodle Soup
How to make chicken noodle soup in a pressure cooker or Instant Pot using a whole chicken.
Print
Pin
Rate
Ingredients
1

whole chicken (4-5 pounds)

water

enough to cover chicken

3

carrots

chopped

3

celery stalks

chopped

1

package

egg noodles

or 1 batch of homemade egg noodles

kosher salt

to taste
Instructions
Place whole chicken in your Instant Pot or pressure cooker. Cover with water. Do NOT go past the max fill line.

Put lid on. Set to seal. Cook on high pressure for 40-45 minutes for a fresh chicken, or 60 minutes for a frozen chicken.

Instant Pot will go to keep warm when done cooking. Allow for natural release about 25 minutes. The silver piece will drop on the Instant Pot.

Remove the chicken. Allow to cool.

Put the carrots and celery in the Instant Pot. Lid back on and set to high pressure for 5 minutes. Allow for natural release.

Shred the chicken once it is cool enough to shred.

Once the veggies are done, set the Instant Pot to saute. When it begins to boil add your noodles. Cook until desired texture.

Add the chicken back to the pot. Salt to taste and serve.
Tried this recipe?
Mention @eatlikenooneelse or tag #eatlikenooneelse