Soup is on, with this shopping list for ingredients to make some amazing soups from foods you can get at your Costco store.
Brrrrrrrrrr.
It's winter and it definitely feels like it where I am - if I could feel anything, that's how cold it is.
Does it feel like it where you are?
I thought it would be so appropriate for this month's Costco Food Finds to be dedicated to the one food that is known for warming you up when the weather outside is anything but.
That's soup.
I have searched Costco high and low for the best ingredients for a big batch of body and soul warming soups. There are a couple of fruits I am highlighting as well.
Soup is on for this edition of Costco Food Finds.
Soup Ingredients
Below you will find some great foods that will enhance your soup making this winter.
Premio Italian Sausage | $13.99 per pack ($2.79/lb) | 888721
I love sausage. I love sausage in soup. Some nice chunks of pan fried sausage into a soup is a real treat. It's a nice burst of flavor. Pair it with some beans and some greens. Now we talking a soup worthy of a relaxed weekend dinner.
Pure Farms Applewood Smoked Bacon | 2-24oz packages for $15.99 | 664313
Ah now I have to choose between sausage and bacon? Why not both!!! It doesn't take a lot of bacon to bring a soup to life.
My favorite soup growing up (before I knew better) was Campbell's Bean with Bacon Soup. I have made my own version of this soup that beats anything Campbell's makes.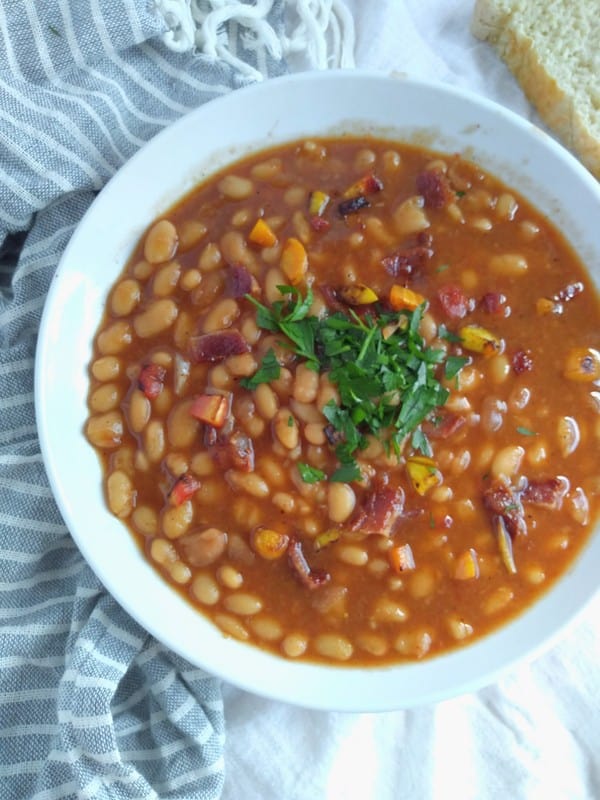 I go with applewood smoked bacon. I like the flavor applewood provides to smoked products over hickory.
Gold Potatoes | $8.99 for 15 pound bag (.59/lb) | 31410
Potatoes and soup. Yes please. Paired with the bacon I just mentioned above would be awesome. Or a yummy Potato and Leek soup.
My favorite potato leek soup is a recipe by Alton Brown. I reviewed it in the early days of the blog --> Alton Brown's Potato Leek soup review
When making soup I opt for gold potatoes. They are perfect in soups for both flavor and texture and are able to hold up nicely. I save the Russets for baking.
Get a big bag of gold potatoes for $8.99 and store them in dark cool place for several batches of soup.
Soup Making Hacks
Who doesn't love cheese. Let me show you some creative ways to add it to your next bowl of homemade soup.
Kirkland Parmigiano-Reggiano Cheese | $10.69/lb | 34777
Pretty much any soup you can think of could use some freshly grated Parmigiano-Reggiano cheese. Have a block of it along with a Microplane grater on your table when you serve soup and your family or guests will want more.
The best tip I have for you, probably in this whole post, is to save the rind of the cheese. Don't throw it out. Once you have used up all the cheese, you can toss the rind into a pot of soup and it will add tons of flavor to the soup. Just let it do it's thing while your soup cooks and then you can throw it out.
I do that with my Asparagus Ends soup.
Cello Parmesan Whisps | $9.79 per bag | 1010490
Another way to do Parmesan is to buy a bag of Cello Parmesan Whisps. They are cheese that has been baked into what I could call a crispy cracker. More cheese than you could ever fit in a Cheez-It. Use them for soup just like you would a cracker.
Horizon Organic Heavy Cream | $9.49 for 1 half gallon | 506970
Horizon Organic Half and Half | $5.79 for 1 half gallon | 566950
A splash of cream or half and half to soup is a perfect way add richness and body to a soup. I like to add it at the very end right before serving. You don't need a lot - although of course at Costco you end up buying a lot. I guess that provides plenty of dairy for those that warm up with coffee or tea.
Kirkland Organic Chicken Stock | 6 packages for $11.69 | 516822
Culinary Treasure Organic Chicken Bone Broth | 6-32oz packages for $14.99 | 96716
The basis for a lot of soups is stock or broth. Costco offers two organic chicken choices. I did not see any vegetable broth at Costco, but honestly you should be making your own vegetable broth from leftover vegetable scraps or veggies that are starting to go south.
I will let you get away with buying store bough chicken stock though - how kind of me 🙂
I try to make stock myself when I have the bones but sometimes I don't have them when I need to make a soup, so I am ok with buying some from the store from time to time.
Earthbound Farms Baby Spinach | $4.99 for 1 pound package | 96716
Adding some green to a soup is super easy and ups the nutritional ante. Baby spinach makes a great choice. You can toss it in the soup right at the end, even when you turn off the heat. It wilts super fast. If you are trying to get more greens into your diet it doesn't get any easier.
Kale is a great choice as well, especially if you are trying to like kale. The least intimidating way to try kale.
A Friend's Soup Recipe
I want to give you more soup inspiration. A friend of mine has a blog called Firstfruits Family. She just posted a Zuppa Tuscana soup on her Instagram account that looked amazing.
You can pick up all the ingredients for this soup at Costco, although they don't have ground sausage but you could use the sausage I mentioned above. Just cut it into chunks. And the soup uses both bacon and sausage, someone else also thinks you can have both.
Some Fruit Finds
While you are at Costco stocking up on soup supplies, don't forget to see if they have these two varieties of fruit in stock.
Cara Cara Navel Oranges | $9.99 for 8 pound bag ($1.25/lb) | 31030
I love Cara Cara Navels. They are so nice, they named them twice! In case you haven't had them, they look like a standard Navel on the outside. But open them up and you will notice a difference right away. They are red on the inside!
The flavor is a bit different too. I find it has some berries notes. Cara Caras are also less acidic. If oranges give your tummy some troubles give Cara Caras a try.
Learn more about when Cara Cara Navels Oranges are in season.
Juici Apples | $12.99 for 5.5 pound bag ($2.36/lb) | 31084
If you are a regular blog follower you have may seen my post on the Pazazz apple earlier this month (check it out now if you haven't). The Juici apple is yet another apple to be created from a cross between a Honeycrisp and another apple - in this case a Braeburn.
I have had only had this apple once and it definitely lived up to the name of being juicy. Change things up this month and give this apple a try. I would love to hear from you if you do 🙂 Juici apples are grown in the state of Washington.
I hope you have been inspired to make a big batch of soup from ingredients you got at Costco. See ya next month.