Don't throw out the woody ends of your asparagus. Save them and use them to make a broth as a basis for a delicious soup. Can be made in the Instant Pot.
This post includes affiliate links. This means that, at no additional cost to you, I will earn a commission if you click through and make a purchase. These are products and services I recommend because I use or trust them. Cookies will be used to track the affiliate links you click.
If there is one thing I hate it is wasting food.
Anytime you waste food it's like emptying your wallet into the trash.
Often with produce you have parts of the fruit or vegetable you are not going to eat. I will never eat an apple core or the peel of an orange or outer layers of an onion.
What about the ends of asparagus? Those woody ends that either end up in the trash or at least hopefully in your compost pile.
Is there a better fate for them?
Should I try to choke them down? I think they are definitely usable in a way that is delicious and will keep you from spending an hour flossing asparagus strains out of your teeth.
Make soup.
Jump to:
🥣 Making Broth
To make the soup you are going to use the ends to make a broth which then you can add potatoes and other seasonings to.
I saved up about 40 or so ends from 2 bunches of asparagus I purchased. Then got out pot, covered them completely with water and boiled them until they were the mush you see in the picture below.
I also had another secret ingredient up my sleeve. In the theme of using discarded "waste" I threw a couple rinds of Parmigiano-Reggiano cheese that I got at Whole Foods on the cheap. This would infuse the flavor of the cheese into the stock.
While it may not look pretty or tasty, the liquid that was left behind after I turned the ends into mush only a baby could appreciate was a flavorful asparagus stock that was a little green in color.
🥔 Adding Potatoes
Once the stock was made, I cook peeled and diced Russet potatoes right in the broth.
You can use an immersion blender to blend it up or throw into your food processor or regular blender. You can either make it smooth or leave it a little chunky your choice.
🧅 Optional Ingredients
I meant this recipe to be a simple soup. But there are plenty of ingredients you can add to the soup to enhance the flavor even more
Shallots
Garlic
Leeks
Panchetta
Bacon
Pepper flakes
Baby spinach
Kale
Vidalia onions are in season at the same time as asparagus is at it's peak, so pairing the two is a great way to take advantage of the season's best.
I also like to garnish with the tips of asparagus. We eat with our eyes and those tips on top just scream asparagus to me!
➕ Adding Spinach
In order to improve the color of the soup making it look more "asparagus" I decided to add some baby spinach. This give some addition flavor as well as a huge boost in color.
Take a look!
Adding cream gives a beautiful spring time color as well as making it more indulgent!
💨 Instant Pot
This soup can be made in the Instant Pot as well pretty easily. Let me take you through the steps.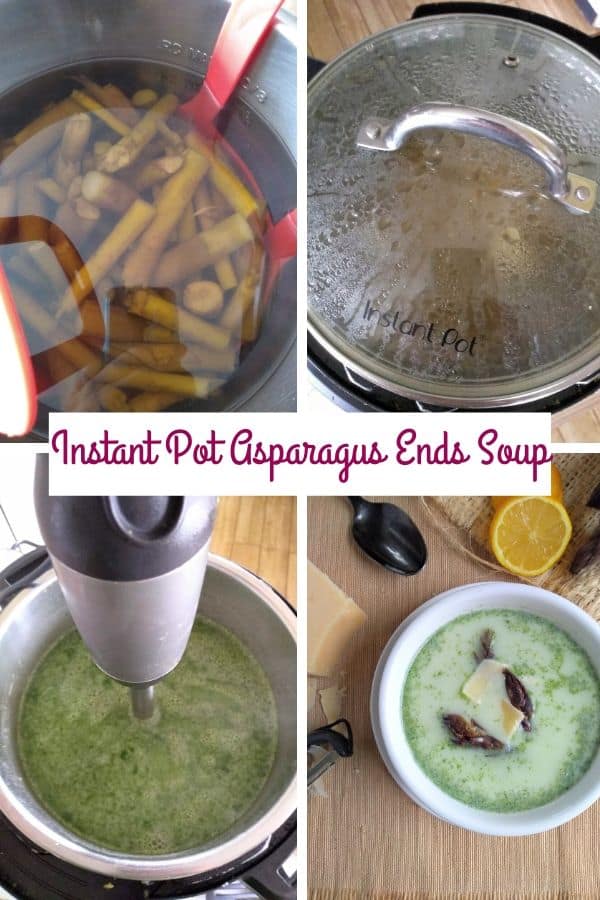 Place your asparagus ends in the Instant Pot and cover with water.
Cook for 10 minutes. Allow for natural release.
Remove all the asparagus ends.
Add the potatoes. Set the pot to sauté to bring to a boil.
Cook until the potatoes are done. Add in spinach if using.
Blend with a stick/immersion blender.
Tip - I don't like using pressure cooking the potatoes as I don't think it's worth time to get the pot back up to pressure after removing the asparagus ends. I also like to monitor the potatoes so I can see when they are perfectly done.ip
🧰 Accessories
I like to use a sling inside the pot to make getting the asparagus easy to get out. There might be a couple that fall through, but easy to grab them out. No reason to drain through a sieve.
The Instant Pot Tempered glass lid is a great way to cover the pot for either cooking the potatoes or for serving it out of the pot.
You can store the leftover soup right in the pot. The silicone lid is perfect for storing the pot in the fridge.
RELATED - The Best Accessories to Use with the Instant Pot
🍽️ Recipes to Reduce Food Waste
I love posting recipes that will help you reduce food waste. Got broccoli that is about to go bad? Put it in the freezer. When ready to cook, put the frozen broccoli directly in an air fryer. It works even better than using fresh broccoli.
Got too much spinach or arugula on your hands. Make my spinach & arugula pesto.
Whenever I am making beef stew, I like to see what vegetables I have in my fridge that are getting past their prime and use them. There are more vegetables than just potatoes and carrots that go well with beef stew.
Check out our podcast, Eat Shop Waste Not for more food and money saving tips.
🍴 Asparagus Recipes
I love asparagus so much, so you know I got plenty of asparagus recipes on the blog. Make sure to check these out:
Ingredients
30-40

asparagus ends

about 2 inches a piece

3-4

medium sized Russset potatoes or 4-6 Yukon Gold potatoes

peeled and cubed

1-2

Parmigiano-Reggiano rinds

kosher salt and pepper to taste

2-3

handfuls

baby spinach

optional
Instructions
Place asparagus ends and Parmigiano-Reggiano rinds into a pot. Cover with at least 1 inch of water. Bring to a boil.

Reduce to a simmer. Cook until the asparagus can be mashed with a potato masher about 45 minutes to 1 hour.

Strain out the ends and rinds through a mesh strainer.

Add the potatoes. Bring back to a boil. Then simmer until the potatoes are soft, about 15 to 20 minutes.

If adding spinach add now and stir until wilted.

Blend with an immersion blender until completely smooth or leave some chunks.

Season with salt and pepper.
Notes
Instant Pot Instructions
Place your asparagus ends in the Instant Pot and cover with water.
Cook for 10 minutes. Allow for natural release.
Remove all the asparagus ends.
Add the potatoes. Set the pot to saute to bring to a boil.
Cook until the potatoes are done. Add in spinach if using.
Blend with a stick/immersion blender.
Tried this recipe?
Mention @eatlikenooneelse or tag #eatlikenooneelse