Learn how long you need to air fry asparagus to make it perfectly crispy and delicious. A quicker option than roasting.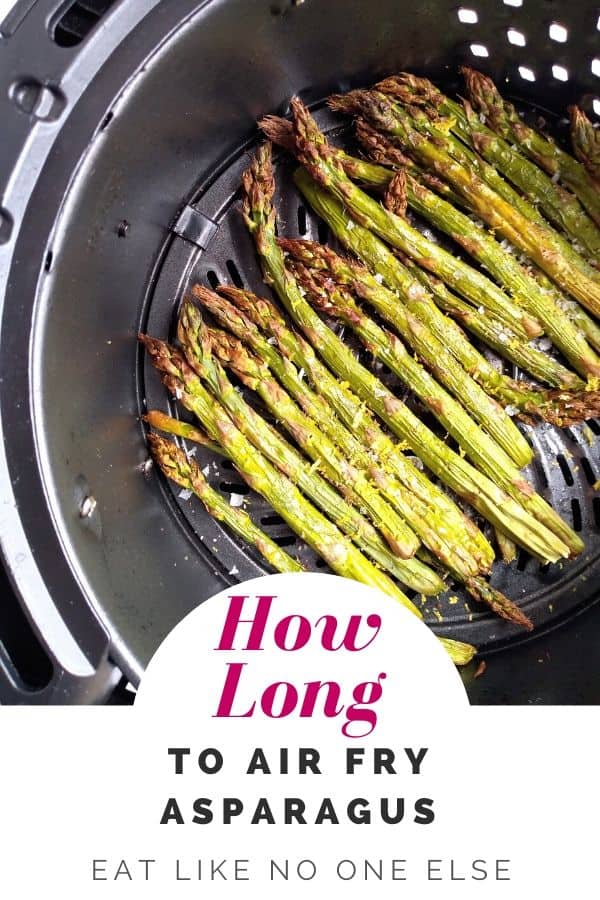 If there is a method of cooking asparagus that I have not tried, you can be guarantee I am going to try it.
At least once.
When I got an air fryer, I was looking forward to giving asparagus a try in the air fryer. Would it be as good or better than roasting? Could I get those tips nice and crispy without burning them and have the spears be tender?
I played around with cooking asparagus in the air fryer, and here are my findings. Most importantly I want to show you how long and at what temperate to cook.
?️ Temperature
Asparagus I like to do at a higher temperature. When roasting in the oven I have gotten greats result at up to 500 degrees. The air fryer you don't need to go quite as high. In fact, my air fryer does go past 400 degrees, so it can't go as high as the oven.
The goal is having the stalks cooked so they are not crunchy while at the same time getting the tips crispy without burning them. If the heat is too low, you won't get the crispy tips.
I found that right at 400 degrees I was able to accomplish both of my goals.
⏱️ Time
The time really depends on the thickness of your asparagus. I recently had two different types of asparagus (one was green, and one was purple) that were of different thickness.
Here is what they look liked.
It took 10 mintues for the green asparagus to be done. I would call the size they were average. The thicker purple asparagus took an additional 2 minutes. They could have used a couple more but the tips would probably have been burned.
In the oven if I am worried about the tips burning, I just cover them with foil. You could try that in the air fryer, but would be trickier doing that in a round basket, than a flat, rectangular sheet pan.
If you have small asparagus then I would go for around 8 mintues.
It's not a bad idea to check whatever asparagus you have after the first 5 minutes to get an idea of how they are progressing. Plus not bad to give the basket a little shake.
? Seasoning
After I cook the asparagus, here are some seasoing suggestions:
Parmesan cheese
Flaked salt
Smoked salt
Pecorino Romano cheese
Freshly grated nutmeg
Lemon zest
Black pepper
Garlic powder
Roasted garlic
Paprika
My favorites are Maldon flake salt, grated Parmesan cheese, lemon zest, and freshly grated nutmeg.
For more seasoning ideas, read our post Best Seasonings for Asparagus
? More Recipes
Paper Towel Microwave Asparagus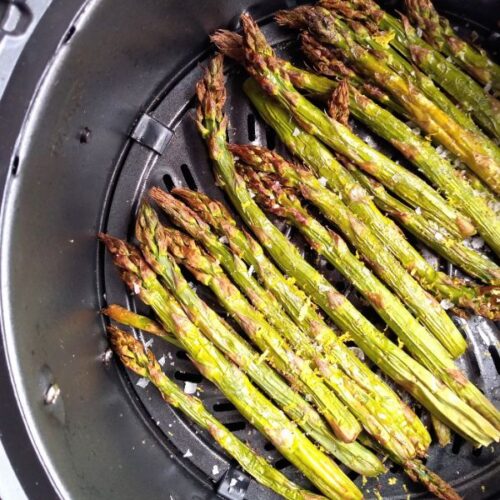 Air Fryer Asparagus
Asparagus is easy and fast to make in your air fryer
Print
Pin
Rate
Ingredients
1

bunch

asparagus

about 1 to 1 ½ pounds

1

lemon

just the zest

cooking spray oil

such as coconut

freshly grated nutmeg

to taste

kosher salt

to taste
Instructions
Trim the woody ends off your asparagus (about 1 ½ inches). Can be saved for soup.

Arrange the asparagus in your air fryer basket in as close to a single layer as you can.

Spray the asparagus lightly with oil

Set your air fryer to 400 degrees for 10 minutes. Place basket in and begin cooking.

After about 5 minutes, check to see how the asparagus is progressing. Shake the basket and cook about another 5 minutes or until the tips are crispy and the stems are soft enough to eat.

Season with salt, lemon zest, and freshly grated nutmeg and enjoy.
Tried this recipe?
Mention @eatlikenooneelse or tag #eatlikenooneelse
This post includes affiliate links. This means that at no additional cost to you, I will earn a commission if you click through and make a purchase. These are products and services I recommend because I use or trust them. Cookies will be used to track the affiliate links you click.