Our review of Alton Brown's Roasted Asparagus from the Age of Asparagus episode of Good Eats.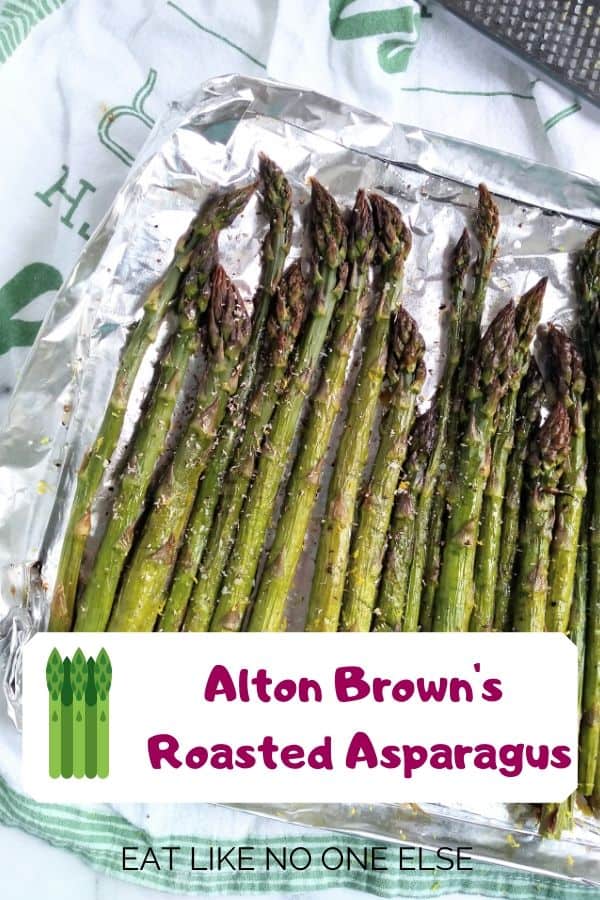 Asparagus is one of the first green crops to hit the market each year.
People rush to pick up the first asparagus of the season. I use to not see the draw.
I thought that asparagus was disgusting. It had this bitter, awful flavor I have always hated.
It turned out that I wasn't having asparagus the right way. Asparagus that is boiled or comes from a can is awful. Fresh asparagus that is roasted to perfection, is a completely different thing.
Roasting has become my go-to method for cooking asparagus. The first recipe I ever tried was Alton Brown's Roasted Asparagus from Good Eats. That is what I am here to review today.
? When to Get the Best
For the best asparagus buy when in season. For more info on that read our post on When and How Long is Asparagus Season?
? Top Tips
The first thing you need to do is cut about 1 ½ inches off the bottom of the asparagus. The bottom is usually pretty fibrous. They are hard to chew even when cooked.
Alton cooked his asparagus in a tray made of foil made with 2 sheets of heavy duty aluminum foil.
Don't throw those woody ends out. You can actually use them to make our Asparagus Ends Soup.
Alton adds nutmeg to the asparagus. This may seem like a strange thing. Most of the time nutmeg is used in sweet dishes like pies and applesauce. But actually the nutmeg adds a nice dimension of flavor to the asparagus.
Don't leave it out. Make sure you use whole nutmeg. You can grate it with a Microplane Grater/Zester. It's real easy to do and worth just a little extra effort over buying the pre ground nutmeg.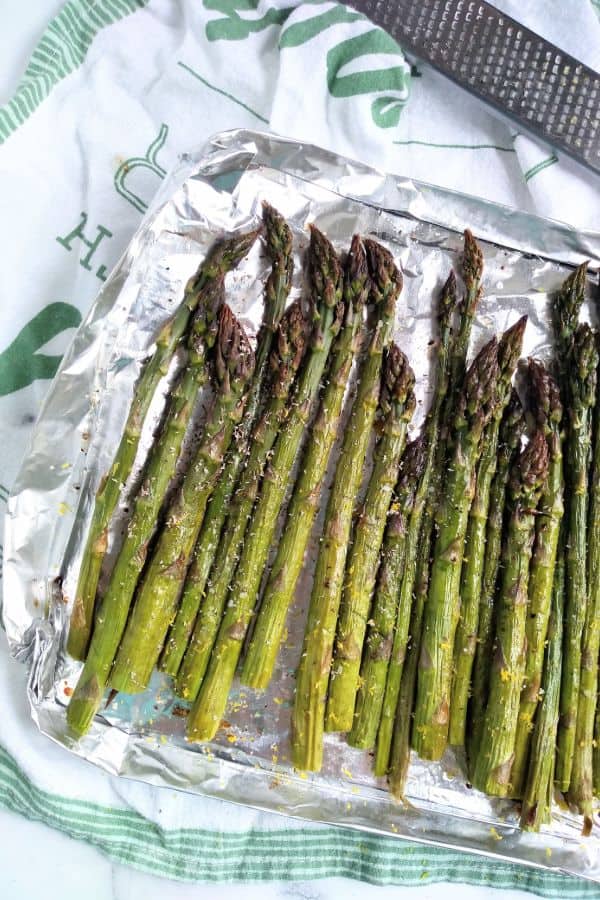 Cooking the asparagus five minutes per side worked perfectly in my 500 degree oven. It came out soft enough to eat, but not mush. It also is perfectly caramelized. The tips were crispy like I like them.
Only downside of cooking at 500 degrees is that if your oven isn't clean you may get some smoke. So be careful when you open the oven door.
? More Recipes You Got to Try
Alton Brown's Paper Towel Microwaved Asparagus
Pasta with Seaweed and Asparagus Pesto
Toasted Couscous with Asparagus Pesto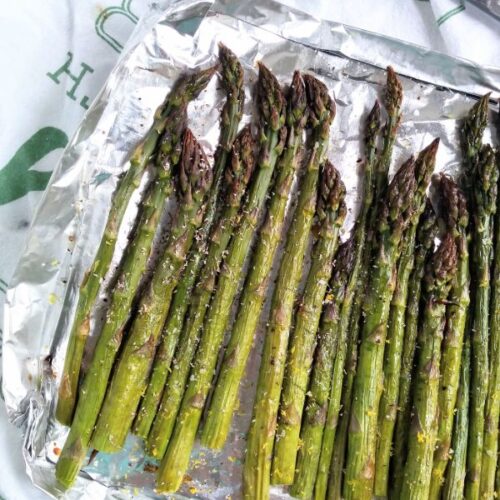 Alton Brown's Roasted Asparagus
How to make Alton Brown's Roasted Asparagus. Instructions written in my own words.
Print
Pin
Rate
Ingredients
1

pound

asparagus

1

tbsp

olive oil

1

lemon

zest only

½

tsp

kosher salt

½

tsp

freshly grated nutmeg
Instructions
Preheat your oven to 500 degrees.

Using two pieces of heavy duty aluminium foil make a pan that will fit all the asparagus in a single layer. Lay the asparagus down in the foil to get an accurate measurement

Trim off the bottom 1 ½ inches of the asparagus. You can save the tips to make a broth for soup.

Place the asparagus in a single layer on your pan. Add the oil.

Place into the oven for 5 minutes.

Toss the asparagus with tongs and then roast for another 5 minutes

Remove from the oven. Add the salt, nutmeg, zest of 1 lemon.

Toss to evenly distribute and serve.
Tried this recipe?
Mention @eatlikenooneelse or tag #eatlikenooneelse
This post includes affiliate links. This means that at no additional cost to you, I will earn a commission if you click through and make a purchase. These are products and services I recommend because I use or trust them. Cookies will be used to track the affiliate links you click.