A delicious spring time pesto made with roasted asparagus and mixed into toasted Israeli couscous. Can be served hot or cold.
People are creatures of habit.
They like to do the same thing over and over again.
This is especially true in the kitchen. I am not saying there isn't something wrong with that, but you could be missing out. I am also looking for new ways to use vegetables.
Simply roasting asparagus in the oven is great but what other things may also be great.
The recipe you are about to read about will expand your asparagus horizons - Toasted Couscous with Asparagus Pesto.
Pesto is another thing I have been trying to expand my horizons with.
Most people think that pesto = basil. Pesto can be made from other green veggies. I have done it with kale which got my kids eating kale. I did it with spinach when I had a bumper crop of it in my garden.
This recipe begins with my standard of roasting the asparagus but ends in something much different.
? Ingredients
Here is what you will need to make this recipe
1 bunch of asparagus about 1 lb
1 cup Israeli couscous
⅓ cup Parmesan cheese
½ head roasted garlic
¼ cup to ⅓ cup olive oil plus more for roasting and toasting
1 lemon
¼ cup sunflower seeds shelled
1 tablespoon butter
freshly ground black pepper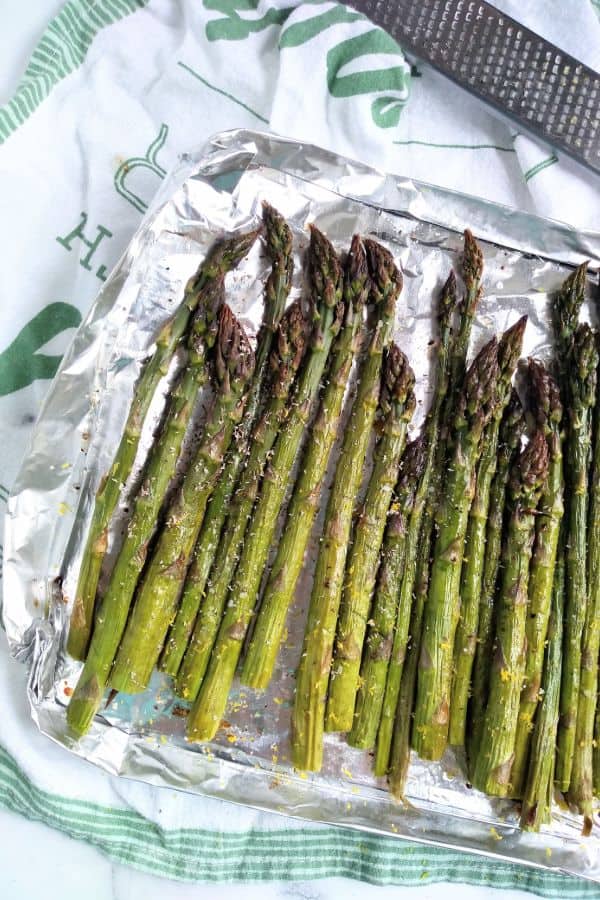 ? Roasting Asparagus
To prep the asparagus for roasting, set the oven to 400 degrees and drizzle some olive oil, kosher salt, and black pepper on top.
The biggest challenge of roasting asparagus is not burning the tips. So if the tips look like their done in the oven and not the stems, I just cover the tips with some aluminium foil.
Roasting time is about 15 to 20 minutes. Once it's cooled down a bit, it's pesto making time.
RELATED - How to Tell if Asparagus is Bad?
?‍? Making Pesto
I then cut the tips off the asparagus and slice the stems into pieces. The tips are the best part, so you don't want to blend them up with the stems!
The stalks go in the food processor along with some roasted garlic, sunflower seeds and Parmesan cheese.
Once you combine that you drizzle in the olive oil until you get the desire consistency you want.
You can serve the pesto with any type of pasta you like.
Israeli couscous works really well, so it's my go-to for this dish.
Israeli couscous is the largest sized type of couscous. Best part about it is that you can toast it in a frying pan before adding any liquid. This gives the couscous an amazing toasty flavor. Once you have done it you won't ever want to skip this step again.
Once the couscous is toasted you add water and cook it on low til the water is absorbed.
Then just mix in the pesto and it's ready to serve.
RELATED - When and How Long is Asparagus Season?
? Top with Cheese
When it comes time to serve I like to top the dish with cheese. Parmesan is usually my go-to but any of these would be a great option
Feta
Pecorino Romano
Cotija
Asiago
Parmesan
? Don't Forget the Lemon
Adding lemon to the pesto will not only keep it's color bright, but will brighten up the flavor itself. You will be amazed at what just a little bit of lemon juice will do.
?️ Make It a Main Course
If you want to turn this into a main course here are some suggestions to add to the dish -
Shredded cooked chicken
Sauteed mushrooms
Crumbled bacon
Shrimp
We usually just gobble it up as it without any additions.
? Serve Cold
Are you looking for more of a cold salad for a picnic? This would work for that as well. Just make it as the recipe says and put it in the fridge. Serve it cold at your heart's desire. It may help to add a little oil or water if it needs loosening up.
You could mix in some cherry tomatoes too if you like and top with feta cheese.
? More Asparagus Recipes
Pasta with Seaweed and Asparagus Pesto
Paper Towel Microwaved Asparagus
Toasted Couscous with Asparagus Pesto
Asparagus is roasted in the oven and then made into a pesto that is served over Israeli couscous that is toasted before cooking.
Print
Pin
Rate
Ingredients
1

bunch of asparagus

about 1 lb

1

cup

Israeli style couscous

⅓

cup

Parmesan cheese

½

head roasted garlic

¼

cup

to ⅓ cup olive oil

plus more for roasting and toasting

1

lemon

¼

cup

sunflower seeds

shelled

1

tablespoon

butter

freshly ground black pepper
Instructions
To prepare the pesto
Preheat the oven to 400 degrees

Cut off the woody ends of the asparagus, Save the ends for stock, soup, or compost.

Place them on a sheet pan. Drizzle on some oilve oil, then sprinkle on kosher salt and black pepper to taste.

Take half a head of garlic (or the whole head and save half of it for a later use), wrap it in foil and place it in the oven along with the asparagus.

Roast for about 15-20 minutes until asparagus is brown and has softened. Check half way through to set if the tips are starting to brown and cover then with aluminum foil. Check if the garlic has softened, leave it oven for a little longer if needed.

Allow to cool for a few minutes before cutting off the tips. Set them aside. Then slice up the stems into bite sized pieces.

Place in your food processor, the roasted garlic, sunflower seeds, asparagus stem pieces, and Parmesan cheese, and the juice of half a lemon. Process to combine, making sure to scrap down the sides of the bowl at least once.

With the machine running drizzle in about ¼ cup of olive oil. If it needs more to get to the right consistency you want, then drizzle in more slowly and keep checking. Add additional salt if needed.
To make the couscous
Melt 1 tablespoon butter in a frying pan over medium heat. Add 1 cup of couscous. Stir often until the couscous smells toasty and has taken on some brown color.

Add 10 ounces of water. Turn the heat down to simmer. Cover and cook until the couscous has absorbed the water about 5 to 7 minutes. Fluff with a fork.

Then add the pesto and reserved asparagus tips right to the pan. Serve hot.
Tried this recipe?
Mention @eatlikenooneelse or tag #eatlikenooneelse
This post includes affiliate links. This means that at no additional cost to you, I will earn a commission if you click through and make a purchase. These are products and services I recommend because I use or trust them. Cookies will be used to track the affiliate links you click.