Change up your usual pesto game with this lively mix of sweet baby spinach and spicy arugula. It makes for a versatile sauce for your favorite pasta, to season soup, on top of bread, or in some scrambled eggs.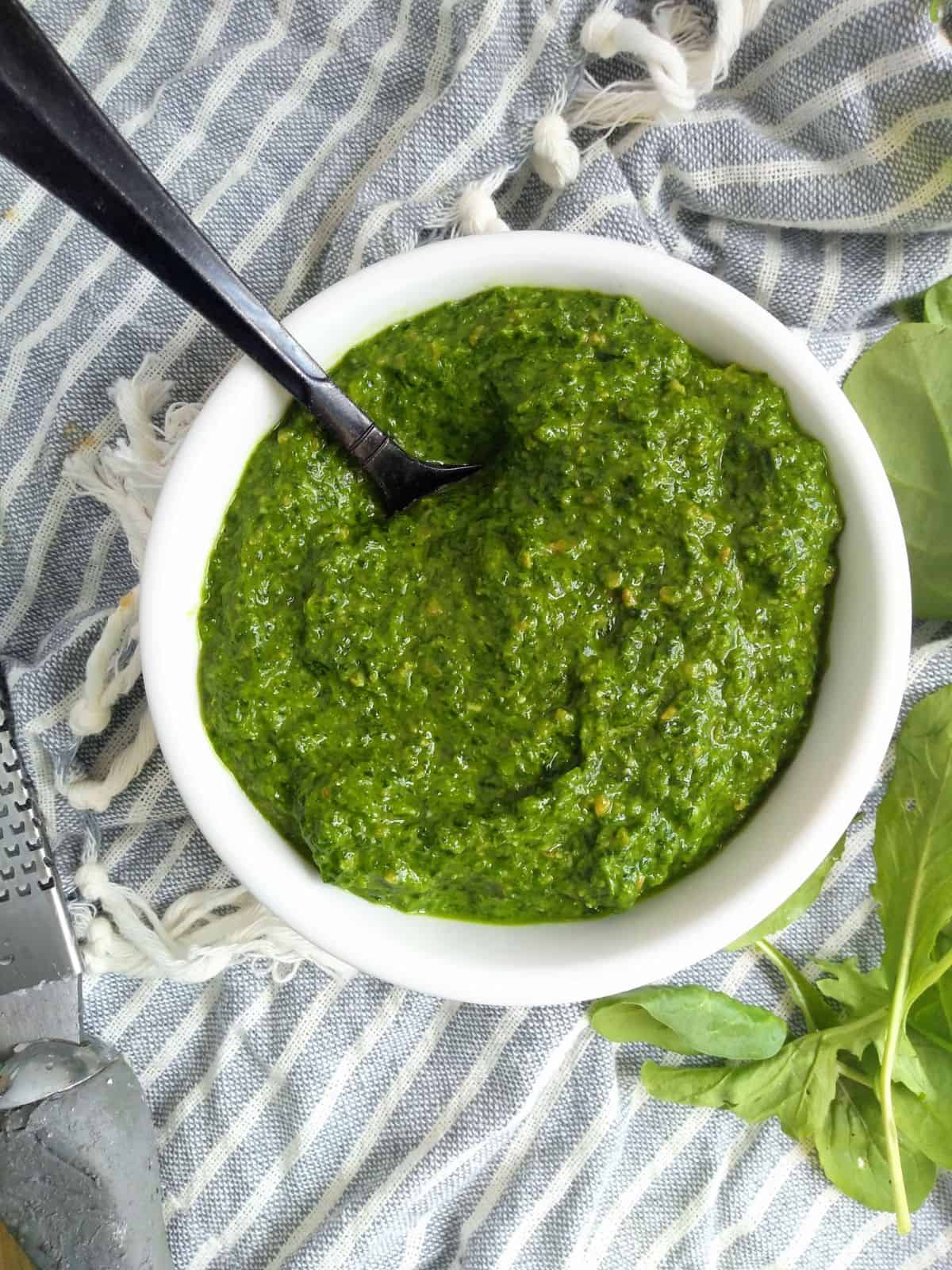 This post includes affiliate links. This means that, at no additional cost to you, I will earn a commission if you click through and make a purchase. These are products and services I recommend because I use or trust them. Cookies will be used to track the affiliate links you click.
One past winter, I was at a seed swap and was able to get some arugula seed for free.
Arugula is a cold weather crop that you can plant early in the growing season. Before Memorial Day even hit in Michigan I had a full crop of arugula ready to harvest.
I had more than I could eat in salads, so I decided to a great way to use it up before it went bad was to make a pesto.
Thinking that arugula alone would be awfully strong, I decided to mix half of it with fresh spinach. The result as a perfectly flavorful, sweet, and spicy pesto that can be used for anything you would use basil pesto for.
Jump to:
❓ Why Make Pesto?
When it comes to quick recipes, pesto is right at the top of the list. You don't have to even cook anything. What other sauce comes together this quickly. When you need quick dinners, pesto is one of your best tools to have in your recipe box.
I also love it because it gives me a chance to use up greens that might otherwise end up in the trash.
Lastly, pesto packs a ton of flavor. You don't need much of it to really enhance a dish. Try our Instant Pot Tomato Soup for example, just a bit of pesto added to it, really enhances a simple soup.
🛒 Ingredients
Traditional pesto is made with fresh basil, however there are other greens you can use in place of the basil. I like spinach and arugula because they are easy to come by and cheap. Kale makes for a great pesto as well.
Here is what you will need to make this pesto for this recipe:
Baby spinach
Arugula
Lemon juice
Sunflower seeds (shelled, salted, and roasted)
Parmesan cheese
Olive oil
Kosher salt
Garlic powder
Red pepper flakes (optional if you want a little heat)
A word on garlic - Fresh garlic from California is harvested from late June to early September. Garlic is in the store year round but if you are making this in spring time, the garlic you may be using can be old and more likely to be sprouting inside.
Last time I made this pesto I tried to include roasted garlic but the garlic in the store was of poor quality and the garlic I did have I cut into only to find it was green inside. While still edible, the natural sweetness of the garlic has all been converted to starch.
Instead I used garlic powder. Not quite the same as the fresh stuff, but if you get a quality garlic powder it can still add some good flavor. My favorite garlic powder is a Purple Stripe Garlic Powder from Burlap & Barrel.
A word on pine nuts - Most pesto calls for pine nuts, however they can be quite expensive. Most of the time I opt for sunflower seeds as they are a little cheaper and add the nutty flavor I am looking for.
Some people use walnuts as well, which you could if you like them. They are the least favorite nut in our household. We haven't tested but it would be fun to try it with almonds or even pecans.
The nice advantage of sunflower seeds besides the cost is that they are small, so the food processor makes quick work of them.
A word on olive oil - Do you have to use extra virgin olive oil? Not necessarily. But I think in this case you will be able to taste the difference in the quality of your oil you use, so it's worth using some olive oil that you love the taste of.
💡 Top Tips
When you are adding the oil to the pesto, slowly add it with the machine running. You know it's enough when the pesto is smooth and moving constantly as the processor blade turns. It shouldn't be sticking to the sides anymore.
🍝 What to Use It For
My number 1 use for it is as a pasta sauce. It's an easy lunch or dinner waiting to happen.
You can also use it in - soups, mixed into scrambled eggs, as a pizza sauce, on toast, mixed into salad dressings, etc. I do like adding it to spaghetti with meat sauce.
🧊 How to Freeze Leftovers
I stumbled upon a great idea for freezing leftover pesto that addresses a couple problems with freezing pesto.
If you freeze pesto in one container it is hard to just take some of it out without defrosting it all. Some people suggest ice cub trays and they work. Problem is it can take a while to get the cubes completey defrosted.
Instead freeze the pesto on a small sheet pan in a flat layer. Then break into pieces. Then you can easily remove exactly what you need.
Try this Asparagus Pesto too or This Wild Ramp Pesto!
Arugula & Spinach Pesto
Learn how to make a simple pesto that combines both arugula and baby spinach
Print
Pin
Rate
Ingredients
3

ounces

baby spinach

3

ounces

arugula

2

tbsp

sunflower seeds

shelled, salted, and roasted

2

tbsp

Parmesan cheese

¼ to ⅓

cup

olive oil

kosher salt

to taste

garlic powder

to taste

2

tbsp

fresh lemon juice
Instructions
Add the spinach and arugula to the bowl of a food processor. Process until uniform small pieces. Scrap the sides of the bowl.

Add in the sunflower seeds and Parmesan. Process until combined. Scrap the sides of the bowl.

Add in the lemon juice, then slowly drizzle in the olive oil while the machine is running until the pesto is smooth. Scrap the sides of the bowl.

Season with salt and garlic powder to taste.
Notes
The lemon juice will help keep your pesto looking bright and green. 
Tried this recipe?
Mention @eatlikenooneelse or tag #eatlikenooneelse