Learn how you can make a ham in no time at all using your Instant Pot. Yes, certain size hams will actually fit in the pot!
Find our Instant Pot ham recipe at the bottom of the post. It's a crowd pleaser, especially for any holiday meal. It's also a great way to save oven space.
This blog post is sponsored by Dearborn Sausage Company.
This post includes affiliate links. This means that at no additional cost to you, I will earn a commission if you click through and make a purchase. These are products and services I recommend because I use or trust them. Cookies will be used to track the affiliate links you click.
Is there anything the Instant Pot can't do?
Turn a frozen chicken into soup. Check
Make yogurt. Check
Pop popcorn - with the right lid. Check
Cook a ham......
That is the one we are going to look at today - I think you know what the answer is going to be.
Jump to:
⚙️ Why It Works
So our answer to our first question of the day is yes, of course you can cook a ham in an Instant Pot. That leads into our next question, why would you want to?
Time. You want your ham to be done fast. Whether it's Christmas or Easter dinner, you got hungry guests awaiting. Cooking the ham in an Instant Pot or any pressure cooker for that matter will save you on time. Your guests' bellies will be fuller, faster.
Here is the thing with ham - it's already cooked. So the goal is to completely re-heat the meat all the way to the center while at the same time keeping the meat from dying out. So we aren't worried about eating raw meat here. That gives us an advantage and a reason why the Instant Pot is a good option.
📏 How Do You Fit a Ham
The biggest challenge of all for doing a ham in an Instant Pot is getting the ham to fit. They are all different sizes of Instant Pots. the bigger you got the easier it's going to be. The largest size Instant Pot is the 8 quart model. I have a 6 quart.
Sure you could trim the ham to fit your Instant Pot perfectly, but who wants to do that. There are a couple things you could do to make sure you get the right fit. You can take just the pot to the store with you. Most of us probably wouldn't have the forethought to do it. Or maybe we are scared of looking like some kind of a weirdo.
What I did was I called my wife who was at home and had her measure our Instant Pot. I then borrowed a ruler from the school supply section of the grocery store and measure the hams until I found one that I knew would fit. Yeah that was pretty nerdy.
💡 Tip - The top of the ham can be above the max fill line. That is only for liquid.
🐖 Types of Ham
Here are the types of hams that should work as as long they fit in the pot:
semi-boneless
butt end
shank end
pre-sliced ham
🐷 Dearborn Hams
I have much love for Dearborn Hams because they are a Michigan company and I am life long Michigander! Dearborn has been in business for over 70 years - three generations of making quality meats. - you gotta try their hot dogs by the way.
Dearborn's Blue Box Spiral Ham is known throughout Michigan and beyond. No holiday around here goes on without them. The ham is smoked for up to 24 hours. That equals great flavor.
Dearborn has several other ham offerings as well including the semi boneless ham that I made in the Instant Pot for this very blog post.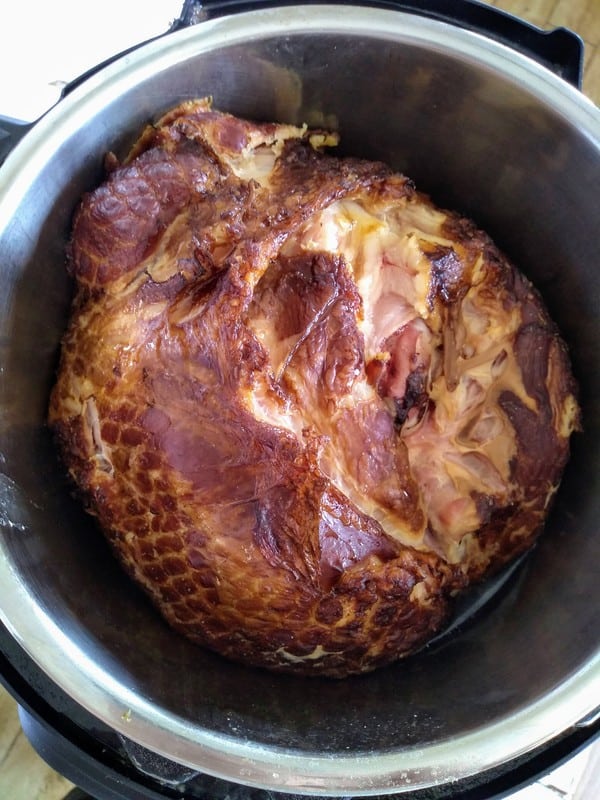 ⏲️ How Long Does It Takes to Cook
The answer is going to depend on the size of your ham. Let me share with you my experience.
A 7.45 pound ham is what I started with. My research showed that other people were cooking their ham for as low as 10 minutes and up to 30 minutes. I decided to try it right in the middle at 15 minutes at high pressure, followed by a natural release.
I was happy with the result. Perfectly hot throughout and done in a fraction of the time it would take in the oven.
Keep in mind the size of your ham is going to change the cooking time. 2 ½ minutes per pound is a good estimate that I feel safe with recommending. It still can vary based on the shape of your ham as well as the bone (or lack there of) in your ham. My ham was semi-boneless. It only had one circular shaped bone running through it.
💡 Tip - If you are not confident that the ham is fully re-heated in the middle you could always use a thermometer to check. You just need to hit 140 degrees for the ham to be hot enough.
To give yourself a leg up (get it ham is made from the leg of a pig!) you should set the ham out before cooking. Getting the ham to room temperature is great way to make sure the ham will be re-heated all the way to the center.
Ham has plenty of salt in it so you don't need to worry it's going to spoil or that your going to get sick. I am only talking about an hour or so here.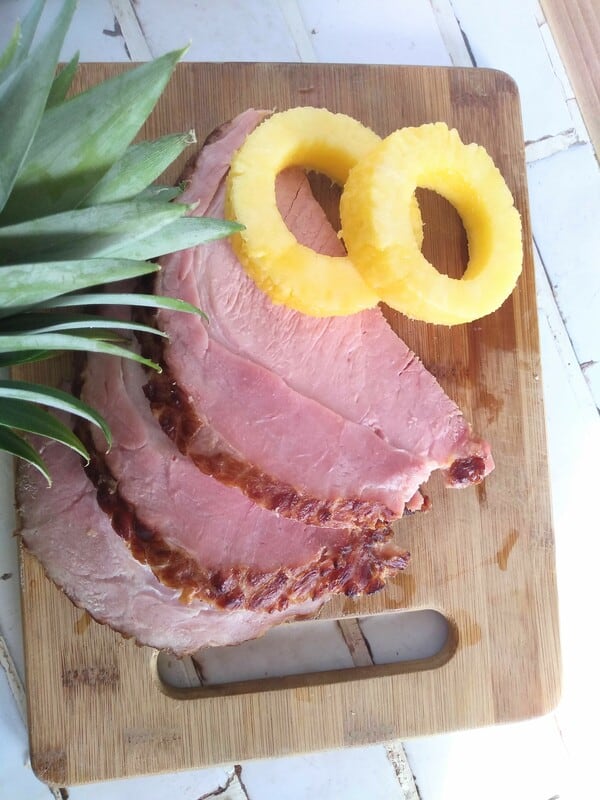 🧂 How To Flavor a Ham
Pretty much anyway you normally would flavor your ham would work in the Instant Pot. Your going to want to have some liquid. You want the liquid to have some flavor. Just old plain water is going to do anything for your ham.
You can keep it to simple ingredients like just the ham, pineapple juice, brown sugar, and cloves like I do or use any of these other ideas.
Potential liquid choices include:
pineapple juice
orange juice
root beer
cola
Dr. Pepper
ginger ale
chicken broth or stock
ham broth or stock
When I made mine I choose to use pineapple juice. You could also use a a can of sliced pineapple with the juice. I have made ham in the past with a root beer glaze.
Other ingedients to add for flavor could include
cloves
brown sugar
honey
maple syrup
canned pineapple (use it's juice)
nutmeg
cinnamon
allspice
Dijon mustard
black pepper
For the coves you could just stick whole cloves into the meat or use a mortal and pestle to grind up whole coves and sprinkle it all over the ham.
❓ Is It Worth It?
This might be the most important question of them all. Does the Instant Pot make a delicious ham? Sure we want to re-heat it fast but we want it to taste good as well, we got an audience to impress, right?
I can confirm that yes you can produce a flavorful ham in the Instant Pot. The best part of the ham was the flavorful liquid that was left with at the bottom. You can use it as a dipping sauce, or hit the saute button on your Instant Pot and let it reduce a bit to get a flavorful glaze you can brush on (more on that in a moment)
🥊 Instant Pot vs. Oven
I was happy with the carmelization of the outside of the ham. However if you want it more crisp your going to need to throw it in a really hot oven for just a short bit. You want really hot because you need to do this fast so you don't dry out your meat. I would say at least 400 degrees.
You could even consider turning on the broiler but watch it really closely and if you have a sweet glaze on the outside it could burn really fast. Use caution.
🥤 How Much Liquid
½ cup of liquid is all you need. It doesn't sound like much but it's enough. When the ham is done there will be even more liquid in the pot.
🙋 Does It Come Out Moist?
Flavor. Check. Speed. Check. What about the texture? Does produce a juicy ham? Oh yeah it was moist. Not dry whatsoever.
🧹 How to Make a Glaze
Another reason to use flavorful liquid instead of just water is that you can reduce it into a flavorful glaze.
Once the ham is done, you can remove it from the pot onto a serving platter. I cover it with heavy duty aluminum foil.
Then hit the sauté button on the Instant Pot.
Reduce the liquid until it has thicken, at least enough to coat the back of a spoon.
Use a brush to apply the glaze to the ham.
🧰 Do You Use the Trivet?
No.
You need all the space you can get in your Instant Pot, there is no room for the trivet, unless your ham is exceptionally small.
Got leftover ham? If it's too much to eat, leftover ham can be frozen. Or use it in place of the bacon in my Instant Pot bean soup recipe.
🍠 Side Dishes
Here are some sides you can make with this ham that would be tasty.
🍽️ Instant Pot Recipes
Here are some other Instant Pot recipes on the blog you'll want to check out.
Overall I was satisfied with how my ham turned out. I would do it again for sure (and I have many times!). If you give it a try, please share your experience with us in the lovely comment section below.
📧 Email List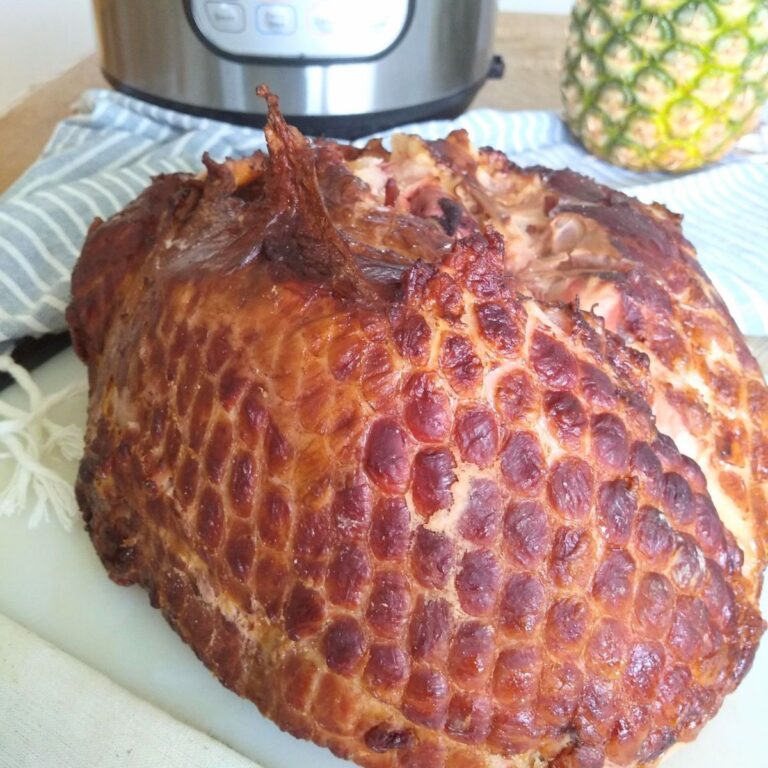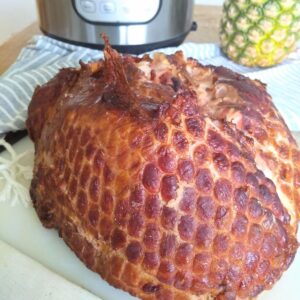 Instructions
Place in the Instant Pot. Pour the pineapple juice on top.

Add the brown sugar and ground cloves directly to the ham.

Set to the sealing. Cook high pressure for 15 minutes.

Remove ham from Instant Pot. Cover with foil and let sit for 10-15 minutes before carving.

Optional - pour the remaining liquid into a bowl for dipping, or hit the saute button and reduce to make a glaze.
Notes
It should take about 20 minutes for the Instant Pot come to pressure. When it's done it took about 10 minutes for the pot to natural release.
Tried this recipe?
Mention @eatlikenooneelse or tag #eatlikenooneelse