Are you tired of asking to yourself "Why is my spiral ham always dry?" Learn how to cook a spiral cut ham so that it's moist and delicious, and never dry.
This blog post is sponsored by Dearborn Sausage Company.
This post includes affiliate links. This means that, at no additional cost to you, I will earn a commission if you click through and make a purchase. These are products and services I recommend because I use or trust them. Cookies will be used to track the affiliate links you click.
One of the greatest disappointments in the kitchen has to be dry meat.
You spend a lot of your hard earned money on a big hunk of meat and it comes out with less moisture than the Mojave desert.
So so so sad 🙁
That has been my past experience with spiral sliced hams. Every time I have had one cooked for me I have not enjoyed it. The spiral hams of my youth were all dry and stringy. This has kept me from buying one myself.
The question to ask now is, why is this? Why does this happen? Is there anything I can do about it? Read on to learn how to prevent a spiral ham or any ham for that matter from drying out.
Jump to:
🌵 Why Is My Spiral Ham Dry?
The reason why anyone buys a spiral ham is that it is easier to carve, since it has been pre-sliced. The problem with that is it makes it easier for the meat to dry out. Juices can easily run of the meat and into the pan. This is the price for that convenience.
Another issue contributing to dry ham is that it is overcooked. Whatever spiral ham you buy is going to be a precooked ham, so it's really just about re-heating and if you are applying a glaze, cooking the glaze so it sticks to the meat. Something labelled a fresh ham that is not smoked would be a different topic all together.
🏆 Best Way to Keep Spiral Ham from Drying Out
There are two things you can do that will really beef up the juiciness of your spiral ham.
The first and most important thing to do is take the ham's temperature
Use either a probe thermometer that stays in the meat while it's in the oven and check it using an instant read thermometer. A probe would be the easiest and take out any of the guesswork to whether your ham is heated up enough.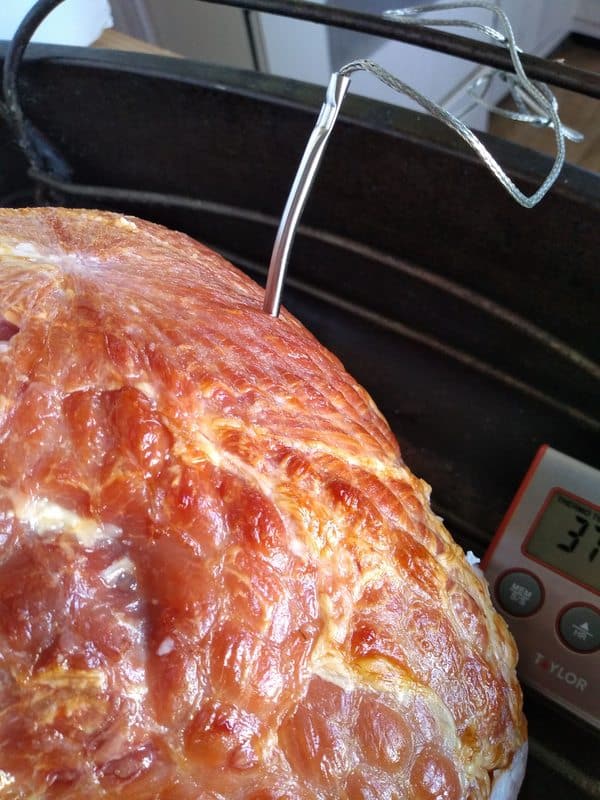 If you don't have a probe thermometer use the time guide that came with the ham, but it wouldn't be nearly as accurate. Those guides can't take into account all the other variables - like size and shape of meat, actual temperature of your oven, how clean your oven is (burned up junk in your oven can affect the cooking time).
The second key to a moist spiral ham is to wrap the ham with heavy duty aluminum foil to help keep the moisture in by not allowing steam to escape. If you only have regular foil, then wrap the ham twice.
If you are planning to apply a glaze - homemade or a glaze packet - do so in about the last 15-20 minutes of cooking with the foil removed.
A bonus tip - cleaning your oven before cooking any big roast is always a good idea......as the thought "if only I had the time" goes through my head.
🌡️ What Temperature Do I Cook It To
If you are using a probe thermometer, place it in the deepest part of the ham without hitting any bone (the bone will throw off your reading). Then set the alarm to go off at 130 degrees if applying a glaze, otherwise let your ham go to 140 degrees.
As for the oven temperature, I prefer a low and slow method. 250 degrees will allow the ham to slowly heat up and do so more evenly.
Yes, I know that sounds low, but trust me on this. It took my 8-pound ham about 4 hours to cook. If you just can't wait that long you can raise the temperature but I highly recommend you do not go any higher than 350 degrees.
If you cook the ham at a higher temperature the outer sections of meat will be cooked to a higher temperature than the interior, so your ham might not be evenly moist.
🍲 What to Cook It In
I have often cooked mine in a large roasting pan with a rack. But you can also do it in shallow roasting pan or if all you have is a baking sheet, that's fine too. You just want the pan to catch any liquid that might escape from your wrapped ham.
🖌️ What Can I Put on Ham to Keep It From Drying Out?
I have gotten this question before, people wanting to put something on the ham to keep it from drying out. Really it's all about not overcooking the ham.
Besides my recommendation of covering it with foil in the oven, anything else you might put on it is for flavor. A glaze isn't going to keep the meat moist if you overheat it.
❓ Can You Cook It in a Slow Cooker?
As I said earlier you want to go low and slow with heating up your spiral ham. So certain you could do that in a slow cooker, if your ham sits inside with the lid on.
Here a couple things ot note
Some slow cookers just have a low, medium, or high setting. The high setting is probably around 300 degrees. While the slow setting is probably around 190 degrees. It depends on the model. If you can set the exact temperature of yours, then do as we did with the oven temp and go for 250 degrees.
You can use a probe thermometer in a slow cooker too as long as you can get it in with the lid shutting and the probe not hitting any bone.
For a better glaze set, I would take the ham out of the slow cooker when it reaches an internal temperature of 130 degrees, then put the glaze on and put it in a 400 degree oven to get the glaze to set fast.
🔪 Dearborn Spiral Sliced Ham
If you are in the market for a spiral ham, may I suggest Dearborn's Famous Spiral Sliced Ham. Everyone I have talked to about them in Michigan knows who they are and their eyes light up and appetites increase when I mention them. Don't fear, thanks to the internet, you can order one of these delicious hams.
Dearborn has been around for over 70 years- three generations of knowledge of crafting quality meats. They know how to make a good ham. The last time we cooked one up, my wife and kids starting devouring slices the minute I was done taking photos.
All Dearborn Brand hams are gluten free.
Another way to quickly re-heat your ham is to do the re-heating in an Instant Pot or a pressure cooker. Learn more about that process by clicking here.
Below I have written out the full instructions on how to cook a juicy spiral ham.
🍖 More Large Cuts of Meat to Cook
I love helping people cooking large hunks of meat for their family gatherings and holidays, especially if we are talking about a spatchcocked turkey. Also these other options:
I would love to hear back from you if you gave my tips a try and had better results. Leave a comment below.
How to Cook a Juicy Spiral Ham
Instructions on how to cook a spiral ham so that it's not dry, but perfectly juicy.
Print
Pin
Rate
Ingredients
Instructions
Preheat your oven to 250 degrees

Remove ham from all it's packaging and place on a roasting pan with rack. If you don't have one you can use a half sheet pan.

Insert the probe of a thermometer on an angle from the side into the deepest part of the ham without hitting any bone.

Cover the ham in heavy duty aluminum foil.

Place in the oven. Attach the probe cord to the unit. Set the alarm to go off at 130 degrees. Should take around 4 hours.

If applying a glaze, remove the ham from the oven at 130 degrees. Increase the heat to 400 degrees to help the glaze set fast.

Brush the glaze all over the surface of the ham. Return to oven and cook until you hit 140 degrees.

Remove ham from oven. Allow to rest for about 15-20 minutes before carving.
Notes
If you don't have heavy duty foil to wrap the ham, then do layers of regular foil. You could use an oven bag as well but I don't think they are as good of a value as using foil.
If you like pineapple, you can places pieces of pineapple between the slices of the spiral ham before you wrap it in foil. I would use canned pineapple for this as fresh pineapple contains enzymes that may through off the texture of your ham. I haven't tested that myself to be sure yet but many people make this claim. 
Tried this recipe?
Mention @eatlikenooneelse or tag #eatlikenooneelse