Our recipe for the perfect glaze for the Kirkland Master Carve Ham. The glaze is a copycat of the glaze that use to come with the ham. Also a bonus glaze that is a brown sugar-Dijon mustard glaze.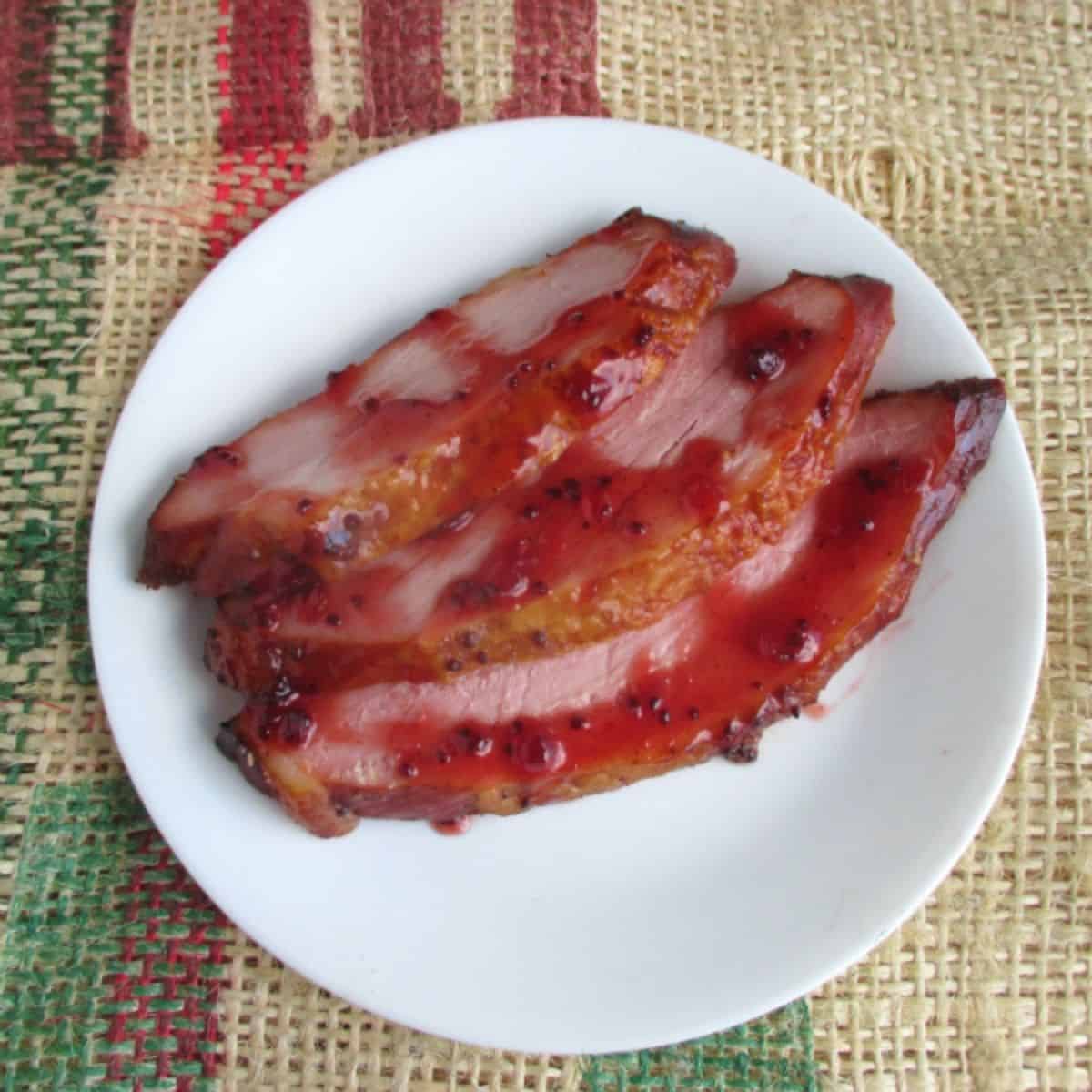 This post includes affiliate links. This means that at no additional cost to you, I will earn a commission if you click through and make a purchase. These are products and services I recommend because I use or trust them. Cookies will be used to track the affiliate links you click.
Your comments came pouring in.
What happened to the glaze?
Oh Costco how could you take our glaze away? Ok, maybe not as dramatic as that last one sounds.
When they first came out with the Kirkland Master Carve Boneless Ham it came as a whole ham that has been carved off the bone. No one shaped it into an unnatural log shape like the traditional boneless ham.
This ham also came with a glaze - a red currant one. I prefer to make glazes myself but I used the one that came with it for review purposes.
It was a good glaze. Not too sweet. I wasn't a big fan myself of the dried currants that was in the glaze but nevertheless, still made for a tasty ham.
Sometime in 2016, Costco decided to get rid of the glaze and go to selling the ham in only half size portions. No problem, just buy two halves to get a whole ham. As for the glaze, I got you covered - so your ham can be covered in flavor!
Since I was cooking two ham halves at once, I thought why not do two different glazes at the same time. Glaze Number 1 is my interpretation of the currant glaze that Costco use to offer. Number 2 is a simple brown sugar-dijon mustard glaze.
Jump to:
🛒 Ingredients
Here is what you will need to make the glaze.
6 ounces red currant jam
2 teaspoons white or red wine vinegar
1 teaspoon Worcestershire sauce
¼ teaspoon ground cloves
¼ cup dried currants optional
pinch of salt
I went back to the ingredients that appeared in the red currant glaze Costco use to provide. That glaze included currant juice, dried zante currants, Worcestershire sauce, and a few other ingredients.
Since it's easier to find I choose red currant jam. The pectin in the jam would give the glaze some body. In order to balance out the sweetness, I added some white wine vinegar (you could use red wine for a more intense flavor).
The Worcestershire sauce may seem strange but it goes really well and you only need a little. It just enriches the glaze without screaming their Worcestershire sauce in it.
I also decided to add some ground cloves. Cloves and ham are a classic combo. You often see some old school ham recipes with whole cloves stuck right into the ham. Pemba Cloves from Burlap & Barrel are my favorite. Buy them whole and grind them up yourself with a mortar and pestle.
If you liked the dried currants that were in the original Costco glaze you add about ¼ cup of them. The zante currants that were in that glaze are actually dried Champagne grapes, which are not made from Champagne. Lots of confusing marketing going on here. Dried zante currants are easier to find, but if you can get actual dried red or black currants by all means use them.
RELATED - What Ingredients are Found in Ham?
🥄 Instructions
Combine all the ingredients together in a sauce pan. Make sure it's large enough so that you can stir it without splattering the glaze all over your stove top.
You just need to heat it up, then set aside.
⏲️ When to Apply Glaze
In the last 20 minutes or so of cooking your ham is when you need to apply the glaze. This should give it plenty of time to setup without burning. If you are tracking the temperature of your ham, add the glaze when the ham hits around 120 degrees.
Remove it from the oven. Brush with the glaze and return until your ham is done.
If you have any leftover glaze, save it to add to slices when serving.
💡 Tip - The best tool I have found for applying glazes or brushing on any sauce is the Oxo Good Grip Silicone Pastry Brush.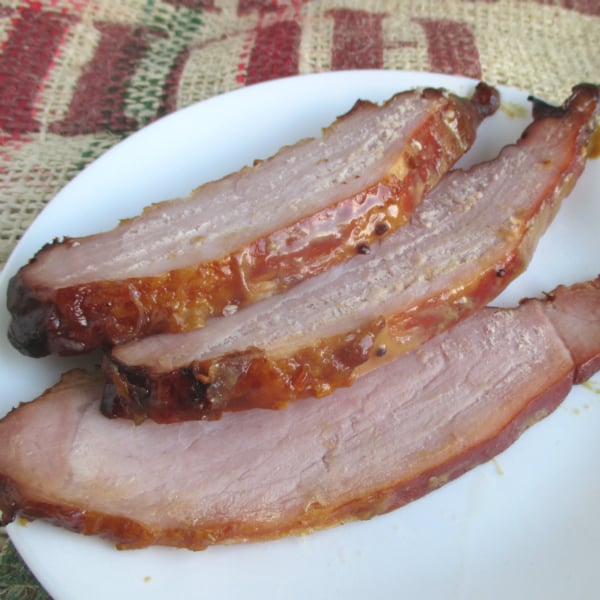 🍴 Alternative Glaze
If you want to try a different glaze - the simple combination of Dijon mustard and brown sugar. Add some ground ginger if you want to spice things up a bit. I like to make my own brown sugar so I can control how dark it is.
To make this glaze just mix together in a bowl:
2 tablespoons of Dijon mustard
3 tablespoons brown sugar
¼ teaspoon of ground ginger (optional)
Then apply the glaze as I directed in the red currant recipe. It is enough for one half ham.
If you like using ground ginger it's a nice addition to this glaze. I recommend Burlap & Barrel Buffalo Ginger - best ground ginger I have found.
Find some other ham glaze recipes on the blog. Both of these glazes I use for making ham in the Instant Pot but you can use them in any situation - Cheerwine (Soda) Glaze & Pineapple Brown Sugar Glaze.
📧 Join Our Email List
Are you a super Costco fan? Then you got to join our email list. Every Saturday we send out tips about buying and cooking meat from Costco. You can also look at our guides to buying pork at Costco or buying beef at Costco.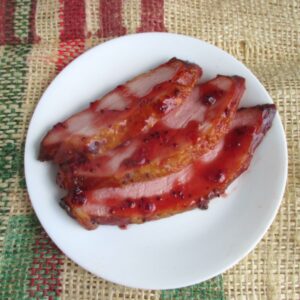 Red Currant Ham Glaze
My replication of the red currant glaze that use to come with Costco's Kirkland Master Carve Ham. This glaze is enough for half ham with a little leftover to use at the table.
Print
Pin
Rate
Ingredients
6

ounces

red currant jam

2

teaspoons

white or red wine vinegar

1

teaspoon

Worcestershire sauce

¼

teaspoon

ground cloves

¼

cup

dried currants

optional

pinch

of salt
Instructions
In a small saucepan, add all the ingredients. Stir to combine.

Put the pan over medium heat. Cook until warm. Set aside.

When the ham is about 20 minutes from being done or at 120 degrees. Remove the ham from the oven and apply the glaze with a pastry brush.

Return the ham to the oven and finish cooking. Internal temperature needs to be 140 degrees.

Save any leftover glaze to be used at the table.
Tried this recipe?
Mention @eatlikenooneelse or tag #eatlikenooneelse