Want to know what types of pork you can pick up at Costco? Check out our guide to shopping for pork from chops to pork belly and ribs. Get some tips and recipes to boot.
All the prices are from 2022.
Who doesn't love a delicious, juicy pork chops?
Or finger licking good spare ribs?
If you are my daughter, you are all about that tenderloin.
We are pork loving family and we love buying pork at Costco. What's available? Let us show you and give you some tips along the way.
Jump to: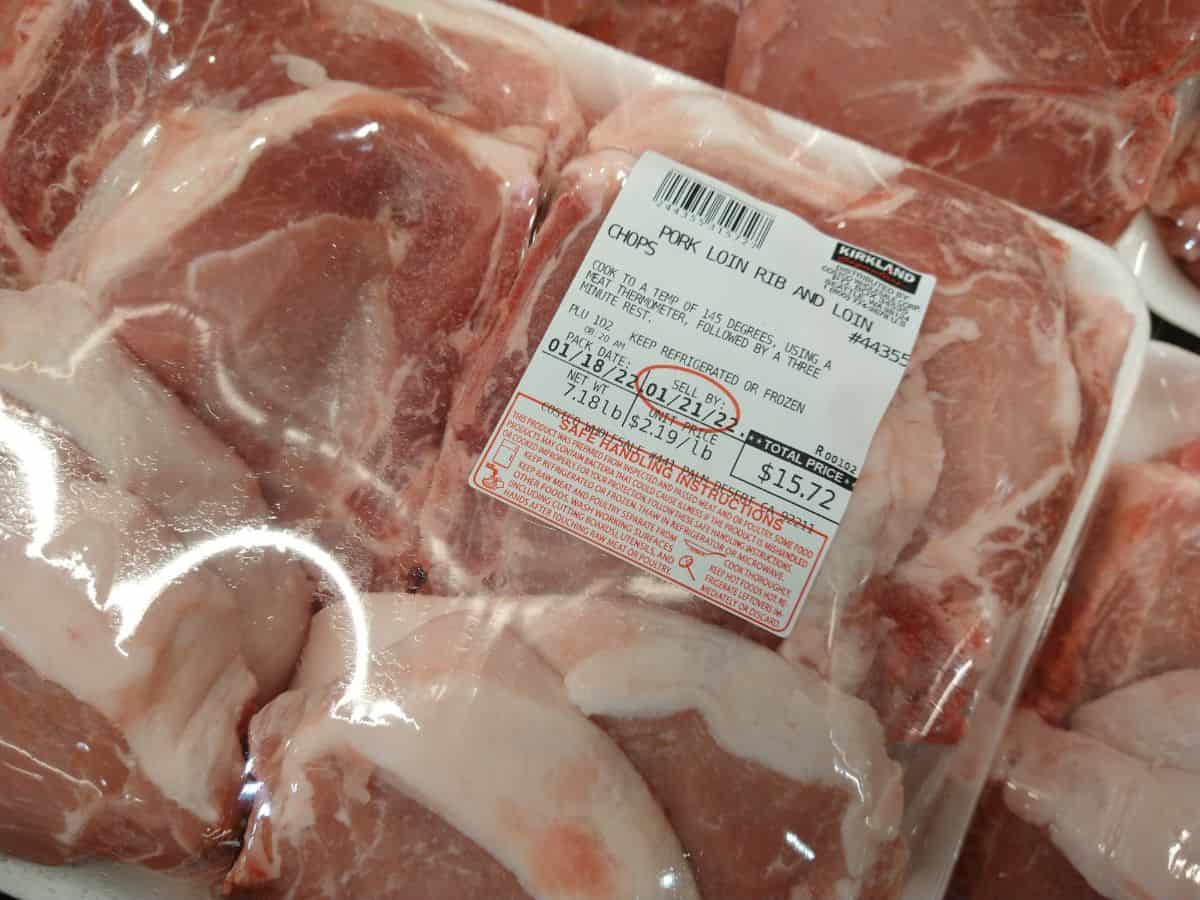 🔺 Kirkland
When comes to raw pork, you will find two different brands, the Costco Kirkland brand and Swift. Let's start by looking at the store brand. All the prices you are seeing were gathered near Palm Springs, California in January 2022.
| | |
| --- | --- |
| Top Loin Boneless Chops | $2.19/lb |
| Rib & Loin Bone-in Chops | $2.19/lb |
| Boneless Pork Belly | $4.79/lb |
| Pork Loin Back Ribs | $4.69/lb |
| St Louis Spare Ribs | $3.49/lb |
🐖 Swift
These products come to Costco already packaged. You can find their products at other grocery stores too. I list the average size of the package.
| | |
| --- | --- |
| Whole Boneless Pork Belly (avg size 12 lbs) | $3.99/lb |
| St. Louis Pork Spare Ribs (avg size 10-11 lbs) | $3.29/lb |
| Loin Backribs (avg size 9-11 lbs) | $4.69/lb |
| Boneless Shoulder Butt (avg size 15-16 lbs) | $1.99/lb |
| Whole Tenderloin (2-pack) | $2.89/lb |
| Boneless Pork Loin (avg 8-11 lbs) | $1.99/lb |
🥩 Pork Chops
The steak of the pork world.
We have several pork chop recipes on the blog. I am huge fan of brining pork before I cook it to keep it moist and add flavor. Any of the Costco pork chops will work in these recipes.
On a couple occasions I have seen Costco offer a discount on a pack of top loin boneless chops. We have a specific blog post dedicated to showing you how to cook loin chops from Costco.
🥓 Pork Belly
If you want to give a go to making your own bacon, this is what you would get. But if that's not on your radar here are some other ideas for using it.
Pan fried with a sauce
Air Fry it
Bake it
Braise it
Smoke it
Put it in a Bao style bun
Cook it and throw it into some ramen noodles
Pork belly is best as an ingredient in a soup or on top of some grits/polenta. It's rich and fatty, so you don't necessarily want to eat as much of it in a seating as you would a pork chop.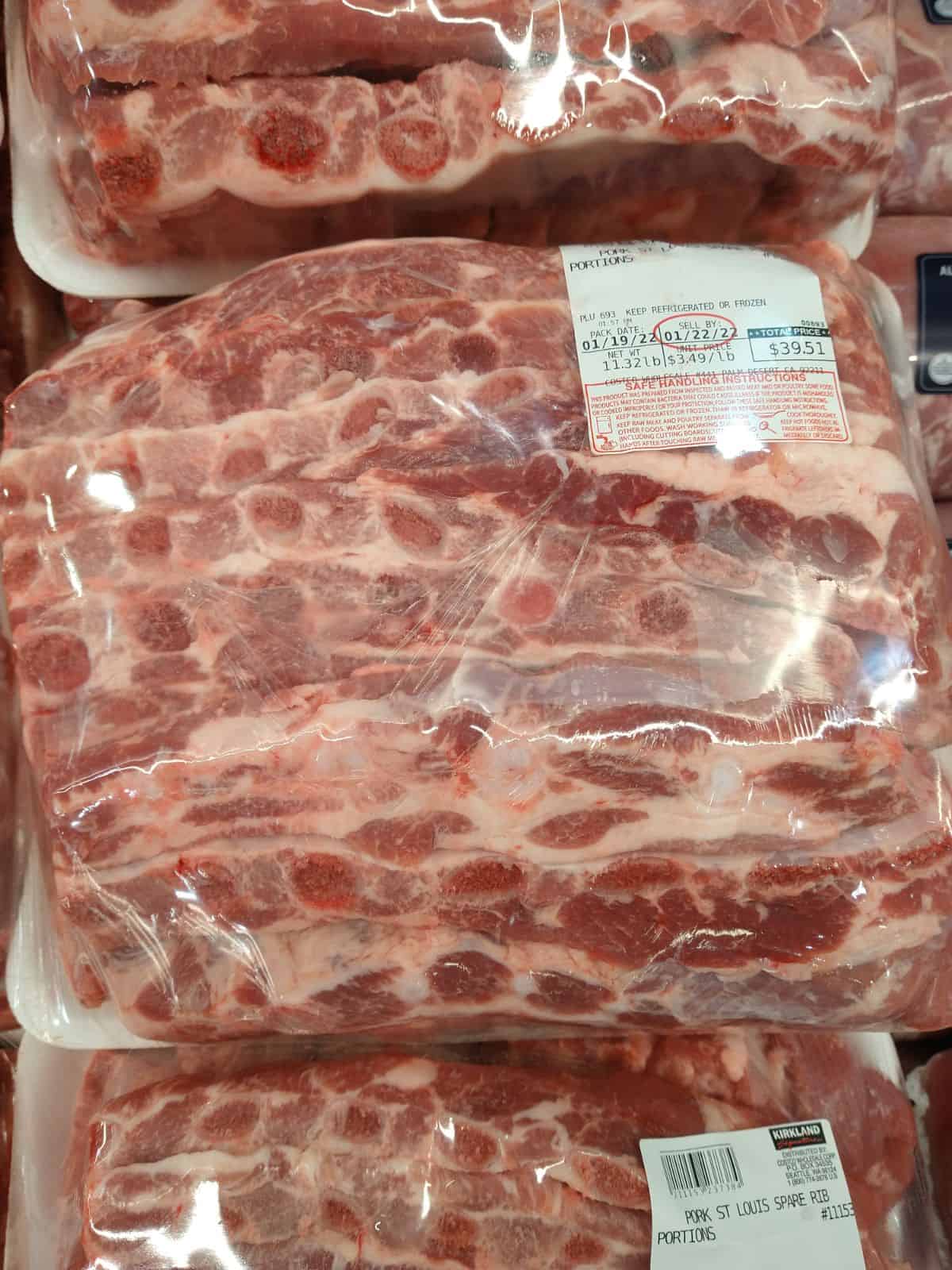 🍖 Ribs
Costco offers two different types of ribs - St. Louis Spare Ribs and Pork Loin Back Ribs.
All spare ribs come from the belly of the pig. It's what is left after the pork belly has been cut. To be St. Louis ribs they have to be trimmed down to remove cartilage. They have a more uniform, rectangular shape. They are easier to work with. The name St. Louis comes from the origin of where ribs where first trimmed in this way.
Pork Loin Back Ribs are cut from a different part of the pig - above the rib cage, near the loin area, where pork chops are cut from. They tend to be more tender than spare ribs. They also cost more than the St. Louis.
🧺 Shoulder
Pulled pork is the way to go with pork shoulder butt (a very strange name). It needs to be cooked low and slow. We often throw this cut into our Instant Pot. Here are some simple instructions
Using the sauté button and some oil, brown the meat on all sides in the pot.
Add liquid and seasonings.
Set the pot to high pressure for 60 mins
Allow for natural release
Absolutely perfect for sandwiches.
🔪 Whole Pork Loin
Want to cut your own pork chops? That is what you should buy. If you are looking to start cutting your own meat this is the best place to start for a beginner. It's boneless and all you have to do is cut into chops or roast.
Learn more about Cutting Whole Cuts of Meat.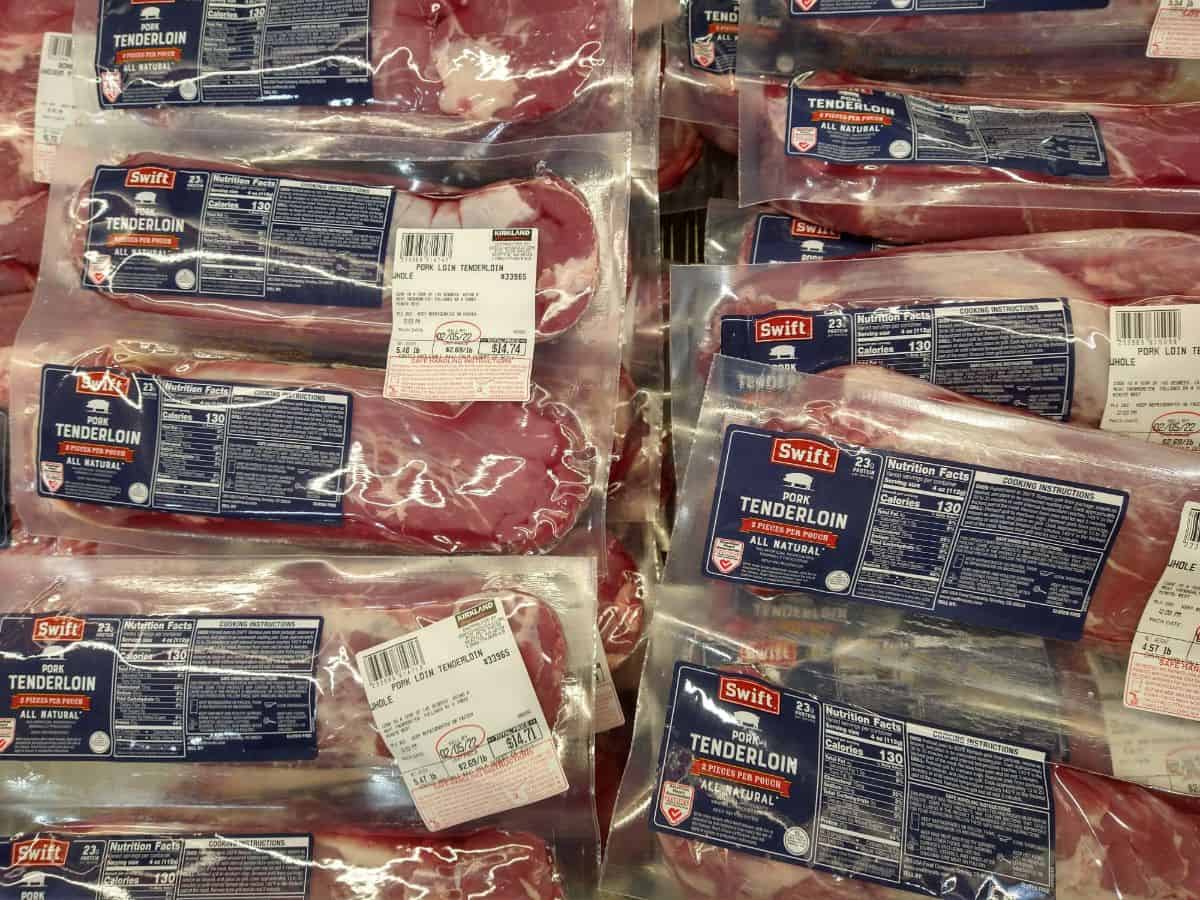 🐽 Tenderloin
One of my daughters isn't a big fan of meat. But she actually likes tenderloin to the point where she has asked for seconds before - a huge win.
The challenge with this lean cut is to keep it from drying out. I highly recommend having a probe or instant read thermometer on hand when cooking it to make sure you hit that perfect temperature. I only sous vide it now myself as you can cook it perfectly without worrying about overcooking it.
📧 Join Our Email List
Don't miss anything we are posting about Costco meat, sign up for our emails. We will thank you by sending you our best money saving tips, to get the most out of your Costco meat purchases.
📚 More Costco Guides
Enjoyed reading this guide? Make sure to check out our other guides
🍎 Applesauce Recipes
Pork and applesauce is a classic combo, I wanted to close this post out with some homemade applesauce recipes.