Your guide to buying chicken at Costco whether you are looking for boneless skinless chicken breasts, whole chickens, or frozen chicken. Oh and we didn't forget the chicken sausage either!
Newly updated with 2023 prices!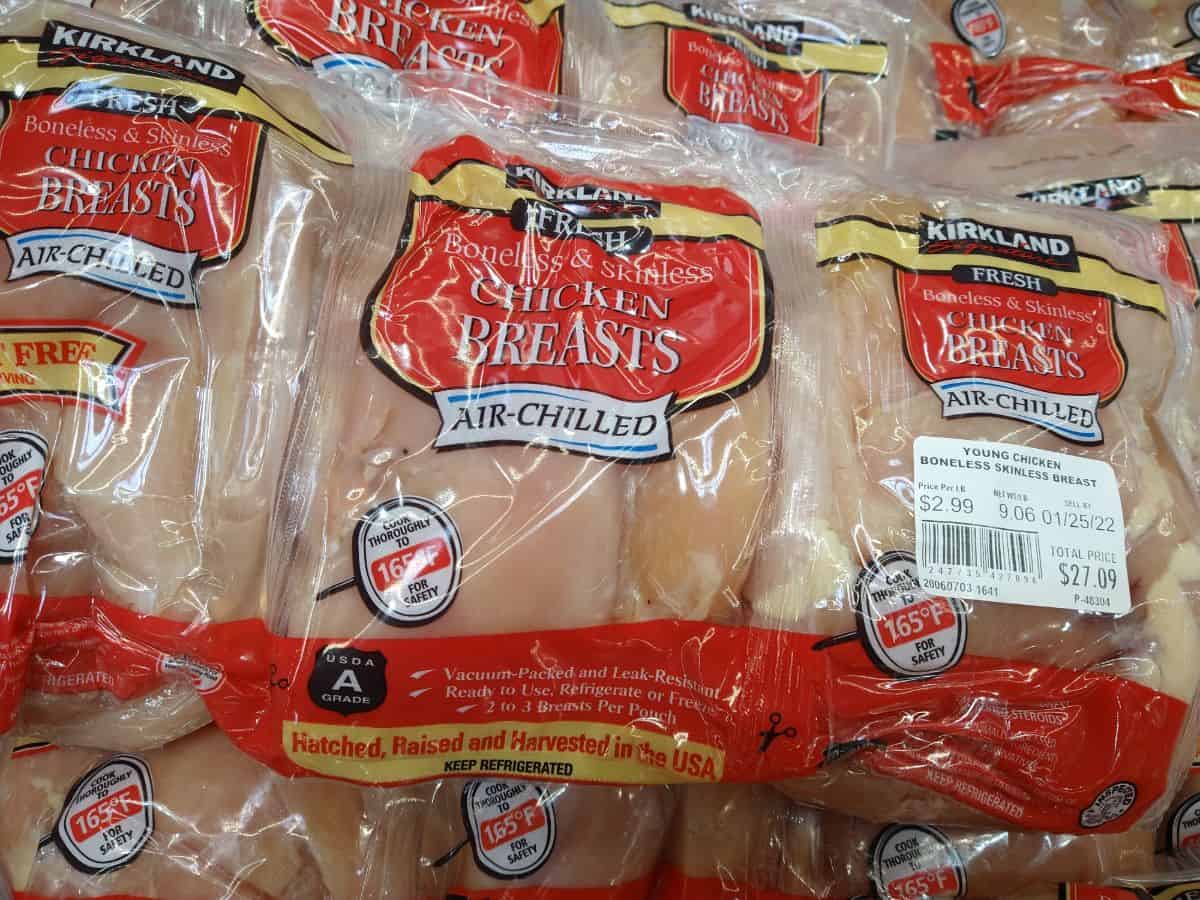 This post includes affiliate links. This means that, at no additional cost to you, I will earn a commission if you click through and make a purchase. These are products and services I recommend because I use or trust them. Cookies will be used to track the affiliate links you click.
America loves their warehouse stores - Costco, Sam's Club, BJ's.
The mindset is that you can load up on a larger quantity of stuff for a cheaper price. Is that really true?
Do stores like Costco really save money on your grocery bill?
I am on a mission to answer that question. I am starting by looking at the per pound prices of different items in the store.
This time around we are talking about chicken.
Jump to:
💸 Is Chicken Cheaper?
To really grasp if you are getting a good deal on a store like Costco that sells in large quantities, you need to look at the price per pound.
This is how I always shop. The final price doesn't matter to me as much as the per ounce or pound price. You will be a more wise and informed shopper if you take the time to get this information.
You still have to factor in if you want the amount of the product offered before you buy. Are you going to use it all? When it comes to buying meat I don't mind freezing it for later use, especially when it's a good deal or sale.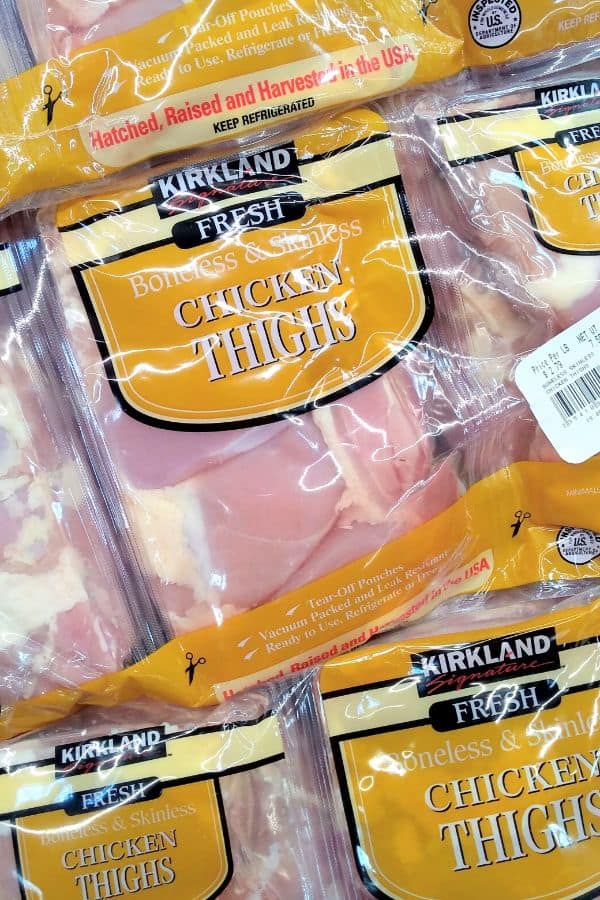 💲 How Much is Chicken?
With that said, in this post we are going to take a look at the price of chicken at Costco. The prices are from the Costco location in Huntsville, Alabama recorded on March 29, 2023.
Prices may vary depending on your location. Let us know in the comments below if you are seeing different prices in your Costco.
| | |
| --- | --- |
| Breast Tenderloins | $3.79/lb |
| Boneless Skinless Thighs | $2.99/lb |
| Bone-In Skin On Thighs | $1.49/lb |
| Drumsticks | $.99/lb |
| Whole | $1.49/lb |
| Wings | $2.99/lb |
| Boneless Skinless Breasts | $2.99/lb |
These prices are pretty on par to cheaper than other grocery stores I shop in. Whole chicken & thighs prices went up in 2023 by 50 cents a pound from what they were at the start of 2022.
🚜 Organic Prices
Now let's look at the organic chicken options available at Costco.
| | |
| --- | --- |
| Boneless Skinless Thighs | $5.99/lb |
| Whole | $2.99/lb |
| Wings | $3.99/lb |
| Drumsticks | $1.99/lb |
| Boneless Skinless Breasts | $5.99/lb |
🥶 What is Air Chilled?
In recent years Costco has been offering air chilled chicken. This is chicken that when processing is chilled by air instead of dunked in water to reduce the temperature. I am super excited they have been offering this and at a price I think beats a lot of other stores.
Update - Recently I have been to Costco and not found any air chilled chicken. Then the next visit I only found one cut that was air chilled. So not quite sure what is going on with that.
🎧 Listen to our podcast episode - Why Buy Air Chilled Chicken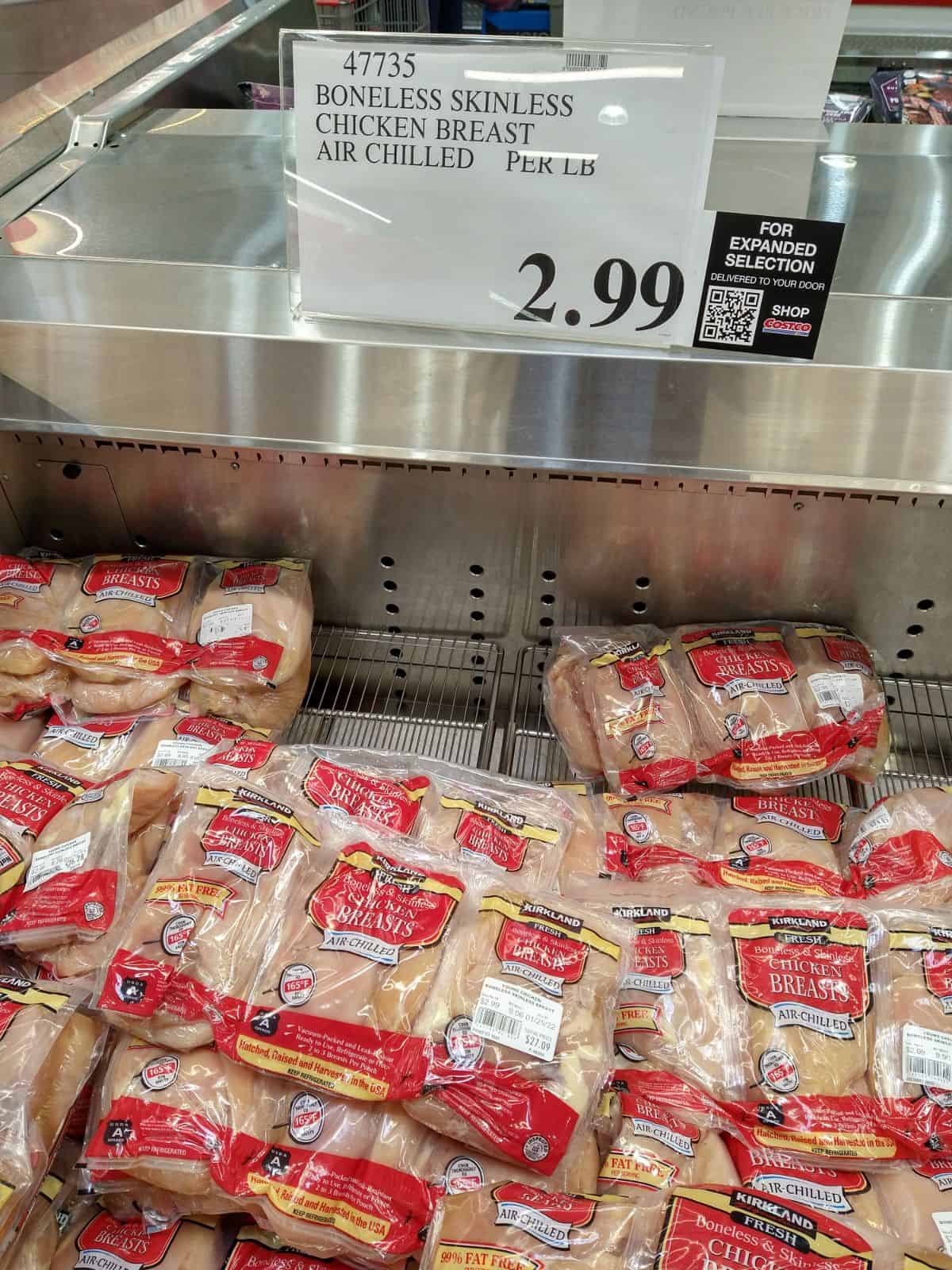 🐔 Chicken Breasts
The good thing about the fresh boneless skinless chicken breasts from Costco is that they aren't injected with a solution of water, salt, sugar, or anything else. I have found chicken breast cheaper (around $1.99/lb) but those had these things injected in them, which I want to avoid anything added.
They are pretty large in size, which can make cooking more challenging. What I recommend is that you use a meat pounder to flatten the chicken out more. This increases the surface area, so that means more browning and faster cooking time, which means more moist chicken.
I wanted to point out that I did not find any bone-in chicken breasts at Costco so if that is something you want you will have to shop elsewhere.
🐓 Whole Chicken
When it comes to buying chicken - buying the whole bird is always going to be the one of the cheapest per pound options, unless you buy drumsticks. You are not paying extra for someone to cut the chicken up.
I like purchasing the whole bird because I like using all the bones to make homemade chicken stock afterward. When you buy whole chicken at Costco you get two chickens that are packaged together. I typically would put one in the fridge and one in the freezer for later. You can stick it right in the fridge the way it came.
Whenever I roast a whole chicken I always use a probe thermometer to help me know when it's perfectly cooked.
🍽️ Try butterflying a whole chicken and broiling it in the oven or making soup from a whole chicken in the Instant Pot.
🍗 Drumsticks
Drumsticks were the cheapest option at Costco for chicken including organic. If you want to eat organic on the cheap, it's best to learn how to make chicken drumsticks delicious.
Sometimes my kids do better with just having drumsticks. They like have a "stick" to hold onto - it makes it fun. I still end up with bones in the end to make stock with.
🐥 Thighs
We prefer dark meat in our household. We think it has more flavor. You buy the thighs with either the skin on and bone in or go skinless, boneless. It's quite a bit more to buy thighs without the skin or bones. In most cases I don't think it's worth it as the skin and bones can be removed rather easily.
One time I had to make chicken teriyaki using thighs for a group of 100 people. We just flat out didn't have time to remove the skin or bones, so I had to go with boneless. I used 3 whole packages for that occasion.
🍽️ Here are a couple recipes using thighs : Electric Skillet Chicken Thighs | Clementine Glazed Boneless Skinless Chicken Thighs
🧒 Breast Tenderloins
This cut comes from a seldom used muscle attached to the chicken breast. It is more tender than the rest of the chicken breast. The fact that it is the same price as the just the breast makes it a good option.
Bread this chicken and have legit chicken tenders. Or you can just pan fry them with some oil and your favorite seasonings. We like to do this because they are thinner than the breasts so they cook faster and are less likely to dry out
🎧 How to Manage Buying in Bulk
On an episode of our podcast, Eat Shop Waste Not, we interview another blogger who is a huge Costco fan. Get ready to hear tips on how to manage the huge packages of meat that you buy so that nothing goes to waste as well as some of her favorite recipes.
❄️ Frozen Chicken
Something I left out when I originally wrote this post was frozen chicken. Let's take a look at prices.
| | |
| --- | --- |
| Kirkland Boneless Skinless Breasts | $16.99 ($2.61/lb) |
| Perdue Boneless Skinless Breasts | $22.49 ($2.25/lb) |
| Krikland Chicken Wings (10lbs) | $21.99 ($2.20/lb) |
| Kirkland Tenderloins (6 lb) | $15.89 ($2.65/lb) |
| Organic Kirkland Boneless Skinless Breasts | $17.99 ($4.49/lb) |
Please note that the Kirkland and Perdue Boneless Skinless breasts have added water and salt as well as the Kirkland Tenderloins. My recommendation would be to stick with the fresh chicken. You could also freeze what you can't use pretty easily.
🧊 What is Ice Glazed?
One some of the packages of frozen chicken you will see the term "ice glazed". What does this mean? A thin layer of ice is formed on the outside of the chicken to keep prevent freezer burn.
This does add some more weight to the chicken, which you pay for the cost.
📋 What's in Costco Rotisserie Chicken?
A chicken about involving Costco can't be complete without talking about their famous rotisserie chicken. People love the price. But what ingredients are in the chicken? In case you never stopped to check, here is a shot of what it's in the chicken.
Those trying to avoid sugar should note that the chicken has dextrose and sugar added to it. We have a blog post that also addresses - What is Carrageenan in Chicken?
Also if you buy the packaged, already shredded rotisserie chicken it contains the same ingredients.
🍎 Chicken Sausage
Looking to buy some chicken sausage? Costco has that too. The brand I recommend is Gilbert's. The flavors vary from time to time at Costco. They have included Caprese, Aloha, Bourbon Apple, Andouille, and Cheddar.
I especially like the Bourbon Apple but you can't go wrong with any of them.
🧂 Seasoning for Chicken
While Costco does carry spices, I prefer to source my spices from a small company called Burlap & Barrel. They are a single origin spice company that gets their goods directly from small farms all over the world. I find them to be fresher and better tasting than anything at Costco.
They have amazing spices that will really up your chicken game. Here are a few you should try out.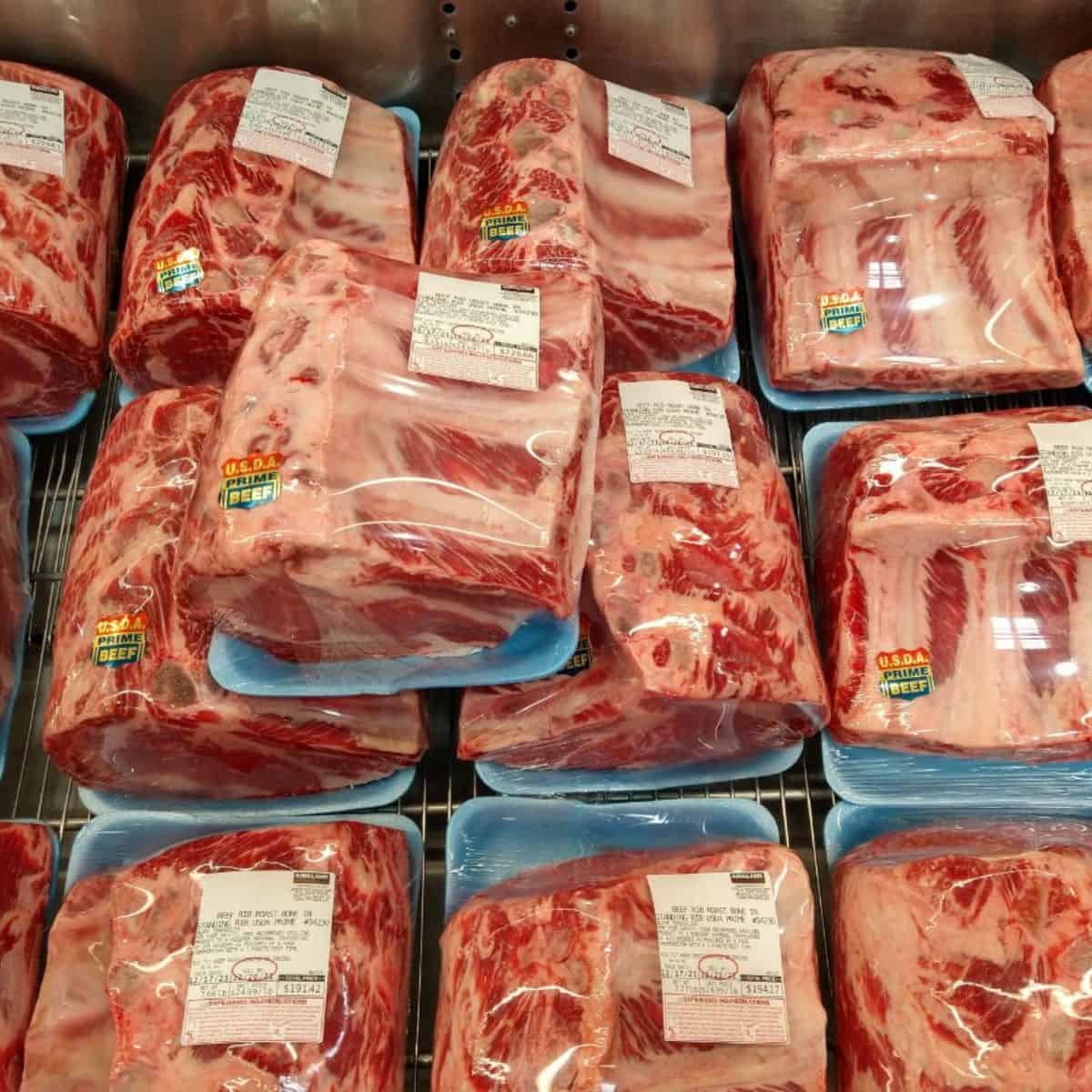 👀 More Costco Posts
We have lots of other Costco meat guides such as our super popular Costco Beef Guide and Costco Fish Guide. Make sure to check out all of these posts as well.
📧 Sign Up for Email
Want to learn how to save money on meat at Costco as well as get all our updates about your favorite store? Sign up for our email list.
📚 More Reading
If you want to master cooking chicken and all the dishes you can make with it, I provided a list below of some of the best books to pick up on chicken.
Poulet: More Than 50 remarkable Recipes That Exalt the Honest Chicken - This chicken recipe book is organized by cuisines from American to Latin to South Asian and more. Each recipe includes a grain, vegetable, bread, and salad to go with the chicken dish.
Chicken Night by Williams-Sonoma - I find an appreciation for the Williams-Sonoma books. They typically have good recipes with fantastic photography in them.
Fried & True - This is a collection of fried chicken recipes. This book contains personal stores to go along with the recipes. I love it when books are more than just recipes.