Is it worth your money?
Our review of the Kirkland brand Master Carve Half Ham found at Costco.
We will give you instructions how to cook as well as a recipe for a homemade glaze.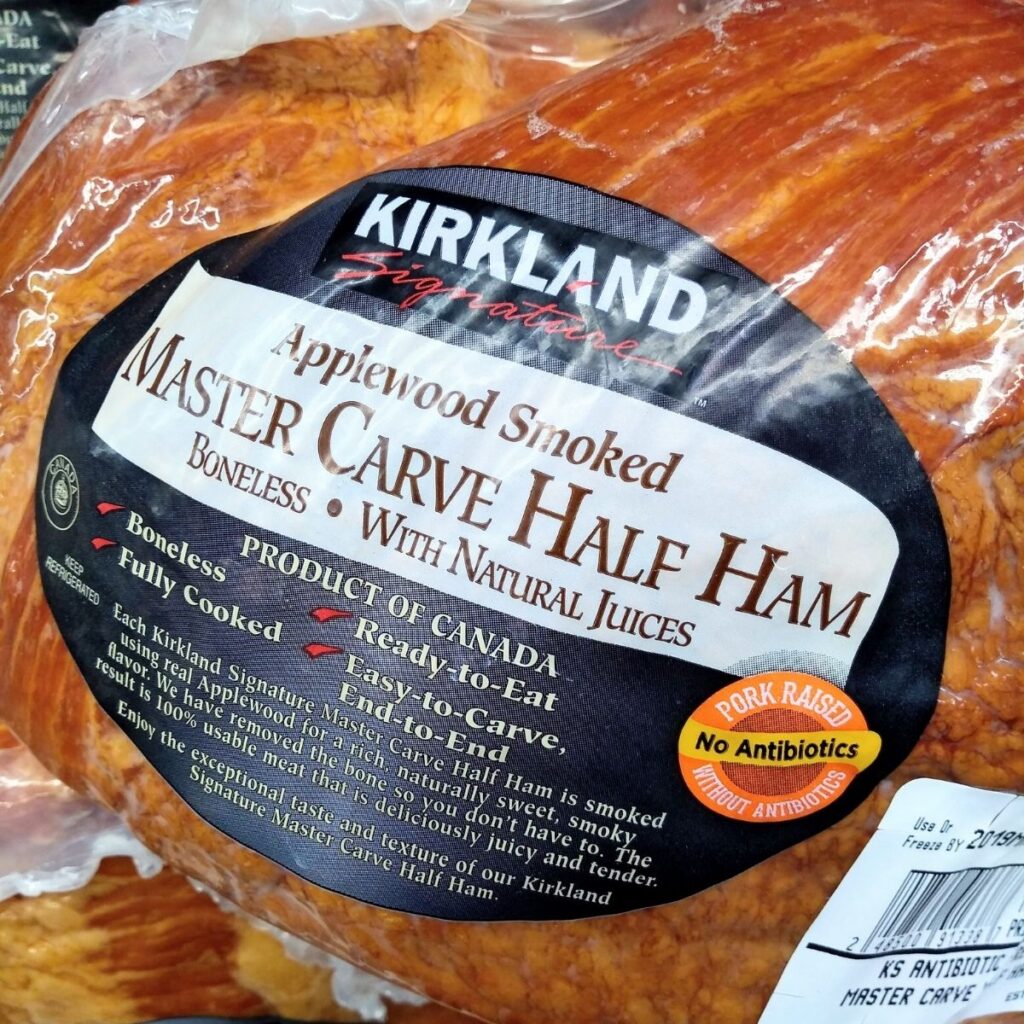 This post includes affiliate links. This means that at no additional cost to you, I will earn a commission if you click through and make a purchase. These are products and services I recommend because I use or trust them. Cookies will be used to track the affiliate links you click.
No bones about it, I am not a fan of boneless hams.
In fact, when I started this blog, I wrote about reasons not to buy a boneless ham. So why in the world am I reviewing a boneless? This ham is not the same boneless I am accustom to. What I think of boneless ham, I think of this below -
That is a ham that has been pressed, formed, modeled into a log shape. Very unnatural. Nothing I want to be a part of. Now take a look at this boneless ham from Costco's Kirkland brand.
Doesn't look like your grandma's boneless ham now does it. Instead of taking the meat and pressing it into a log shape, the boneless is just cut out and what you have a is almost heart-shaped thin piece of meat.
Jump to:
💲 Why Buy It?
This shape is great for several reasons:
More surface area to apply a glaze to.
This shape allows for more even cooking. The temperature of the inner most meat and the temperature of the outer most most is closer - more perfectly cooked meat.
Super easy to carve. No bone and the thickness is perfect serving size.
In fits in the fridge easily. Due to it's flat shape, you can easily fit it in your fridge with all of your other holiday foods.
Besides the advantages of the shape, I also like this this ham has been smoked using applewood. I find that the flavor of applewood is more complex than that of hickory, which I find one most packages of smoked meats (some don't tell you). Applewood brings a sweet, fruity, smoky flavor to the meat. It is my second favorite, next to cherrywood.
The ham goes for around $2.49-$2.69/per pound. Not very expensive - but not your rock bottom price either. After carving it we had more usable meat than we ever did with the cheap 99 cent a pound bone-in hams we have bought in the past.
🐖 Half Ham
The ham comes in a half ham size. Check out my post on how Costco changed to only selling these hams as half hams.
ℹ️ In Natural Juices
This ham is marked as "ham in natural juices". Your cheap hams are labeled as "ham and water product". These ones have water added to them that does not but increase the costs of the ham as you are paying for water weight.
Also water does nothing but delute the flavor of the ham. A ham in natural juices is required to be at least 18.5% protein where as a ham and water product can contain any amount of water. A Cook's brand ham contains 23% added ingredients!
👍 Review
One of the tastiest hams I have had. It has less added water than the cheap hams I normally buy the flavor shines stronger. Also I found that the ham itself wasn't overly salty. I have had hams that after eating I had to drink a gallon of water to stay hydrated.
The texture was melt in your mouth good and the ham had plenty of moisture.
If you are interested in learning about what the ingredients that are in this ham and other hams check out my post "What's in Ham".
🍳 Cooking Instructions
More often than not I find myself disagreeing with the instructions given on a piece of meat. But this time I had no complaints.
Roast it in a 350 degree oven until the internal temperature reaches 130 degrees, then allow the ham to rest until it reaches 140 degrees. They say that should take 10 minutes, but in my case it was more like 15 to 20 minutes to carryover those last 10 degrees.
Overall cooking time was about 2 hours.
If you have plenty of time to cook your ham I would even roast it at a lower temperature for a longer period. A longer temperature allows the ham to re-heat (yes it has already been cooked) more evenly.
In order to get the temperature right, you need a thermometer. I recommend a probe thermometer that remains in the meat the entire cooking time. Just stick it in the most center part of the ham. Since there are no bones to worry about, it is rather easy to find the sweet spot.
The thermometer that I use is DOT® Simple Alarm Thermometer from ThermoWorks.
I cooked the ham in my KitchenAid roasting pan. I placed it on the rack in the pan so that there could be airflow all around the ham.
🚀 Quick Method
You also could simply slice off pieces and the brown them in a frying pan with a little bit of oil. I have done that before. Its a great way to caramelize the ham pieces.
🧹 Glaze Recipe
At some point Costco decided to stop including the glaze with the ham. I was originally disappointed until I created a recipe for my very own glaze. I think mine is better!
Get my recipe for my Homemade Red Currant Glaze
The instructions on the ham originally said to apply the glaze with in last 20 minutes of cooking. When the ham was at 120 degrees, I took it out and applied my glaze.
I brushed the glaze on with my Oxo Silicone Basting Brush. One of the best kitchen tools I have. Easy to brush things on and it actually comes off the brush and it easy to clean. Can't say enough good things about this brush.
🛒 Buy a Boneless Ham
After years of telling my readers to never buy a boneless ham, I can actually change my tune (sort of). Avoid all boneless hams if they look like a log or a football.
If the boneless ham has a natural shape, especially if it's a the Kirkland Master Carve Ham, feel free to fork over your money for a delicious piece of meat where every pond you pay for is edible.
📧 Join Our Email List
Don't miss anything we post about buying meat at Costco by joining our email list. You can also right now go check out our Costco Beef Price Guide and our Costco Pork Price Guide.