Instructions on how to air fry Kirkland brand Panko Shrimp from the frozen section at your local Costco store.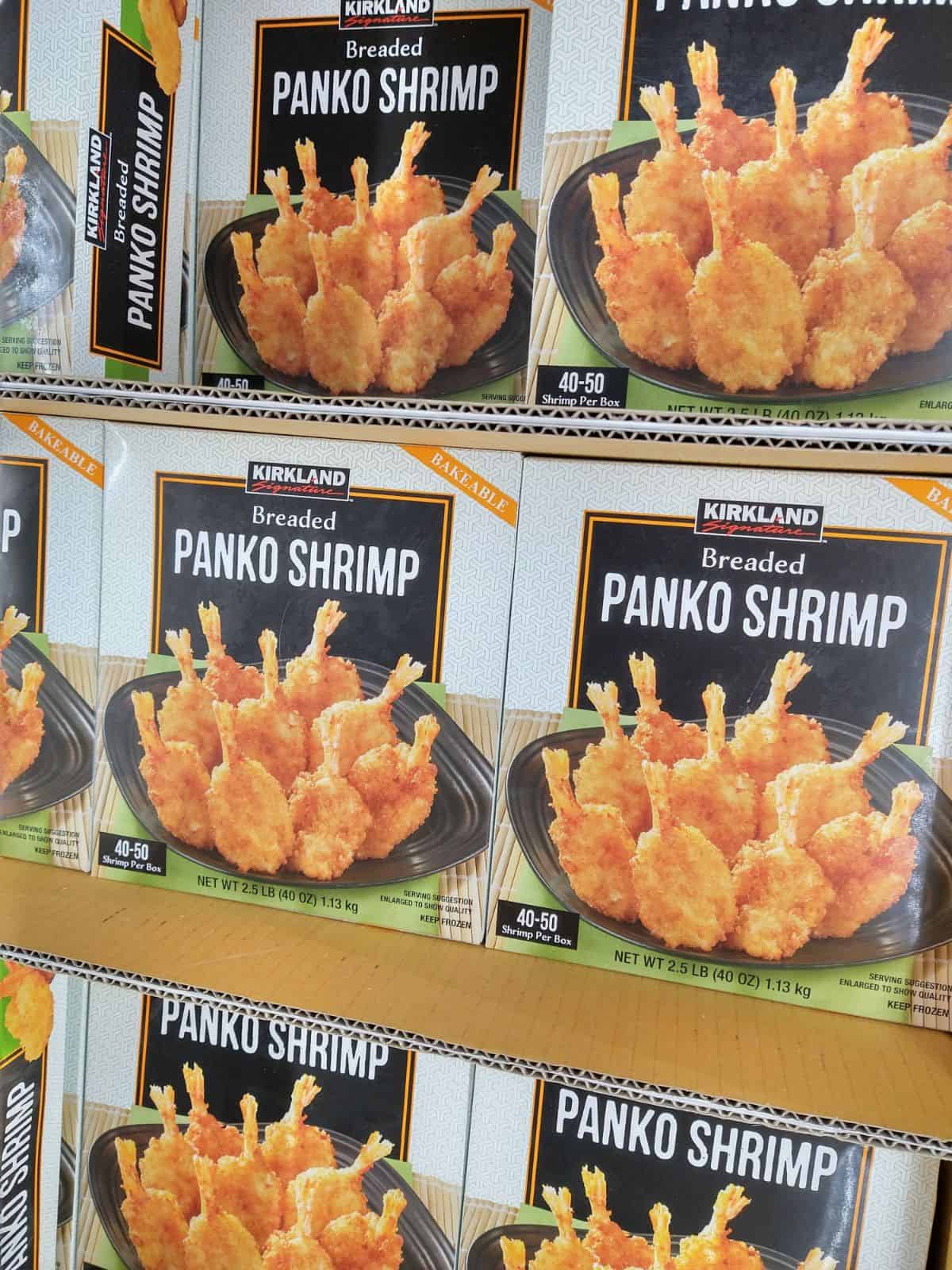 One of my favorite things are my air fryer and Costco.
In the summer time I especially love my air fryer as it keeps me from having to turn on the oven and heating up the kitchen.
I also need quick meals as I don't feel like cooking often on hot & humid days. That is where the Kirkland Panko Shrimp comes in handy. It's perfect for the air fryer.
Jump to: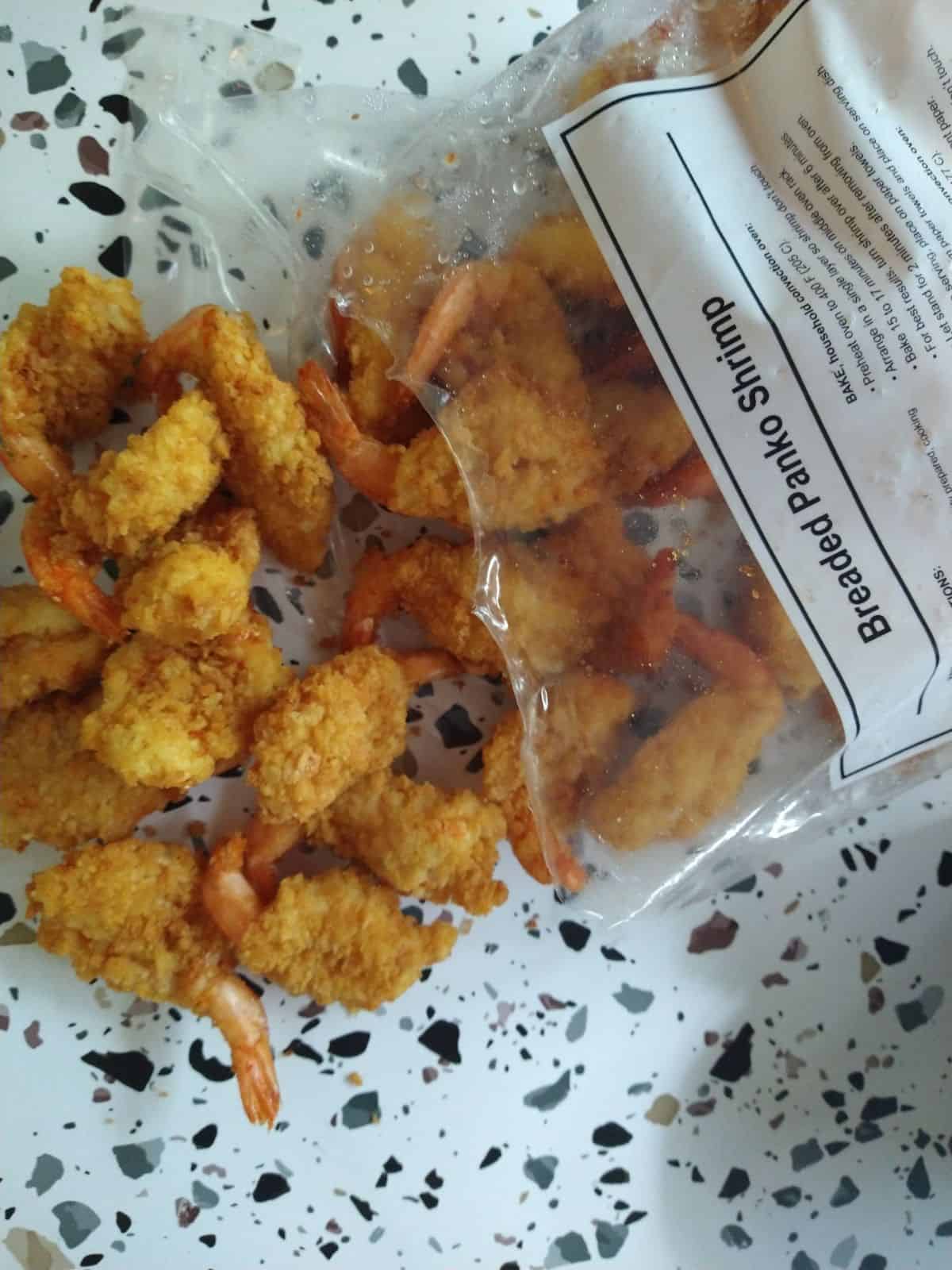 💲 How Much Does It Cost?
The last time I was at Costco a 2.5 pound box of Kirkland Signature Breaded Panko Shrimp was going for $19.99. That equals about $7.99 a pound. The amount of shrimp you get in a box varies from 40-50 depending on how large each shrimp is. The box is by weight not the exact shrimp count.
⭐ Review
When it comes to frozen fried shrimp this is one of the absolutely best brands. The shrimp is crispy like no other frozen shrimp I have had. I definitely love to make my own fried shrimp from scratch but don't always have the time or energy and this is the perfect replacement.
RELATED - What's the Difference Between Panko and Regular Breadcrumbs?
⏲️ How Long to Air Fry
Time can vary slightly by the power and size of your air fryer. For me I found that 15 minutes was the sweet spot. The shrimp was hot all the way through and the breading was nice and crispy without being dry.
I would start with 10 minutes and see how the shrimp is doing.
🧊 Can You Cook Frozen?
Yes. There is no reason to thaw the shrimp before you cook it. It will thaw so quickly once the heat hits it that it won't make any difference. So don't waste your time defrosting it.
📋 Instructions
Straight from the freezer take the shrimp and place it in your air fryer basket. You will have to work in batches as you don't want to pile the shrimp in. You need the hot air to be able to reach around each piece of shrimp. If you don't, you may have spots that aren't heated all the way through or are soggy and no one wants soggy breaded shrimp.
Set your air fryer to 400 degrees for 10 minutes. Shake the basket and cook another 5 minutes until crispy.
💡 Tip - If you are working in batches and want to serve all the shrimp at once, you can throw it all back in the air fryer basket for 1 minute to re-warm. Once they are crispy, I am not worried about overcrowding the air fryer at that point.
You don't need to add any oil. When the shrimp is crispy I found that it didn't stick. If I tried to pull it too early than I had some problems. You don't want to lose your batter.
📖 Costco Guides
This isn't the only frozen breaded shrimp you can get at Costco. Check out my review of the Kirkland Tempura Shrimp.
Enjoyed this post? Check out our Costco meat guides.
Air Fried Kirkland Panko Shrimp
Instructions on how to air fryer Kirkland Brand Panko Fried Shrimp
Print
Pin
Rate
Ingredients
Kirkland Brand Panko Fried Shrimp
Instructions
Place the frozen fried shrimp directly into the basket of an air fryer. Make sure the heat can reach each shrimp from all directions.

Work in batches if you can't fit all you want to cook at one time.

Set your air fryer to 400 degrees for 10 minutes.

Check the shrimp after 10 minutes. Give the basket a shake and cook for another 5 minutes or until crispy.

If you are working in batches, add all the shrimp back in and cook for 1 minute to make sure all the shrimp is nice and hot.
Notes
If you are looking to make a sauce, you can combine:
3 parts ketchup
1 part sweet chili sauce
1 part mayonnaise
salt, pepper, and garlic powder to taste
1 part horseradish (optional)
I do all of this to my own taste. Put it together, mix it up, then taste it. If it's lacking in any of the flavors, add a little more and taste again until it's to your liking.
Tried this recipe?
Mention @eatlikenooneelse or tag #eatlikenooneelse