It's true, you can never have enough garlic. That is so true when you try these easy to make electric skillet chicken dish featuring the antioxidant rich fermented black garlic.
This post is sponsored by Texas Black Gold Garlic
I have been in this blog business now for almost 10 years.
I look back at some of my earlier posts and just completely shake my head.
Even more embarrassing when someone pins one of my awful pictures on Pinterest for the world to see (although never let poor photography stop you from pinning a photo!).
Look at my original picture for this Electric Skillet Garlic Chicken:
Wow. That's bad!
Now here is the new photo:
Much better! Looks more delicious too.
As part of my goals for this blog I'm heading back and updating some of my earlier posts that really need a good updating.
In the early days of my blog I wrote several posts on using an electric skillet (or electric frying pan) as it was among my popular searches in the first year. Somewhere I got away from that, but I am heading back to my roots today.
Original Electric Skillet Garlic Chicken Recipe
The original recipe when I first published this post looked like this:
Ingredients
1 large or 2 medium sized boneless skinless chicken breasts
½ stick butter
1 tablespoon canola oil
3 cloves garlic, minced
freshly ground black pepper
kosher salt
dried oregano
Nothing really to get excited about. I thought I can do better now.
I started by adding adding more garlic. But now just any garlic....
BLACK GARLIC!
Adding Black Garlic
I want no one to mistake that this is GARLIC chicken.
The recipe still has the 3 cloves of garlic, but now I am putting garlic powder on the chicken at the start as well as de-glazing with vegetable stock with several cloves of black garlic.
Never heard of black garlic? Black garlic is fermented garlic. It is made through controlled heating of the garlic for 1-2 months. The garlic naturally turns black when enzymes and sugars break down. Nothing is added and it's perfectly safe.
What does it taste like? Black garlic has a sweet molasses like flavor. It's complex yet not overbearing. The cloves are soft with less of a bite and none of that garlic breath that makes face to face conversations awkward.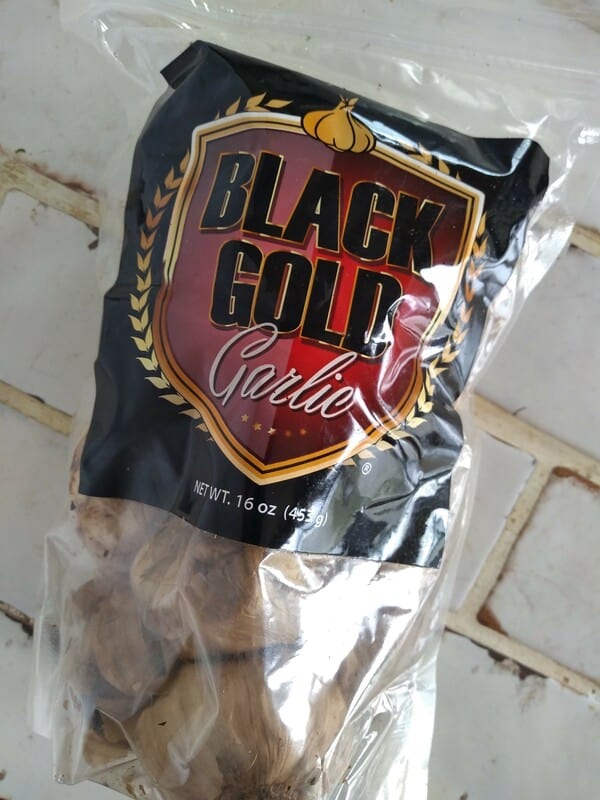 The brand I recommend for black garlic is Texas Black Gold. When you taste it is truly like discovering gold - black gold. Texas Black Gold was founded by Chef Stephen Paprocki. He sources all his garlic from local farms in Texas, so you can be assured your garlic is American grown.
Texas Black Gold also makes black garlic powder. I originally discovered them while searching for black garlic powder that was just garlic with nothing added to it.
Stainless Steel vs. Non-Stick Electric Skillets
I own a Rival Stainless Steel Electric Skillet. It is NOT non-stick. I like this because I want sticking. Brown bites get stuck to the bottom of the pan.
I will de-glaze with stock to get those brown bites off adding flavor to the final dish. If you have non-stick you can still do this recipe just fine, you just won't have as many brown bites to remove, you will also need to be careful not to scratch the non-stick surface.
Look at all that brown goodness on the bottom of my skillet.
Before I free it up, I like to do a quick wipe down with a paper towel or napkin to get rid of excess oil.
Chicken Breast vs Thighs
I know some people are anti-dark meat. I myself prefer it.
Why? Dark meat has stronger flavor. It has more fat in it as well which means that it's less likely to dry out when cooking. When I switched to dark meat for this recipe the chicken was more moist than before.
Boneless skinless chicken thighs are cheaper than breasts as well. You can save even more money if you want to buy thighs that still have bone in and skin on it. It's actually pretty easy to remove them yourself. You can pull the skin and bones right off often with just your hands.
Feel free to use what you like.
Recipe Substitutions
Black Garlic -> You can substitute with roasted garlic in this recipe. Roast the garlic by just wrapping it in foil, roasting it in a 350 degree oven until soft. It's all about bringing out the sweetness in the garlic which both roasted and black garlic will accomplish - but really do encourage you to give the black garlic a try, you won't be disappointed.
Easy Electric Skillet GARLIC Chicken
This chicken has such a garlic flavor, I got to spell GARLIC in all caps. Easy to make in an electric skillet.
Ingredients
1 ½

pounds

boneless skinless chicken breasts or thighs

1-2

tablespoons

neutral tasting cooking oil

canola, vegetable, grapeseed

3

cloves

garlic

minced

4

cloves

Black garlic

smashed

1

cup

vegetable or chicken broth or stock

freshly ground black pepper

kosher salt

garlic powder
Instructions
Cut the chicken into bite sized pieces. I like using kitchen shears. Season liberally with kosher salt, black pepper, and garlic powder. Set your electric skillet to a medium high heat. Add enough oil to coat the bottom of the skillet. Add the chicken once the oil is hot. Cook for 10 to 15 mintues until the chicken is cooked through, flipping a few times to evenly brown the chicken. Remove the chicken with a slotted spoon.

Use a paper towel to remove any excess oil. Add the minced garlic. Cook for just 30 seconds until fragrant. Then add the vegetable or chicken broth. Scrap the bottom of the skillet to get anything stuck off the bottom. Add the black garlic or roasted garlic in. Stir to combine.

Add the chicken back in and cook until the liquid has thicken into more of a sauce. Cover and set to low until ready to serve.
This post includes affiliate links. This means that at no additional cost to you, I will earn a commission if you click through and make a purchase. These are products and services I recommend because I use or trust them. Cookies will be used to track the affiliate links you click.