Learn more about the single origin spice company that are featured on an episode of Shark Tank. We share more about the spices that the sharks got to taste as well as some of our favorite spices from this amazing company.
This post includes affiliate links. This means that at no additional cost to you, I will earn a commission if you click through and make a purchase. These are products and services I recommend because I use or trust them. Cookies will be used to track the affiliate links you click.
There are certain buzzwords that get my attention - "heirloom", "single origin", "direct from the farmer". Years ago on Instagram I came across a company called "Burlap & Barrel Single Origin Spices". I was immediately intrigued with their offerings and couldn't wait to get my hands on some of their spices.
Oh my goodness, did they not disappoint. I have been watching them add new amazing spices throughout the last several years, even though a world wide pandemic. I have been blown away by everything I have tasted from them. I will brag about them to my blogger readers, my email subscribers, my podcast listeners, my friends, and my family.
And now a bigger audience has been introduced them because they made it onto the popular ABC show, Shark Tank. They aren't the first spice company to appear on the show. Rumi Spices known for their saffron were previously on the show.
I am not so much here to talk about the episode but to more talk about the spices that the sharks got to taste as well as my favorite spices from them. I will give some tips on how to use them - like you need more reasons to buy their spices to begin with!
Jump to:
❔ Who is Burlap & Barrel?
Ethan Frisch and Ori Zohar founded their unique spice company in 2017. Ethan had spend time in Afghanistan working with Doctors Without Borders. This is where he discovered cumin unlike anything he has ever tasted. As many businesses begin he was frustrated with not being able to source spices this good in the United States. He set out to change the game!
Unlike most spice companies that get their spices from a commodity source that is a mix of spices from multiple origins, Ethan and Ori work directly with farmers and groups of farmers to source the best tasting spices. And they pay them more than they would get if they just threw their spices in with everyone else's. It's a win-win situation.
🛒Interview with Ethan
Earlier this year I conducted an interview for our podcast, Eat Shop Waste Not with Burlap & Barrel co-founder Ethan Frisch. We talk about the place spices should have in your grocery budget. He shares some of the stories behind the spices they offer and about how they got started.
Here are the spices that Sharks got to taste. They are among the most popular ones that Burlap & Barrel sells.
🛒 If you would like to get all the spices mentioned on Shark Tank, they have Big Bite collection you can buy where you get all 4. Or you can upgrade and get their Mega Bite Collection which also included Toasted Onion Powder, Smoked Pimenton Paprika, and Flowering Hyssop Thyme.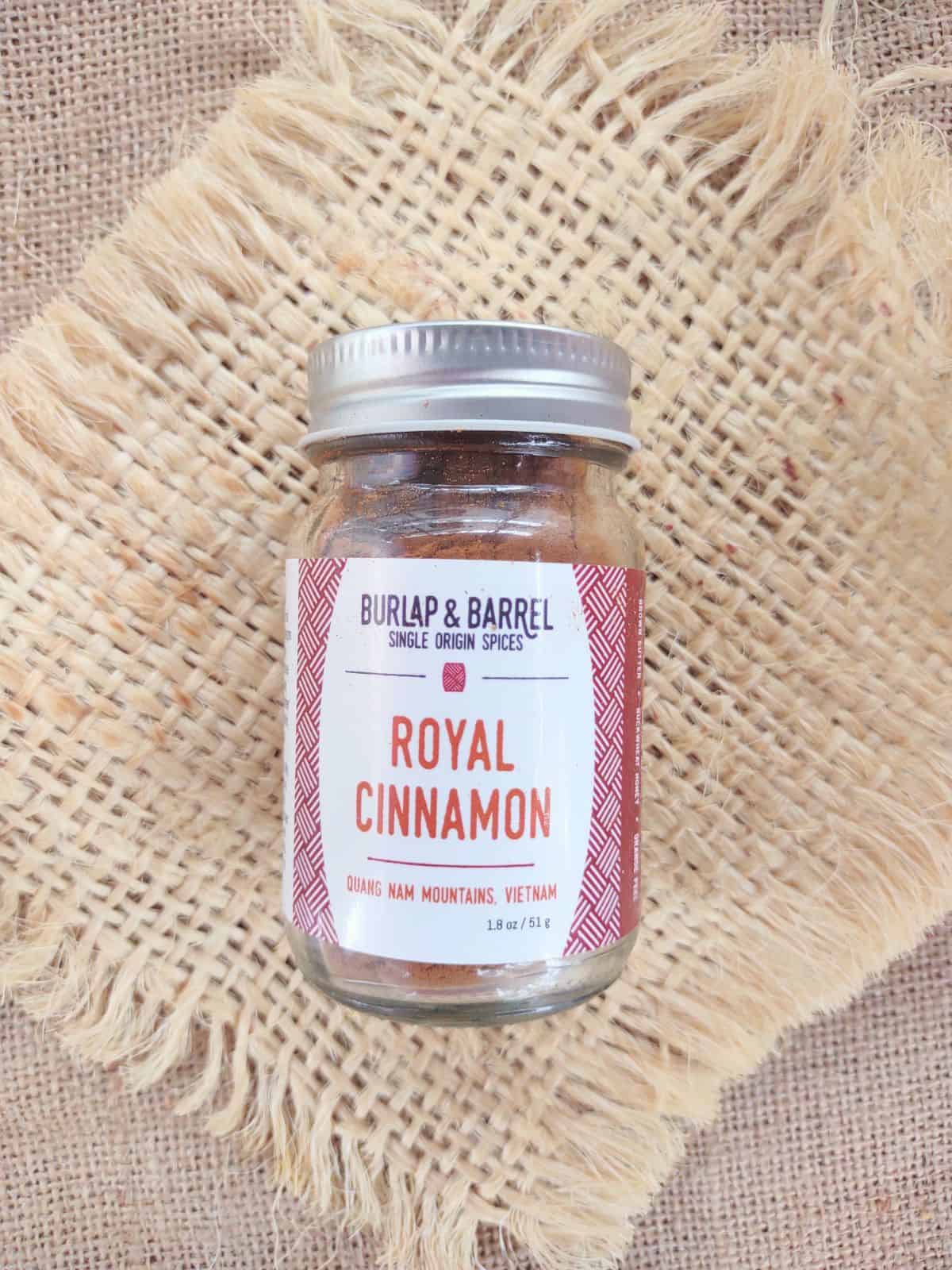 👑 Royal Cinnamon
Forget everything you need to know about how cinnamon should taste. This cinnamon from Vietnam has an intense sweet and spicy flavor. You can make homemade cinnamon rolls with this on Christmas Day, everyone is going to have a merry Christmas! I once brought a jar of this cinnamon with me to Cafe Du Mont in the New Orleans area so that I can sprinkle it on my beignets. Yep, it's that good and I am that much of a spice nerd.
🛒 Buy Royal Cinnamon from Burlap & Barrel. If it's sold you check out their Cinnamon Verum from Zanzibar which has a more herbaceous, citrusy flavor that makes it great for savory dishes.
Here are the recipes I have used Royal Cinnamon in.
⛰️ Wild Mountain Cumin
The spice that was responsible for Burlap & Barrel starting. This cumin is far superior to anything I have tasted. It even looks different. It has a more rustic look. If you are a fan of Mexican food that uses a lot of cumin you need this cumin in your life. We use it for taco meat all the time. And it's great in refried beans.
The cumin comes whole. You can grind it up yourself with a mortar and pestle or just a coffee/spice grinder. If you use cumin a lot the FinaMill is a spice grinder that comes with interchangeable pods. Burlap & Barrel even carries a FinaMill with their logo on it.
🛒 Buy Wild Mountain Cumin from Burlap & Barrel. If it's sold out, you can try it in their Köfte Baharat blend. This is a mix of Black Urfa chili, silk chili, cumin, allspice, garlic, sea salt, sunflower seed oil. It's a traditional Turkish spice blend.
I used this cumin to make Smoked Barbacoa tacos in my Instant Pot.
🟢 Black Lime
This one I actually haven't had myself yet, so I can just share what has been said about it. It's literally what it sounds like. Black limes are grounded up into a powder. The limes are black because they have been sun-dried. The oxidation takes place which turns the limes black. The flavor is tart and savory. It's something that will enhance and brighten up a dish such as rice, soup, fish, and vegetables are it's top uses.
🛒 Buy Black Lime from Burlap & Barrel. If it's sold you can check out their Black Lime & Chili Salt as well.
⚫ Zanzibar Black Peppercorns
Alton Brown calls peppercorns, the King of Spices. I agree with him for sure. It's the spice that I use the most. I really didn't use pepper until I was an adult and started grinding it myself. The pre-ground stuff is so bad and flavorless it should be outlawed in my opinion - if I am ever president that will be my first presidential order!
The first spice I ever tried from Burlap & Barrel was their Zanzibar Black Peppercorns. I was so sad when my first grinder was empty (it comes in a grinder). This pepper is known for it's lemony flavor. The reason it's so good is that it's vine-ripened for maximum flavor. A lot of growers harvest their peppercorns once they are "good enough". It's like comparing store bought tomatoes to home grown tomatoes.
Ethan and I talked about these in our podcast episode.
🛒 Buy Zanzibar Black Peppercorns from Burlap & Barrel. They have other peppercorns as well including Fermented White and Robusta Black Peppercorns (my wife's personal favorite!). The Fermented White has a parmesan like flavor. The Robusta peppercorns are grown right along with Robusta coffee. Maybe that's why my wife likes it so much.
If you are interested in learning more about peppercorns you need to check out our blog post - What Are the Differences Between Peppercorns?
If you are a fan of Cacio e Pepe, which is basically pepper and cheese with pasta, then you MUST try making it with any of their peppercorns. Oh my goodness is it so good. I think it's the best dish to really experience the flavor of the peppercorns.
⭐ Other Favorites
Those 4 spices are just barely scratching the surface of what they have to offer. Let me share with you 6 more of their spices that I love and adore. If you are interested in trying the spice yourself, just click/tap on the spice name.
Pimenton Smoked Paprika - No smoked paprika has ever had such a sweet, smoky flavor than this one. At least not any I have tried. If you have always though paprika just added color and not much flavor, then you need to try this paprika or their Noble Sweet Paprika.
Purple Stripe Garlic Powder - If you have just been buying the super cheap garlic powder form the grocery store, this is going to shock you. It tastes so much more like fresh garlic. When I can't get locally fresh garlic this is what I want to use. It's great for making homemade garlic bread. You will taste the difference.
Sun Dried Tomato Powder - Got a recipe that calls for tomato paste? Use this instead. You won't leave cans of leftover tomato paste to get moldy in the back of your fridge anymore! It adds an Unami flavor to any dish. I love it with beef stew.
Turkish Oregano Buds - For me a tomato sauce or a pizza isn't complete without oregano. These are the dried buds from the oregano plant that pack a strong, zingy flavor. It comes in a grinder so you can just grind it right onto your pizza.
Lucknow Fennel - This comes in a grinder as well, which I am so thankful for as it's easy to use fennel in my cooking now. It pairs really with pork chops or pork tenderloin.
Laurel Ground Bay Leaves - Tired of fishing out a bay leaf when you make a stew? Try their ground bay leaves. I think the flavor is better integrated using ground. I believe I actually know now what bay leaves taste like now.