Learn how to make the most amazing beef stew ever in a cast iron skillet. The secret to this stew is browning the meat before hand and using the best quality spices you can get your hands on. No beef broth needed for this recipe!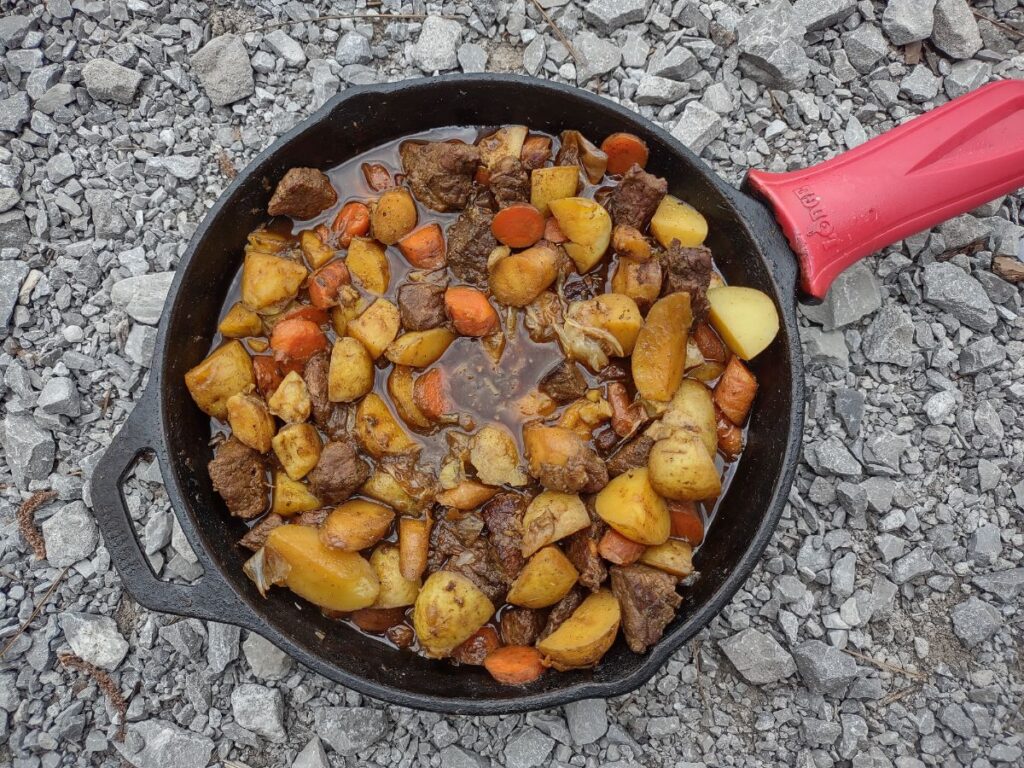 This post includes affiliate links. This means that, at no additional cost to you, I will earn a commission if you click through and make a purchase. These are products and services I recommend because I use or trust them. Cookies will be used to track the affiliate links you click.
I love my Instant Pot. I really do. But you know what? I actually like to cook my beef stew the old fashioned way.
I have been testing out different stew recipes this winter and when I made it in my cast iron skillet, I think it came out better. It does take longer but I think it's worth it.
Jump to:
🙋 Why Cast Iron Skillet?
What I love about cast iron is that it's a good insulator. It gets hot and stays hot and distributes that heat evenly. I also think with a dish like beef stew that is a rustic dish in itself it looks good cooking in a rustic cooking vessel.
I also love that it's great at browning the meat. It does better than a non-stick pan. You want some stuff to stick to the bottom of the pan. That way when you are done cooking the meat, you can add your cooking liquid, scrape the bottom of the pan, and really ramp up the flavor of the liquid.
Why choose it over the Instant Pot? It's easy to add the veggies. I wait until the beef is just about tender and then put all my veggies in, so that they are done perfectly. Most of us aren't going to stop the Instant Pot, release the pressure, add the vegetables, put the lid back on, bring it back up to pressure, and wait for the veggies to finish. And even if you did do that, you aren't going to be able to check on them without de-pressurizing again.
🛒 Ingredients
You have some options here when it comes to what to do to your beef stew. Here is what I like myself
1 pound beef stew
1 pound potatoes
3 parsnips (sliced)
3 carrots (sliced)
12 pearl onions (any color)
For the potatoes I like to use small potatoes that have thin skins such as fingerling potatoes or the bags of medley potatoes you find a lot in stores nowadays. I hate peeling and think often it's unnecessary. I don't peel the carrots or parsnips either and it's never bothered me.
If the potatoes are small enough you can throw them in whole. If you want to use large potatoes, then yellow or red skinned ones would be better than Russets. Cut them into large bite sized pieces.
Pearl onions are a great option to add if you dislike chopping onions. You can just throw them in whole and they will just fall apart and flavor the stew as it cooks.
Want to add celery go with 3 stalks. Want more veggie ideas? Check out our blog post on What Vegetables Go Well in Beef Stew
🧂 Spices
To me what takes a good stew and transforms it into something you would get in a five star restaurant is the spices you use. For me that has got to be Burlap & Barrel Single Origin spices. I use them all the time and I'm replacing all of my store-bought spices with theirs. They source directly from the growers. No middle man. They offer spices you just can't find anywhere else.
Here is what I use in my latest batch of stew:
The Caribbean Bay comes ground instead of whole. I feel this helps the flavor better mix into the whole stew. I could definitely taste it where as when I have used bay leaves in the past I wasn't sure they were there! These bay leaves are completely different from your standard bay leaf. They add a rich, sweet, warmness to the soup. It actually reminds me of gumbo when I use it. It reminds me of the file powder popular in gumbo which is made from dried leaves of the sassafras tree.
The Sun-Dried tomato powder adds that umami flavor that we all love. It works instead of using tomato paste.
You certainly don't need to use all these spices like I did. But I suggest you search out the best. I use ½ teaspoon to 1 teaspoon to start. I taste the cooking liquid and add more if necessary, after I salt to taste of course!
See our recipe card below for some spice substitutions.
🛒Give These Spices a Try!
Ground bay leaf is so much easier to use than whole. And these Caribbean Bay leaves had a rich, sweet warmness to everything they touch. Skip the tomato paste and try Sun Dried tomato powder to provide the umami flavor. Click/tap below to try for yourself.
🍳 Instructions
I made this recipe while in my camper. We have an induction cooktop that I use often. Because of our limited space, I put a cutting board over the sink and place the cooktop on that. I do have propane burners on my stove, but for something that I am going to cook this long for I didn't want to use a bunch of propane.
Add a bit of cooking oil to the bottom of the skillet. Heat it up over medium high heat. Add the meat. Brown on all sides.
When the meat is browned, remove from the skillet. Turn off the heat. There will pieces stuck to the bottom of the skillet. You are now going to deglaze by adding some of your cooking liquid to the skillet. Using a metal spatula scrape the bottom of the skillet until all the bits on the bottom are unstuck. This will add lots of flavor.
Add the water or broth and spices. Here is the most important step, taste the liquid. Is it strongly flavored? Does it need more salt? Add whatever to it until you are happy with the taste.
Now add in the beef stew meat and the pearl onions. I like to cook the onions with the stew so they get really soft. The only veggie I don't mind turning to mush!
Bring to a boil, then simmer for 90 minutes with a lid on. I actually don't have a lid for this skillet so I used a metal camping plate that fits perfectly on top.
The stew meat should be almost falling apart with a fork when you add the vegetables. Cook them for 30-45 minutes until all the veggies have softened enough. Taste to see if it's too your liking. I would stir the skillet a few times while cooking to make sure everything is being cooked evenly.
If your stew is too soupy and you want to thicken it, check out this blog post - How to Thicken Beef Stew.
🔥 In the Oven
If you want to make it in the oven I would set your oven to 225 degrees. You want a low temperature. It will take somewhere between 3-5 hours. Add your vegetables in the last 45-60 minutes of cooking. Just as in my skillet instructions the stew meat should be almost falling apart when pierced with a fork.
Ingredients
1

pound

beef stew meat

3

tsp

cooking oil

1

pound

potatoes

3

parsnips

sliced

3

carrots

sliced

12

pearl onions

any color

3

cups

water

kosher salt

to taste
Spice Amounts I Used (see notes for substitutions)
Instructions
Add 3 teaspoons of oil to the bottom of a cast iron skillet. Heat the skillet up over medium high heat.

Season the beef with salt, then add to the skillet. Cook on each side until brown, should take about 5-10 minutes depending on the size of the pieces.

Remove from the skillet from the heat. Take the beef out of the skillet. Add about ½ cup of water. Using a metal spatula scrap the bottom of the pan to get off anything that stuck.

Add in 2 ½ cups of water. Now add in all of your spices and salt to taste. Make sure to taste your cooking liquid. It needs to be very well seasoned. Add more spices or salt if needed.

Put the beef back in the skillet. Add in the pearl onions. Bring to a boil. Then reduce to a simmer and cover the skillet with a lid. Simmer for 90 minutes.

Now add in your vegetables - parsnips, carrots, potatoes or any other vegetable you are using. Bring back to a boil, then reduce to simmer and cook the veggies with the lid on for 30-45 minutes.

Stew is now ready to serve.
Notes
For the spices:
You can get the Burlap & Barrel ones or use what you have on hand or can find in your grocery store.
You can use any chili powder in place of the Black Urfa Chili. 1-2 tablespoons of tomato paste can be used instead of the tomato powder. Or use 1 whole bay leaf instead of the ground. 
Dried thyme, coriander, garlic powder, and paprika can be found in every grocery store.  
Smoked paprika would work in place of sweet paprika. Other dried herbs you could use include rosemary, sage, or oregano.
If you want to use fresh garlic, I would use 4-5 cloves, chopped up. Just add it when you do the water and other spices. 
For the veggies:
You can use whole small potatoes or quarter larger sized red or yellow potatoes. 
If you don't like parsnips leave them out. Add more carrots if you like.
If you want celery, go with 2 stalks, chopped.
Tried this recipe?
Mention @eatlikenooneelse or tag #eatlikenooneelse