Tips on how to make Barbacoa Beef for tacos in no time flat. Learn what beef it good for making barbacoa.
We want tacos and we want them now.
I'm sure many of us have thought that.
But a lot of the great tacos are made with meats that normally take a long time to cook.
The question then arises can we produce a taco fast that still meets our demands for flavor?
Enter the Instant Pot - the tool we have been using extensive to make meals happen faster.
Today's goal - Barbacoa. Can we make this meal that is known as a slow cooked dish and make it fast, so we can have it now?
I know we can!
? Meat Selection
While the name "Chuck" doesn't seem like the name of someone you want to buy Barbacoa from, the meat "chuck" is. Chuck is the section of the cow that is towards the head and neck. Great flavor, but can be tough, so low and slow is the way to go.
For this recipe I used a Chuck Blade Steak. Any of these cuts would work:
I have seen people use brisket, so you surely could try it with that. Personally, I think the marbling in chuck is where it's at.
When it comes to steak vs. roast, this is just a matter of size with roasts being larger than steak. You can use either one.
? Add Smokey Flavor
Tradtional Barbacoa was cooked over an open fire. The method of cooking provides it's own flavor, that our Instant Pot can't just do on it's own. So we need a way to introduce that smokiness.
There are several ways to add smoked flavor
Since we are using the Instant Pot and not an open flame, and cooking it a lot faster, we need to be bold with our flavors. This is no time for being shy. You want this beef to be loaded with flavor before you seal that lid.
I can't stress enough that you need to TASTE THE LIQUID before adding it to the meat. Does it taste strong? Does it need more salt? More smokey flavor? Add it now. That way your end results will be perfectly seasoned.
To add smoked flavor, I recommend Burlap & Barrel's Smoked Pimenton Paprika. It has such an amazing flavor, not other smoked paprika has come close. Most smoked paprika just tastes smokey, but this one you can really taste the peppers as well. Not to mention it adds some nice color to your cooking liquid.
Even if don't use it in the beef, it added richness and flavor to refried beans, a perfect side for Barbacoa.
? Full Ingredients
Here is the list of ingredients that I used for my Barbacoa.
You can use any brown sugar you like, but what I prefer is Muscovado. It's brown sugar in a more natural form, that has a way better flavor. The difference is very noticeable. Check out our post and learn more about it.
For the cumin, again, I recommend Burlap & Barrel. They have a Wild Mountain Cumin that is the most flavorful cumin I have come across. It grows wild in Badakhshan, Afghanistan. Harvested there only for local consumption. Ethan, the founder of Burlap & Barrel has a connection to this region, so I was able to source this rare cumin for us to enjoy.
Coolest spice company ever. Glad I found them on Instagram.
⏲️ Time
I set my Instant Pot for 60 minutes the first time I tried making this and it was absolutely perfect. The meat was tender and not dry.
? More Instant Pot Recipes
Here are some of our favorite Instant Pot recipes you should try out next: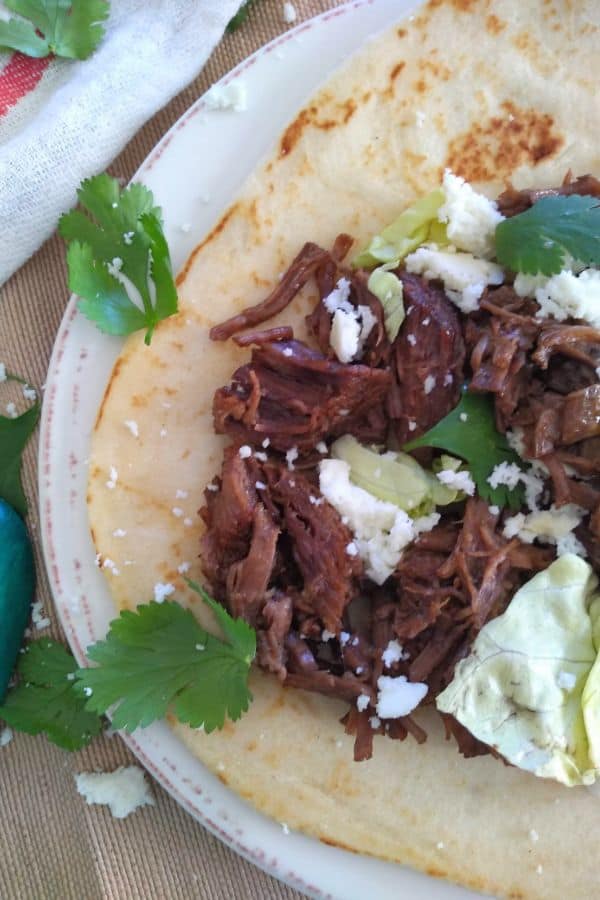 Instant Pot Beef Barbacoa
Learn how to make flavorful barbacoa meat in your Instant Pot.
Print
Pin
Rate
Instructions
Hit the saute button on the Instant Pot. Add some oil. When it's hot, add in the chuck blade steak. You can cut it in half if it doesn't fit or just brown it in a pan.

Brown the meat on all sides and then remove. Turn off the Instant Pot.

Add in all the rest of the ingredients, along with 2 cups of water. Mix to combine, making sure to scrap anything that stuck to the bottom.

Taste the water to make sure that is strongly seasoned. If it doesn't taste that way, adjust with more seasonings to taste. Don't skip tasting, it will help you have a more flavorful beef in the end.

Place the lid on the pot. Set to 1 hour cook time under high pressure. Seal.

Manual release the valve making sure that it's away from any cabinets or people. You could do natural release if you feel better about that.

Remove the meat from the pot. Drain the liquid into a measuring cup. Add the meat back in.

Shred the beef. Add small amount of liquid at a time and mix until the meat is moist but not soaking in the liquid.

Serve with your favorite taco fixings.
Tried this recipe?
Mention @eatlikenooneelse or tag #eatlikenooneelse
This post includes affiliate links. This means that at no additional cost to you, I will earn a commission if you click through and make a purchase. These are products and services I recommend because I use or trust them. Cookies will be used to track the affiliate links you click.