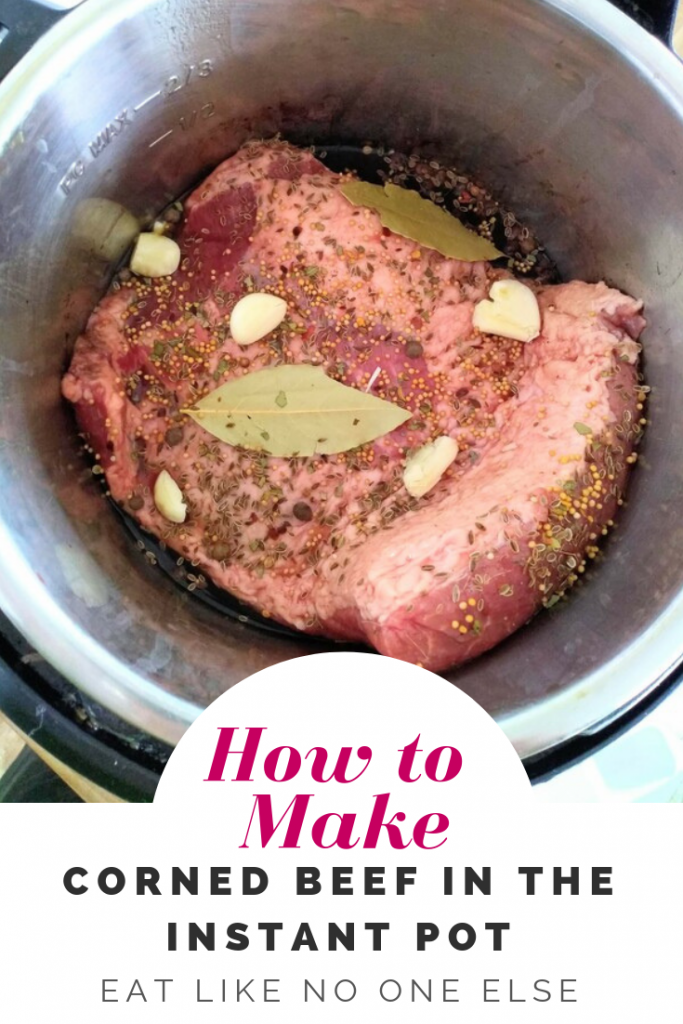 Let me tell you a little story.
I was going to write this blog post last year. I had it planned. I cooked the corned beef and took some photos.
However the post was never published.
Why?
Here is why:
My wife had high blood pressure so the baby had to come. Everything worked out fine and my daughter was born and my wife and her were great. That is what is most important.
Everything did not work out for the corned beef. Sadly we ended up having to throw out the corned beef because we never had time to eat it before it went bad.
I think that is a pretty good reason to have waited a year for this post to appear.
The much waited "Can You Make Corned Beef in the Instant Pot?" is finally here.
The answer is of course you can. Can you can make GOOD Corned Beef in the Instant Pot? Oh you can make GREAT Corned Beef in the Instant Pot. 🙂
Let me show you how.
What You Need to Know About Making Instant Pot Corned Beef
For this post I want to address those that are buying prepackaged corned beef. For those that aren't going trough the process of brining their own, which is probably most people.
If you are interested in that I do have a technique to Quickly Brine Corned Beef using an unseasoned flat cut beef brisket.
When it comes to making corned beef in the Instant Pot one of the key thing is that I don't want to cook the beef to the point where it falls to pieces. Normally meat falling to pieces is the goal. When you want to do pork for pulled pork you want to be able to shred it. Bit with corned beef I want to slice it and have it maintain it's integrity, especially for sandwich making! Let's be honest most people make corned beef for the leftover sandwiches or for corned beef hash.
You want to find that perfect cook time that will make the meat tender enough without falling apart. I used about a 4 pound flat cut corned beef brisket that I got from Costco. 1 Hour and 25 minutes was the perfect amount of time to cook it so that both my goals - tender and slice-able were achieved.
Adding More Flavor to Your Corned Beef
I never want to miss a chance to add flavor. Adding water to the corned beef is what most recipes on the package of corned beef say to do. This won't add any flavor to your corned beef. Instead use a flavorful liquid. Some people use beer. I like to use unsalted beef stock. I choose unsalted stock because corned beef is pretty salty on it's own, we don't need to be adding any more salt to the pot. Be careful if your going to use stock that no salt has been added.
The sodium amount listed on the nutrition label will not be 0 even if no salt was added. The reason is that some sodium naturally occurs in beef, thus will be in the beef stock. Just go to the ingredient list instead and make sure no salt is listed.
Most packaged corned beef comes with a small spice packet. It is definitely small. I like to go bigger and add more spices and herbs. What I like to adds includes mustard seeds, dill seed, bay leaf, juniper berries, and all spice berries. I toss these spices in whole, no need to grind them.
If you don't have these spices in your pantry and they are NOT something you think your going to use much then I might consider getting a spice blend meant for corned beef. The Boston Spice Company Southie Blend is my recommendation.
Cook the Cabbage Separately
I know it's nice to have that one pot meal. But in no circumstance should you include the cabbage when you are cooking the corned beef. The number one thing I have heard people say that didn't like a corned beef dinner is the cabbage smelled bad and was mush.
I always cook the cabbage separate so it's cooking needs can be meet exactly for perfectly cooked cabbage. Cabbage doesn't need long to cook at all. You can prepare it while the Instant Pot is naturally releasing.
I follow Alton Brown's method for cooking cabbage. You bring the cabbage to a boil in a lot of water with some salt for about 2-3 minutes until al dente.
Your cabbage won't be overcooked and still have some bite to it. And best yet, you won't have that awful cabbage smell in the air which ruins the smell of all those lovely spices cooking in your Instant Pot.
Let's Make Corned Beef!
The results of my Instant Pot cooked corned beef were perfect. I was able to cook the beef in less time than I normally would in a pot or slow cooker and I was still able to achieve tender beef that I could slice. I do believe that corned beef is Instant Pot worthy and you should give it a try this year.
Instant Pot Corned Beef
Learn how to cook the perfect corned beef in your Instant Pot.
Print
Pin
Rate
Instructions
Place the corned beef brisket into your Instant Pot with the fatty side up.

Add in 2 cups of beef stock, the garlic, the spice packet that came with the corned beef as well as 2 tablespoons of pickling spice seasoning or your own custom mix.

Seal the Instant Pot and set for 1 hour 25 minutes of high pressure cooking.

Allow for natural release. Should be 20 minutes or under.

Remove from the liquid, slice and serve.
Tried this recipe?
Mention @eatlikenooneelse or tag #eatlikenooneelse
This post includes affiliate links. This means that at no additional cost to you, I will earn a commission if you click through and make a purchase. These are products and services I recommend because I use or trust them. Cookies will be used to track the affiliate links you click.