Learn about when the peak season for Brussels sprouts is and why you should buy them on the stalk and after a frost.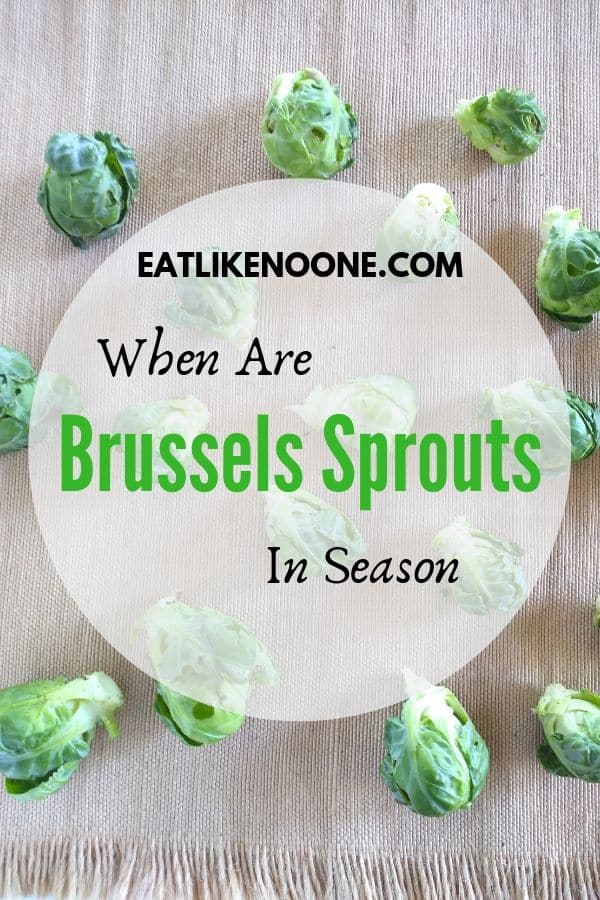 After getting a bad rap for lots of years, by a whole generation or two, Brussels sprouts have taken their role back as one of the premier veggies of the year.
These tenders green orbs when prepared correctly are better than it's cousin the cabbage. At least in his blogger's opinion (but I know you think the same!)
In our modern grocery stores, Brussels sprouts are available year round in fresh, not just frozen form - PSA: Frozen Brussels Sprouts should never be on your shopping list.
While you have the opportunity to purchase them anytime of year, there are still a time of year when they are "in season". That's what we are here to talk about today and probably while you are here.
When is the Peak of Brussels Sprouts Season?
Since Brussels Sprouts are available year round, the real question we are asking today is when are they at peak here in the United States.
The answer is October into November.
You see Brussels Sprouts take a long time to grow. They also like colder weather better than warm just like cabbage, broccoli, and kale, all part of the same family with Brussels sprouts.
This timing makes them perfect for the holiday season. Thanksgiving and Christmas are the times of year when I see the most people coming to my blog, looking for Brussels sprouts recipes.
Where Do Brussels Sprouts Grow?
Sorry we are going to avoid any bad joke involving European countries. Brussels Sprouts that you find in the grocery store are most likely grown in California or Mexico.
Most of the year the answer is going to be Mexico. Since the Brussels sprouts from Mexico have to be shipped here, they aren't as fresh and flavorful as they could be. Having eaten Brussels sprouts directly from my garden the day I picked them, I can tell you what fresh ones taste like and the Mexican grown ones don't have the sweetness of my garden ones.
Buy Brussels Sprouts After a Frost
If you want the ultimate in Brussels Sprouts, you got to get them after a frost. Either from the farmer's market or your very own garden. The ones from California or Mexico aren't going to cut it.
I live in Michigan, so once frost sets in, I head to the farmer's market to buy a whole stalk that had just experienced a frost. Watch your weather, if you are in an area that both grows Brussels sprouts and gets frost, then you have a special opportunity to experience the best sprouts.
Why are they the best? Because when the plant experiences frost, the sprouts increase in sweetness as that is what helps the plant not freeze. It's kind of like anti-freeze.
Buying Brussels Sprouts on the Stalk
I love coming home from the store with a stalk of Brussels sprouts. Besides just being an awesome visual, these sprouts tend to be fresher.
Trader Joe's always has a big display of them in November, especially leading up to Thanksgiving.
They say to make them last longer you can place the whole stalk into a water pitcher and keep for a while in your fridge. But I have never had a fridge where I ever had the space. You could try and put them as the center piece of your dinner table.
Can You Eat Brussels Sprouts Stalks?
In case you are wondering if you can eat the stalks the Brussels come on, it is possible. I have personally not tried it yet. I am confident they are actually edible. The work it would take to render them edible is probably beyond what most of us would want to do.
The stalks are very woody. You may need to peel them before hand as the outer section would be the toughest, just like with broccoli stems. The stalks would require a longer time to cook to render them soft enough to be palatable.
If anyone has tried it themselves, please share your experience in the comments below.
Can You Cook Brussels Sprouts on the Stalk?
Yes you can. As long as you can get the whole stalk into your oven, you could roast them that way. Turn them every so often as they cook.
You can bring the whole stalk to the table and people can pick off what they like. If your family thinks that would be fun, give it a try, especially on Thanksgiving.
You know what would be sweet? Doing them over a camp fire with a rotisserie, like people do with a whole pig.
How Long are Brussels Sprouts Good in the Fridge?
Brussels Sprouts last a surprisingly long time in the fridge. Which is why we can get them imported form Mexico all year round. I have easily had Brussels sprouts last a couple weeks in the fridge.
I typically advise people that they can pick them up early for their Thanksgiving meal so they have less to get last minute.
Can I Eat Brussels Sprouts When They Turn Yellow?
Over time the other leaves of the sprouts will turn yellow. You can pick them off and still use the sprouts. As long as they are not moldy or slimy.
Brussels Sprouts Recipes You Might Want to Try
Here are some recipes from our blog for Brussels sprouts. Give one of these a try!
Shredded Brussels Sprouts with Bacon
Roasted Brussels Sprouts with Panko Breadcrumbs
Roasted Brussels Sprouts with Dried Cranberries and Balsamic