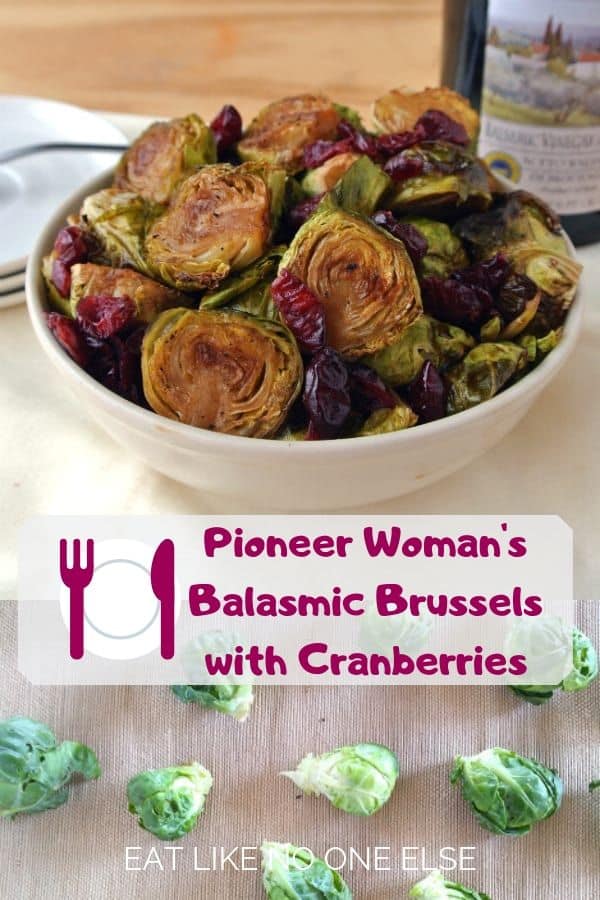 Is there such a thing as too many Brussels Sprouts recipes? I don't think so. I love to try many different things with my new favorite cabbage family veggie. Sprouts are always good roasted in the oven. There is something warm and comforting about eating tons of roasted vegetables during the winter months, especially at Christmas time. This recipe I wanted to try out comes from the Pioneer Woman, particularly from her Christmas episode. Just as my appreciation for Brussels Sprouts has grown so has my appreciation for vinegars, with Balsamic being at the top of that list. This gave me a good reason to try a Balsamic reduction something that I have not tried before. You can print the recipe out at Food Network's website. Here are my cooking notes:
1. The recipe has only 5 ingredients - Brussels Sprouts, oil, balsamic vinegar, sugar, and dried cranberries.
2. Roasting them is a breeze. They need to be cut in half first. Place them cut side down.
3. While they were roasting I made the reduction. The recipe calls for it to be really thick, but you also have to be careful not to make balsamic caramel, which may not be a bad idea, but I don't want it to stick to my teeth when I was eating it. Just get it thick enough to coat the sprouts and call it a day. Lucky for me I saved the dish for another day's meal so actually being the fridge help to dissolve "the candy". I also burned my finger on that mixture. Be very careful, not something for the novice, clumsy cook to make.
4. Dried cranberries on top not only add color but added texture and a sweet-tart flavor. I think cranberries just scream holidays. Could you use fresh? I don't think I would like to bite into a whole cranberry, without any added sweetness, even thought I have the sweeten Balsamic glaze.
The glaze was outstanding, great way to dress up roasted Brussels Sprouts. I might have discovered a new idea for candy. If you get a dark black looking candy in a package from our household you have a hint of what it is!