Find out all about purple brussels sprouts. Are they different than green ones besides the color? Also a recipe for brussels sprouts with fried cooked polenta.
This post includes affiliate links. This means that, at no additional cost to you, I will earn a commission if you click through and make a purchase. These are products and services I recommend because I use or trust them. Cookies will be used to track the affiliate links you click.
I have to admit I am a sucker for different colored vegetables.
Anything that is different from the "norm" I like to mix green beans with wax, I seek out bags of carrots of many colors, I have even been know to purchase the occasional red turnip.
I saw purple and yellow snow peas in a seed catalog and can't wait until to try them in my garden this year.
So purple Brussels sprouts, I am all in! I first had them from Frieda's Produce. They were actually baby sprouts, so they were smaller in size.
Jump to:
? Purple vs. Green
Besides the obvious color, purple brussels sprouts are different from green in taste as red cabbage and green cabbage are different, so not that much. They have a little stronger flavor. Their appearance is really the reason you would want to choose them over green ones.
Purple Brussels sprouts were actually created by crossing green sprouts with red cabbage.
The best way to use them is to mix them with some green Brussels, creating contrast and making whatever dish you made look more fancy and inviting.
? Change Color?
Unlike purple green beans, purple Brussels will stay purple when cook them. When you cut up the sprouts that are white and purple on the inside. I am not a health expert but I hear there are benefits to eating purple foods. So why not!
? How to Cook
You can cook them anyway you would green ones. Roasting is always a good idea - it will bring out that purple color! Got an air fryer? You can do them in that.
We like to shred our Brussels sprouts in a food processor and cook them with bacon!
?‍? Grow Them
Can't find purple brussels sprouts, you can use green. Or you could grow your own? You can buy purple Brussels sprouts seeds online.
RELATED - When are Brussel Sprouts in Season?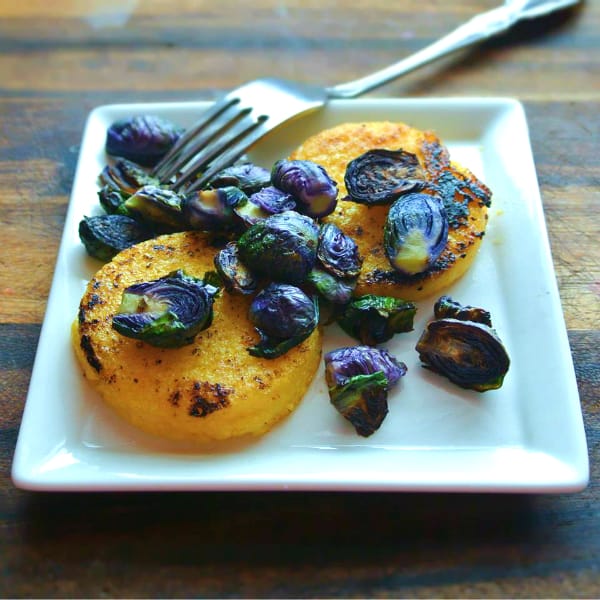 ? Brussels with Polenta
I have made Brussels Sprouts several different ways. Just pan frying them or roasting them by themselves would not be enough.
A little bit ago, I tried making Brussels sprouts with lentils. The lentils I accidentally overcooked to the point where there were more like refried beans. I still combined them with my sprouts. The creaminess of the overcooked lentils was a nice addition to the Brussels sprouts. Trouble was the lentils were too dry, so I needed to swallow a gallon of water when I was done.
I felt I was onto something here. This time around instead of pasty legumes, I decided to use some Frieda's Organic Polenta. This polenta comes in a tube, already pre-cooked. All I needed to do was slice it up and pan fry it, to brown the outside to create that firm, browned, almost crispy outside and soft creamy inside. Top it off with the purple Brussels sprouts, I had a pretty looking, well balanced side dish.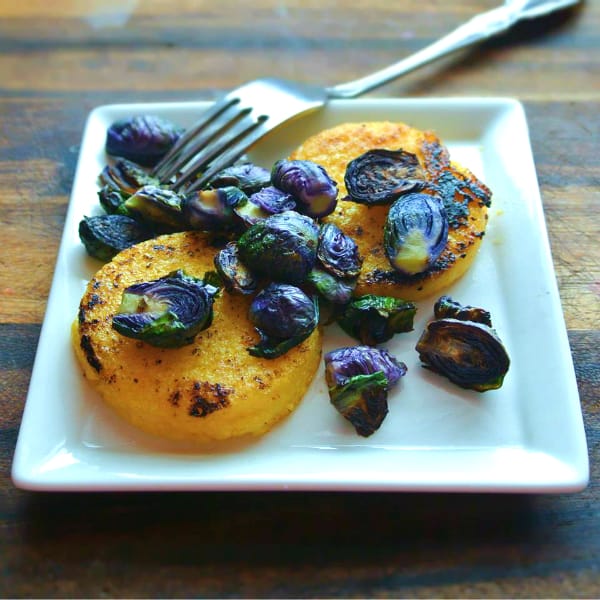 Purple Brussels Sprouts with Pan Fried Polenta
Cooked polenta is pan fried and topped off with purple sprouts
Print
Pin
Rate
Ingredients
12

oz

baby purple Brussels sprouts

sliced in half (you can use any Brussels sprouts)

1

lb

pre-cooked organic polenta

kosher salt and freshly ground black pepper to taste

neutral tasting cooking oil

canola, vegetable, grape seed, sunflower

maple syrup

optional
Instructions
Slice the Brusssels sprouts in half. Coat the bottom of a non-stick frying pan with your favorite cooking oil. Heat the pan up over medium high heat. Add the sprouts. Season with kosher salt and black pepper to taste. Cook until browned and al dente about 4-6 mintues, making sure to turn the sprouts to brown evenly. Add a splash of maple syrup if desired and remove from the heat.

Slice the polenta into slices, as thin or thick as you like. Season with salt and black pepper to taste.

Add a little more oil to the pan and return to medium high heat. Add the polenta and cook until brown on one side and flip and cook the other side. Should take about 1 to 2 minutes per side. Cook in batches so not to overcrowd the pan.

Top the polenta with the Brussels sprouts and enjoy.
Tried this recipe?
Mention @eatlikenooneelse or tag #eatlikenooneelse