You might never think to combine these two together, but let me tell you that strawberry and blood orange are a great combo. Especially when it comes to making a jam. This small batch freezer jam recipe is perfect for those that don't want to slave away in the kitchen all day.
This post includes affiliate links. This means that at no additional cost to you, I will earn a commission if you click through and make a purchase. These are products and services I recommend because I use or trust them. Cookies will be used to track the affiliate links you click.
Last Summer, I introduced you, the blog readers, to small batch jam making with my Strawberry Vanilla Jam recipe.
It's a wonderful way to try out new flavor combinations with a very small commitment. Also a great way to take an advantage of seasonal produce.
While we are still months away from the Michigan strawberry season, late winter is also a good time for strawberries for me. It's when the Florida strawberries are at their peak. With both Mexican and California strawberries also available it creates the lowest prices of the season due to the volume on the market. Strawberries can be had for $1 a pound, I even found some for $1 for a 2 pound container - a rare deal.
What a great opportunity to add to my jam supply to help me through to warmer days.
Jump to:
⚙️ Why it Works
One thing that is not in season when my Michigan strawberries are, is blood oranges.
In June, I doubt the only place I will find a blood orange is if one rolled underneath a store's produce display. I took the opportunity to add some blood orange juice to my strawberry jam. I was very pleased with the results, so I wanted to share it will all of you!
I never combined strawberries and oranges together, but the flavors do play well with each other, particularly the blood orange.
⚖️ How Much Does This Make?
The recipe below makes enough jam to fill a 8 oz Ball jar. Feel free to double or triple the recipe for more jam. This recipe also works feel if you are making freezer jam which is what we like to do - then you don't have to worry about canning.
? Ingredients
Here is what you will need to make this recipe:
? Instructions
Here is how the process of making this jam works.
Start by removing the zest from the blood oranges. It's important to do this before you juice the oranges as it will be much harder to do. I use a Microplane Zester to remove the zest. You need the zest from 1 orange.
I juice the oranges using my Kitchen Aid Citrus juicer attachment. You can use whatever you have available.
Next prep the strawberries. Remove the green tops. I then put them on a scale, making sure to zero out the bowl. Then weigh the strawberries. See what the weight is and then add the same amount of sugar.
Allow the berries to macerate in the fridge for at least 1 hour. Then I puree them with a stick blender. If you don't have one you can use a food processor or a potato masher. I like my jam with some chunks in it, so I don't completely puree it.
Stir in the blood orange juice and zest. You are ready to cook it now.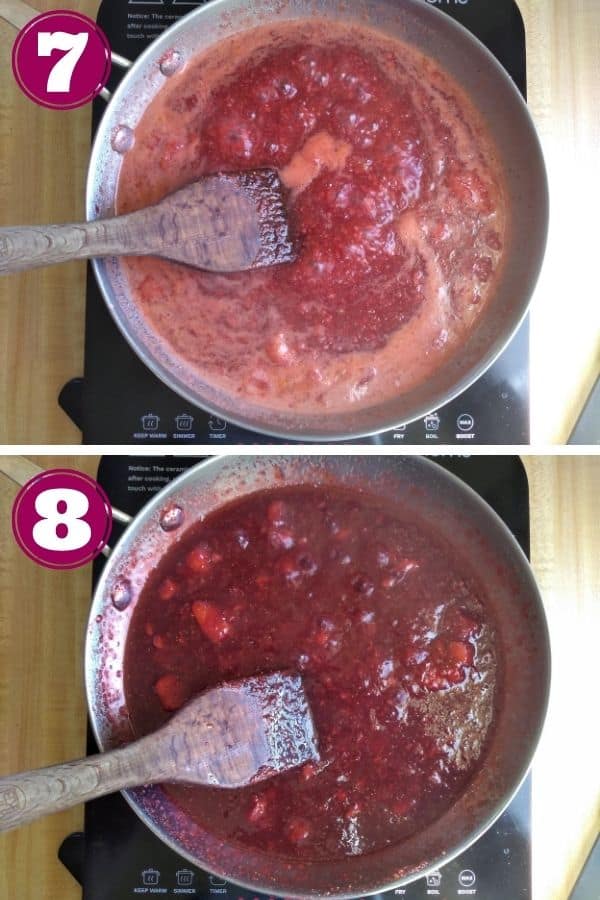 The key to cooking the jam is to cook it fast to preserve as much of the fresh flavor as possible. For this I put the jam in a wide frying pan over high heat.
Stay with the pan and stir it until it has thicken. The color will change and it will get darker. You will also notice it sticking to the side of the pan.
? Tip
A trick to make sure the jam is ready is put a place in the freezer. When it's time to check the jam, put a small amount jam onto the plate. Then back in the freezer for 1 minute. When you pull it back out it should not move much on the plate when turned sideways.
♻️ Substitutions
Don't have blood oranges? You can use juicing oranges. I would not recommend Navel oranges as their juice becomes bitter.
Other berries could work as well like raspberries or blueberries. I do think strawberries are the best choice.
? More Recipes
Use blood orange juice in any of these recipes:
Small Batch Strawberry-Blood Orange Jam
How to make a small batch of jam with strawberries and blood oranges. This is fridge or freezer jam recipe, not meant for canning.
Print
Pin
Rate
Ingredients
¼

cup

freshly squeezed blood orange juice

from about 2 blood oranges

1

cup

pureed strawberries

1

tsp

classic powdered pectin

enough sugar to equal the weight of the strawberries
Instructions
Prepare the strawberries. Weight them out. Add equal amount of sugar by weight.

Allow the berries to macerate in the fridge for at least 1 hour.

Remove the zest from 1 orange

Juice enough blood oranges to get to ¼ cup of juice. Add to the strawberries.

Heat a large/wide frying pan over high heat.

Pour in the fruit mixture. Add 1 teaspoon of pectin

Place a plate into the freezer.

Bring to a boil. Continually stirring until the jam thickens about 4-5 minutes. Remove from heat.

Place a little bit of jam onto the plate in your freezer. Place back in the freezer, wait 1 minute. If the jam does not move on the plate, then it's done. If it seems too runny still cook it a bit longer and try again. You can add 1 more teaspoon of pectin if you think it needs it.

Store the jam in the fridge or freezer once it has cooled down to room temperature.
Tried this recipe?
Mention @eatlikenooneelse or tag #eatlikenooneelse