How to know when it's the best time of year to buy fresh strawberries. Includes a look at when strawberry prices are the cheapest. Also when to expect you can pick berries at local farms in your state.
There are a lot of things available to us year round that never were in the past.
Now there are a lot of things year round that I wish remained in our past. One of those things is strawberries.
Wait, what you want to take away from strawberries, how dare you!
Hold on, hear me out here.
There was a time when spring time hit and it was time to get your strawberries before they were gone.
Nowadays whether it's the Fourth of July or a cold winter's day, strawberries will be there, at any grocery store in any state.
Flavor has long been compromised in the name of cost, transport-ability, and constant supply. Most strawberries consumed nowadays are not done so at their peak of flavor.
Just because they are around all the time, that doesn't mean that we shouldn't still plan on strawberry purchases. Even thought they are available year round, it doesn't mean the prices are the same year round.
In fact, strawberries are sort of like the stock market. There are highs and lows. You need to know when to invest them and when not to.
Jump to:
❄️ When Is the Peak Season?
My answer is winter.
Huh?
Reason, it's all about supply. There are times of year where they are way more strawberries available. This leads to smaller prices and best of all sales! Mid to late winter (February-March) is when the supply is usually the highest depending on the weather conditions in the growing regions.
If you thought strawberries are a summer fruit, that's simply not the case.
💲 Why Cheaper in the Winter?
This is because the supply of strawberries from California is on the rise and Florida strawberry season is also at peak and Mexico is in the mix as well.
Florida doesn't provide strawberries year round like California does. It's too hot there. When they are available I find them to in general be better than California strawberries. Might help that I live closer to Florida so it's not a long distance away like California is.
At this time you can often find strawberries going for as low as $1 for a 1 lb container. The later the Florida season lasts and the earlier the California season begins the better situation for consumers.
There will also be period during the late spring and summer were prices will be good. They are a little bit harder to predict. That time of year it's all about where in California they are harvesting and how much is being produced. Deals can be found around holidays (Memorial Day, Fourth of July, Labor Day) to help entice customers into the stores.
🚜 Your Local Season
If we are talking most flavorful time of the year, then it's all about when are they are in season in your local area (that would be June here in Michigan).
Strawberries are among the most grown fruit available at most local farmers markets across the United States. You have to go directly to the farmer to get them as few stores carrying them and when they do they are pricey. Did you have a favorite farmers market that you get them at (leave a comment below)
To really save money on them you must pick out what u-pick strawberries are available. Most places here in Michigan charge close to $2-$3 a pound to pick yourself. A quick Google search should help you locate the nearest u-pick strawberry patch in your area. Prices vary depending on where you live. Let me know if you need any help.
🦅 List by State
Here is a list by state of when local strawberries season begins. The weather will dedicate how early or how late the season begins and how long it lasts. The season is short. Here in Michigan it rarely goes beyond 3 weeks. Most of the strawberries are June-bearing varieties that produce one big crop once a year.
| | |
| --- | --- |
| Michigan | mid June |
| Ohio | early June |
| Kentucky | late May |
| Georgia | mid April |
| Florida | December |
| Louisiana | early April |
| North Carolina | early May |
| South Carolina | mid April |
| Tennessee | early May |
| New Jersey | mid May |
| New York | early June |
| Maine | mid June |
| Idaho | early June |
| Texas | early March |
| Utah | early June |
| New Mexico | early March |
| Oregon | mid May |
| Washington | early June |
| Wisconsin | mid June |
| Minnesota | late June |
| Montana | early July |
| Colorado | early June |
| Illinois | early June |
📧 Join Our Email List
Want to be updated when the best fresh produce is in season? Join our fruit season email list.
☀️ Greenhouse Grown
One change that has happened to the strawberry industry over the last decade is the introduction of greenhouse grown strawberries with Sunset leading the way. Their WOW berries are incredible, better than any strawberry that I didn't pick myself.
These berries are showing up in the late fall and are available throughout the winter. They do cost more, but are worth it for their way better flavor.
I recently heard Ocean Spray will be producing them as well.
📅 Worst Time of Year
Right before strawberries are their best prices, they are at their worst.
Don't buy them to be apart of your Christmas celebration. At that time strawberries are hard to come by out of California, so they are coming from Mexico and the supply is low and flavor is usually not good either.
I have a hard time paying $4 to $5 per pound for something I was buying for under $2 a pound earlier in the year. Your better off buying frozen or if you were forward thinking you froze some earlier when prices were cheaper.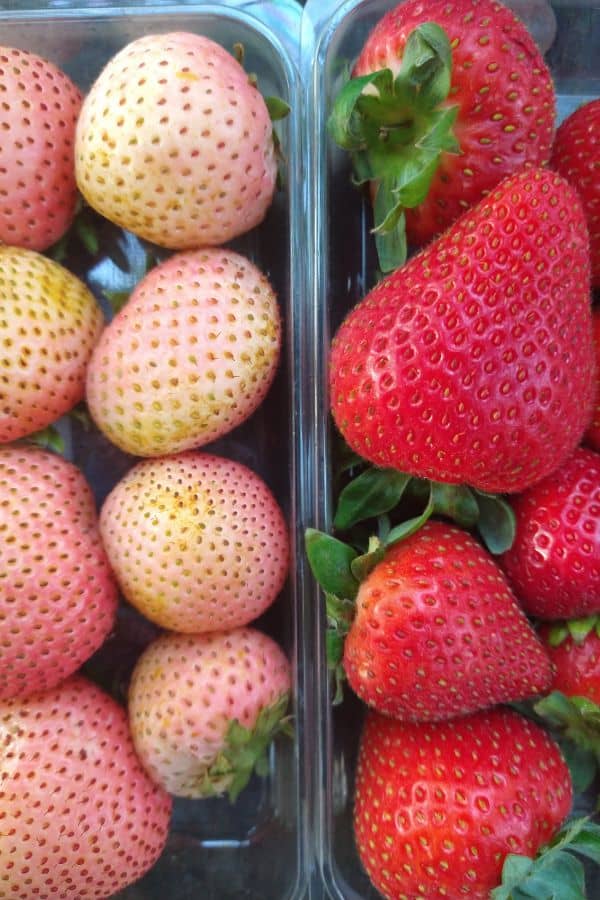 🌹 Strawberry Varieties
You don't hear a lot about different varieties of strawberries. In the grocery store, they are all just strawberries. That is until recently. There have been limited amount of white Pineberries that I heard made it to some stores in Florida.
Driscoll's has come out with their Rose Strawberries. They are a pinkish color berry that is completely white inside. The flavor is even different than red berries. They come in a single layer package. You can find from June to end of September.
Driscoll's also has their Sweetest Batch Strawberries, which I have found live up to their name. They are the sweetest berries you will find in the grocery store. Just like Rose, they are available from June to end of September.
They have now also added Tropical Bliss Strawberries, which are light in color and have a pineapple like flavor. Not to be confused with pineberries which have been growing in popularity, especially in Florida.
💝 Valentine's Day
Every year for Valentine's Day you make be able to find a good sale on berries as store like to run sales on them for people wanting to dip them in chocolate. This is the only time of year I am able to find long stem strawberries. As it sounds these berries have a longer stem making them easier for dipping.
🌱 Grow Your Own
You won't have to worry about grocery store prices if you are growing your own strawberries. You can find strawberry plants for sale in the winter in warm climates and in the spring in cooler climates.
🍓 Recipes
Here are our favorite strawberry recipes from the blog.